A global investment bank headquartered in Switzerland partnered with Evalueserve for over a decade to improve the junior banking experience. Junior banker retention is an ongoing, strategic challenge, supported by providing flexible analyst teams. However, over time, Evalueserve realized it could better balance the bank's workforce strategy by using automation to enhance productivity.
Today, junior bankers at the global investment bank are assisted by Evalueserve's full Deal Automation Suite, including Research Management, Valuation Data Hub, Productivity Toolbar, and Automation Studio. The Deal Automation Suite takes on many tedious, repetitive tasks, reducing human error and saving the bank up to 55,000 hours of work every year.
Junior banking is a notoriously demanding, entry-level role. The expectation is to work long hours, meet tight deadlines, and pay great attention to detail throughout to ensure accuracy. Naturally, turnover is high across the industry, including at the Swiss bank, accruing high annual costs for hiring and training.
The Swiss bank first engaged Evalueserve as an outsourcing partner to help balance its workforce strategy. Our junior analyst teams provided the flexibility to quickly scale up or scale back work to meet market demands.
As we became familiar with the bank's unique business processes and data sources, we noticed similar bottlenecks across our other banking clients. We realized we could solve some key challenges and achieve new productivity levels with automation, so we started implementing micro-automations for the Swiss bank.
The client saw productivity improvements and wanted to partner with our technology team to scale automation benefits.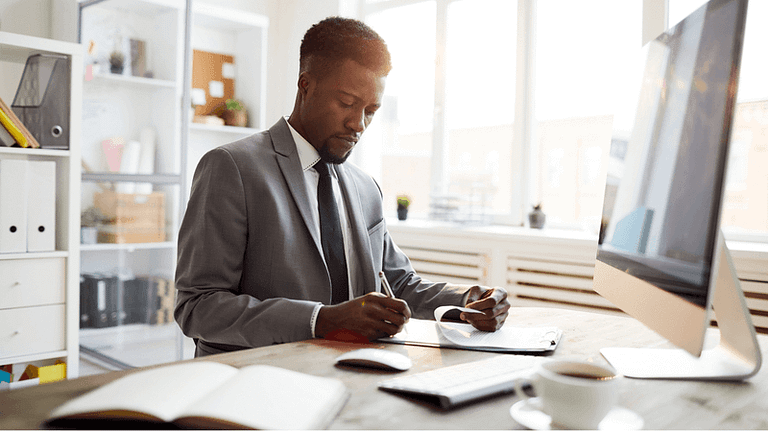 Evalueserve deployed Research Management for the investment bank. Research Management streamlines the workflow for new research requests and functions as a knowledge management platform, where documents are centralized for quick and easy access. Today, over 1,000 bankers in the IBCM Analytics and Library Teams use this tool to request research and search past reports. Managers use the tool to track utilization and productivity across different sector teams.
After digitizing the process of requesting research, our analysts worked closely with the client to develop an automation roadmap. Key areas of focus were those that required high volumes of manual, repetitive tasks, such as competitor tracking, financial analysis, and pitchbook creation. For the most common use cases, we built and deployed products including:
Valuation Data Hub offers standardized templates for 4,000 comps across five sector groups and provides a central repository for financial data. With the product, bankers create customized comps and benchmarking outputs on the fly and quickly generate output files. It also allows for improved collaboration by providing bankers with a platform to jointly work on customized portfolios.
Productivity Toolbar streamlines pitchbook creation and improves efficiency with its repository of over 550 branding-compliant templates and a library of logos, tombstones, flags, and more. Productivity Toolbar offers proofing features bankers can use to review their pitchbooks.
For unique bank needs, Evaleserve's Automation Studio created custom automations that integrated into bankers' existing work environments (Excel, PowerPoint, Outlook, etc.). Examples include an investor database, a market pages newsletter, a FactSet run and output consolidation, and SPAC weekly reports. 
Hundreds of the client's bankers use our full Deal Automation Suite – Research Management, Valuation Data Hub, Productivity Toolbar, and custom micro-automations – to improve their productivity and work-life balance.
Digitization in investment banking has accelerated key processes, enhanced accuracy, and increased junior banker productivity.
Research Management saves the investment bank $0.5 million a year and is used daily by over 1,000 bankers to increase productivity by more than 30%.
Valuation Data Hub saves bankers roughly 10,000 hours of work every year. The centralized comps repository created by Valuation Data Hub eliminates the duplication of efforts (previously estimated at as much as 8%) on comps outputs and templates.
Productivity Toolbar is used by over 350 bankers and increased pitchbook creation efficiency by 75%. With its branding and proofing features, Productivity Toolbar improves the consistency and quality of the investment bank's pitchbooks.
These products, combined with over a dozen custom micro-automations, save the bank up to 55,000 hours every year.
Beyond productivity gains, technology has improved work-life balance. Junior bankers spend less time on tedious, repetitive tasks, and more time on strategic initiatives.
Talk to One of Our Experts
Get in touch today to find out about how Evalueserve can help you improve your processes, making you better, faster and more efficient.