Accurate and fast data extraction. Trust your analysis and decisions.
Accurate analysis. Accelerated extraction.
Spreadsmart: An Automated Application to Extract Data From Financial Statements
Patented technology for faster data extraction

70% faster data extraction of financial statements.

Proprietary algorithms and powerful OCR for high accuracy

Extract data from scanned low-resolution documents.

API-enabled easy integration

Flexible and configurable to off the shelf platforms and client's own models.
Patented Technology that Enables Faster Data Extraction
70% faster data extraction from financial statements; overall reduction in time taken for credit risk assessments, financial modeling and due diligence processes
Ability to extract financial data from native PDF, scanned PDF, MS Excel in multiple languages.
Reduces time spent on quality assurance of extracted data points by 15% due to seamless online and offline auditing.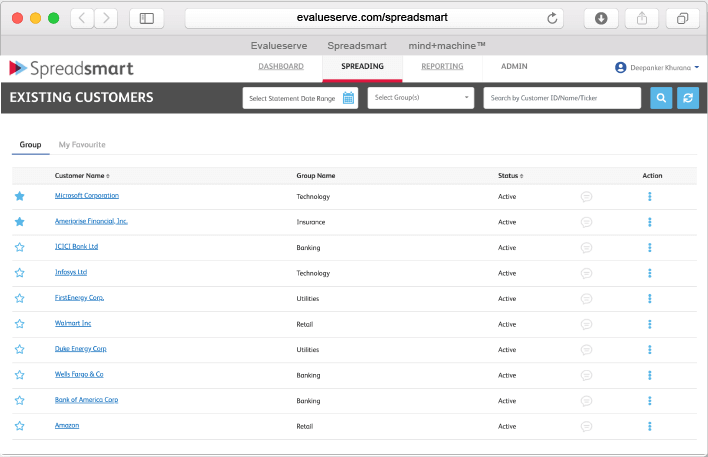 High Accuracy
Powerful OCR technology handles scanned and low-resolution documents, resulting in 99.6% data accuracy.
Proprietary algorithms adapts to the client's needs, and further improves the overall data accuracy.
Enables setting up of custom rule sets for treatment of financial line items to increase consistency in the credit process.
Seamless Integration
Designed to integrate efficiently with other platforms and customized models, without needing to commit to a massive overhaul.
Both on-premise and cloud-based solution deployment options available, regardless of the size of the organizations.
See Why Over Half of the
F500 Trust Us
3 of top 5 strategy consultants

3 of 5 oil and gas supermajors

12 of top 15 global pharma companies

5 of top 10 personal care companies

6 of top 10 industrial goods companies

8 of 10 global investment banks