Meet The Team
Our Leadership.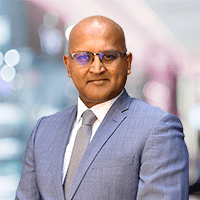 Mangesh Patnaik
Head of Business Development, Financial Services
United States
Mangesh Patnaik leads the sales and strategic client efforts for Evalueserve's financial services practice. In this role, he is responsible for revenue growth across financial services clients. In addition to overseeing the sales team, Mr. Patnaik actively partners with client stakeholders in driving key aspects of their business agenda. He also plays a key role in defining the go-to-market strategy and product roadmap for each line of business. During his 15+ year tenure at Evalueserve, Mr. Patnaik has collaborated with several senior executives across global financial institutions.
Prior to joining Evalueserve, Mr. Patnaik worked in investment banking with UBS in New York and Arthur Andersen in Mumbai. He also had a stint as an entrepreneur, having co-founded a healthcare staffing company. Mr. Patnaik holds an MBA from Georgetown University in Washington, DC.