Cell and Gene Therapy – Current Scenario
and Outlook
While the sales contribution of conventional drugs and other biologics to the pharma market is currently higher than that of cell and gene therapy (CGT), the robust growth forecasts for the latter continue to draw the attention of investors. CGT witnessed consistent growth in 2010-21, driven by a continuous flow of investment and a strong clinical pipeline.
CGT sales forecast
Strong investment scenario
In the past 10 years, CGT companies have witnessed remarkable growth in investment.
Overall private equity and venture capital investments in CGT posted a CAGR of 18% in 2010–21.
Gene and cell therapies witnessed average growth rates of 59% and 63%, respectively, during the same period.
During the pandemic, the biotech sector witnessed unprecedented growth in investment due to innovations in healthcare and low investment requirements. However, recent developments show that the pharmaceutical market is likely to trend back to the 2018 and 2019 levels in 2022. This is because external factors, such as inflation and cutback in biotech financing, have created an extremely challenging investment environment for CGT.
The slowdown has affected nearly all parts of the interconnected financing system, from early-stage venture capital to IPOs, and the performance of publicly traded companies. Small and early-stage CGT companies are particularly affected by inflation expectations because they are far from generating profits.
Overall investment in CGT in 2017-22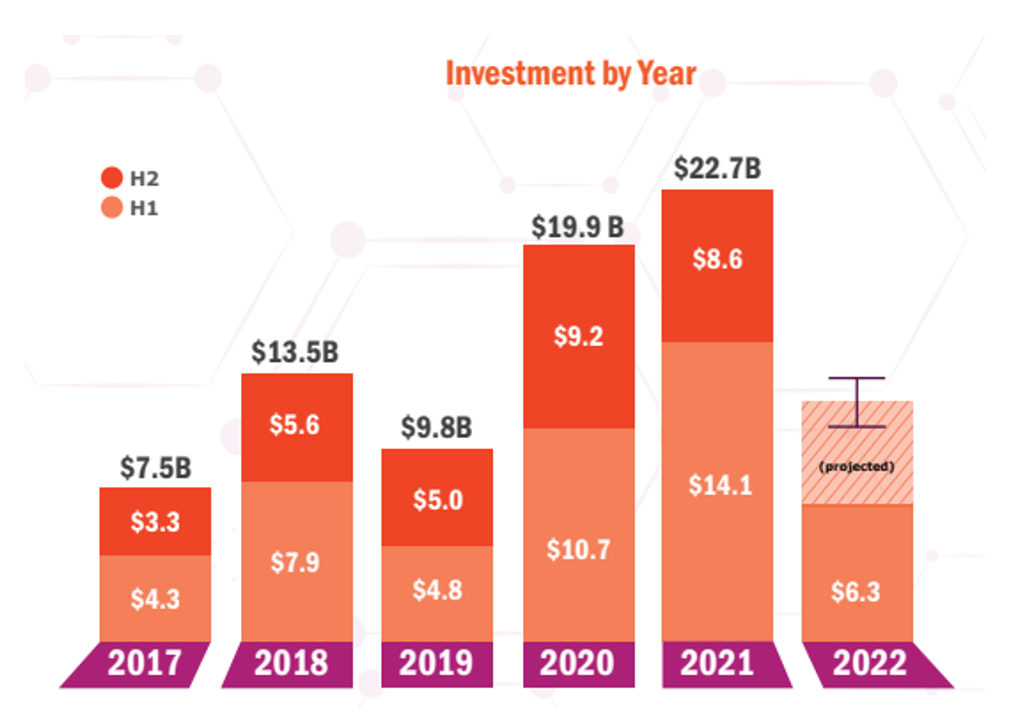 Robust CGT pipeline
At present, there are more than 30 approved CGT products globally. Moreover, there are more than 3000 CGT therapies in the pipeline, including >50% genetically modified cell therapies (e.g., CAR T-cell therapies).
As of July 2022, the FDA had approved 19, 18, and 59 genes (including genetically modified cell therapies), RNA, and non-genetically modified cell therapies, respectively. It is expected to approve 10-20 CGT products per year until 2025.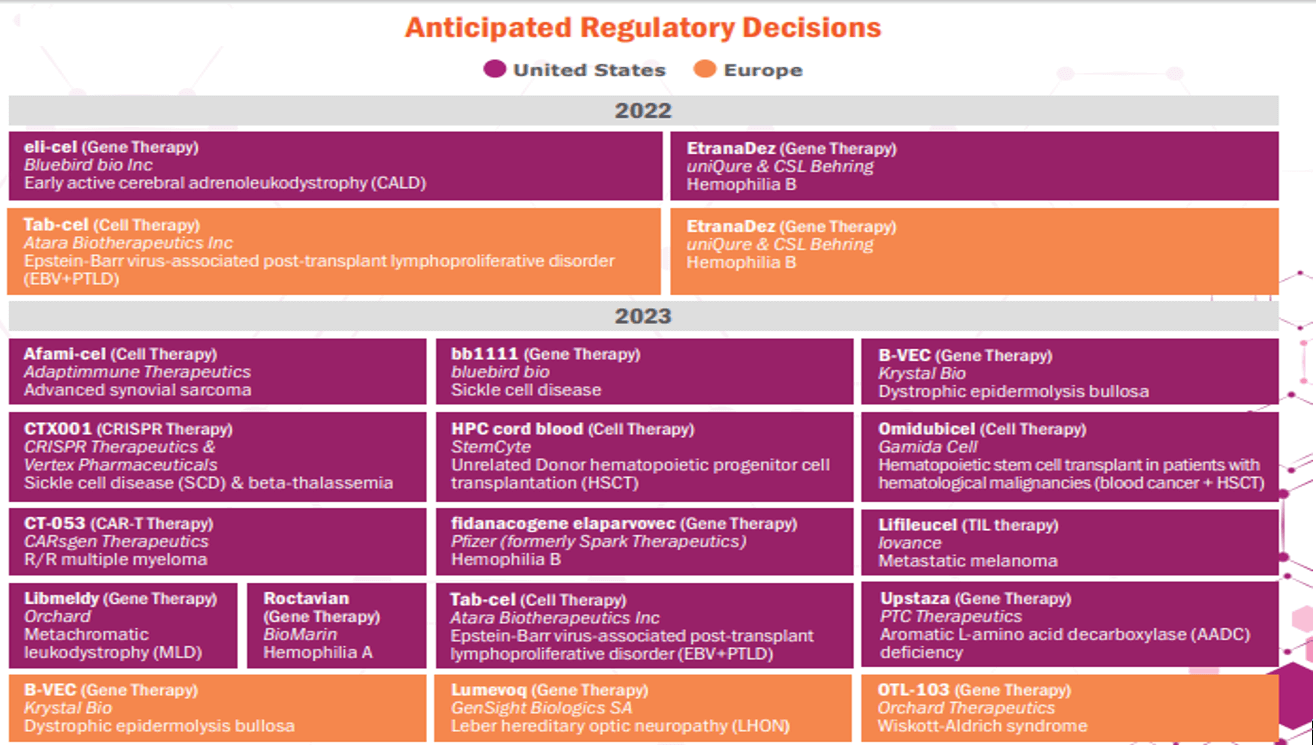 Risks and challenges despite impressive growth
CGT is an emerging space with massive growth potential. However, it faces considerable risks until its commercial success is established. 
Moreover, CGT development requires companies to meet stringent parameters related to product safety, quality control, procurement, and cell transportation, as well as to reduce manufacturing costs.
The CGT supply chain involves several long, complex, and highly controlled processes, which lead to several weaknesses, as was exposed during the pandemic. Any lingering effect of COVID-19 and resulting impediments to cell collection, non-functioning of apheresis centres, and closure of borders can hamper the viability of collected materials, as they are time- and temperature-sensitive.
Getting CGT under broader reimbursement schemes and a desirable legislative and regulatory ecosystem are also key challenges for the segment.
It has been noticed that stand-alone CGT players are going through a financial crunch, which has led more than 10 market players to turn to layoffs, cost cutting, or restructuring of research.
Since December 2021, Taysha Gene Therapies, Sigilon Therapeutics, Freeline Therapeutics, Gemini Therapeutics, and Passage Bio have been forced to cut jobs. Meanwhile, Generation Bio, Avrobio, Sio Gene Therapies, and Graphite Bio have reset their research, prioritizing some drugs and research areas while stepping back from others.
Growth outlook
While conventional drug sales will likely post a CAGR of 6% during 2021-26, biologics sales (excluding CGT) may witness a CAGR of 5%. CGT sales, in comparison, will likely register a CAGR of 63% to grow from USD 4 billion in 2021 to over USD 45 billion in 2026, due to a strong pipeline and continued investments.
At the same time, the market may offer big biopharma companies a chance to tap into M&A opportunities, as the cash reserves of stand-alone CGT players are expected to decline rapidly due to increasing development challenges and external headwinds.
Contributors
Contributors: Shubham Kumar and Pooja Rani
Sources
Evalueserve Disclaimer
The information contained in this report has been obtained from reliable sources. The output is in accordance with the information available on such sources and has been carried out to the best of our knowledge with utmost care and precision. While Evalueserve has no reason to believe that there is any inaccuracy or defect in such information, Evalueserve disclaims all warranties, expressed or implied, including warranties of accuracy, completeness, correctness, adequacy, merchantability and / or fitness of the information.