Solution Architecture
Build the Foundation for Turning Insights into RoI
Augment decisions with expert-guided AI, research, and analytics.
Strategy
Why our Experts Bring AI Into Your Most Critical Decisions
Artificial intelligence (AI) harnesses unparalleled levels of data. Beyond owned databases and manual research, AI can mine large volumes of external data and process insights from both structured and unstructured data. 
Powered by AI and data analytics, businesses can pursue the bigger picture. Solid, contextualized insights help decision-makers move swiftly with more confidence and scale impact. In the race towards hyper-digitalization, gaining a competitive edge requires a holistic approach to decision-making involving all kinds of data. 
Evalueserve works with decision-makers across industries and functions to leverage the speed and scale of AI to drive critical decisions. Our experts ensure that every partnership aims at capturing RoI, even for the most complex challenges. We've built a decision-based solution architecture to apply rigor to how we use technology, AI, and domain knowledge at each step of the process. 
Architecture
Our decision-based solution architecture bridges the gap from data to insights to action
Despite the promise of data and AI, researchers at Gartner find that "only 20% of insights will result in business outcomes." Your organization deserves better. Evalueserve ensures that you get it. 
Evalueserve's decision-based solution architecture combines domain expertise and AI-powered technology to bridge that gap from data to insights to action. Gather, process, and analyze data, deliver insights, and ultimately drive actions that grow the bottom line. This architecture helps clients avoid the 80% of insights that have no business value and pursue the 20% that drive critical business decisions.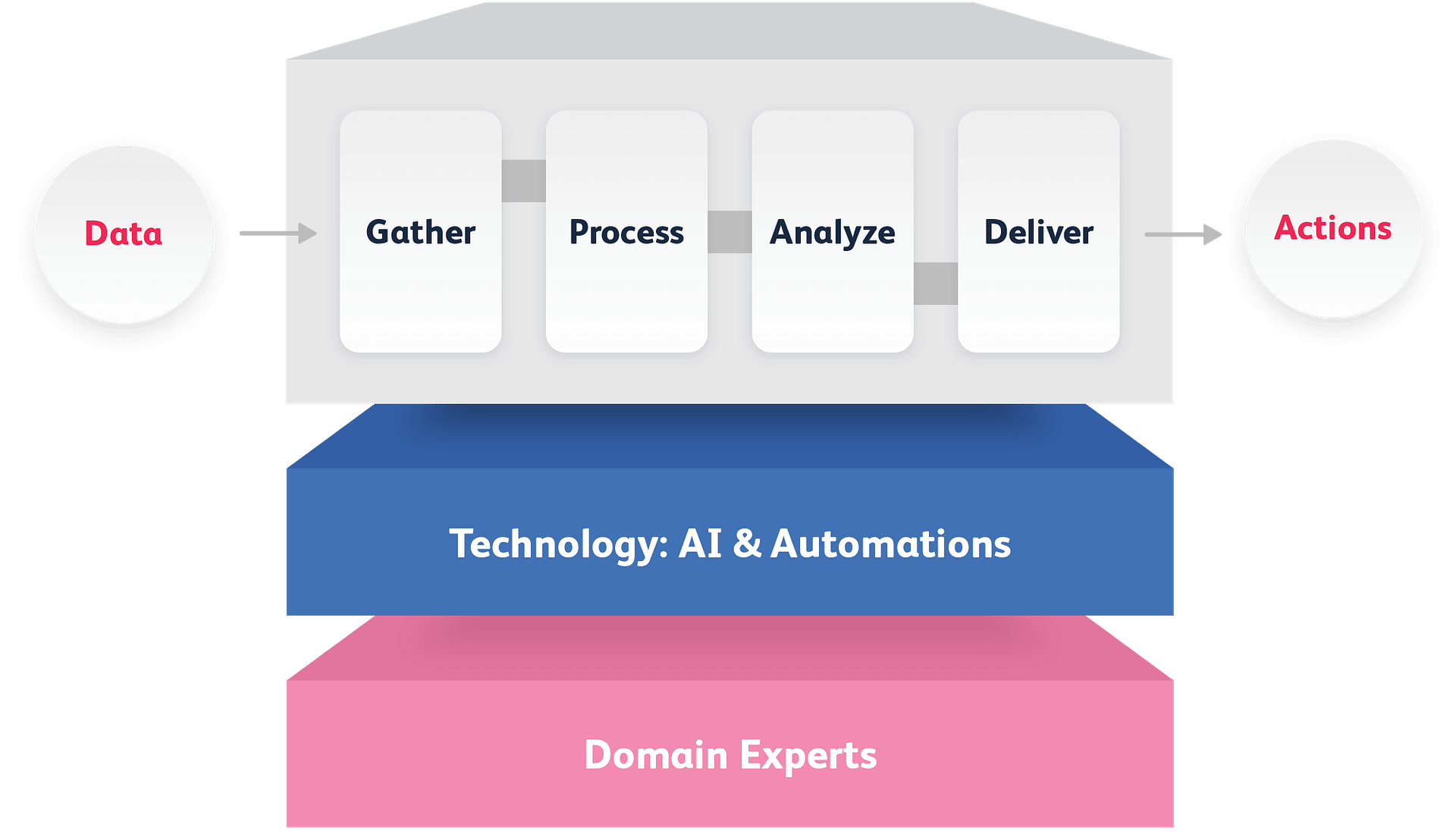 Related Resources
The Ultimate Guide to Decision-Ready Data
Businesses are racing to become more data-driven. However, gathering data and producing insights doesn't always lead to revenue-driving activities. Why is that, and how can businesses bridge the gap from data to insights to action?
This guide shares how a decision-based solution architecture and the power of AI can help you harness all types of data – first and third party, structured and unstructured data – to improve decision-making across the organization.
Related Resources
Optimize your outcomes.
Related Products
AI-optimized products that scale.
We offer a distinct suite of products with careful attention to client-specific agility and seamless integration into existing platforms.
Talk to One of Our Experts
Get in touch today to find out about how Evalueserve can help you improve your processes, making you better, faster and more efficient.