Mind+Machine™
The Mind+Machine™ Approach
Evalueserve's Mind+Machine™ approach combines human expertise and best-in-class technologies to design and manage data centric processes and analytics for our clients. Created in the mid-2010s, Mind+Machine™ continues to evolve to encompass the latest technological developments, including AI machine learning and deep learning techniques and cloud-based software engineering.
The Evalueserve Mind+Machine™ approach creates the right processes to expedite outcomes, including the generation of analytics on a large scale. Our expert-driven approach to processing data significantly cuts costs and timescales, and helps you overtake the competition.
We work with you to help facilitate faster and better decisions; reach new levels of efficiency and effectiveness; and create a tangible impact on the bottom line. Our experience stretches across a wide range of industries and business functions, and our continued adaptation of the latest technologies includes the most recent domain-specific AI approaches.
Overview
How Mind+Machine™ Works
In addition to relying on more than 4,500 subject matter experts, your work includes access to our proprietary tools and platforms, including our Decision-Based Architecture. AI products, analytics engines, data lakes, optimization toolkits, visualization and dissemination dashboards, and knowledge management systems all work to deliver your company the right analytics at the right time in the right way.
Mind+Machine™ delivers increased productivity, new capabilities, superior research and analytics results, and quicker time-to-market. Evalueserve has the domain expertise and technical know-how to deliver your company powerful analytics and insights with more impact. That's how Mind+Machine™ helps you generate results for your business.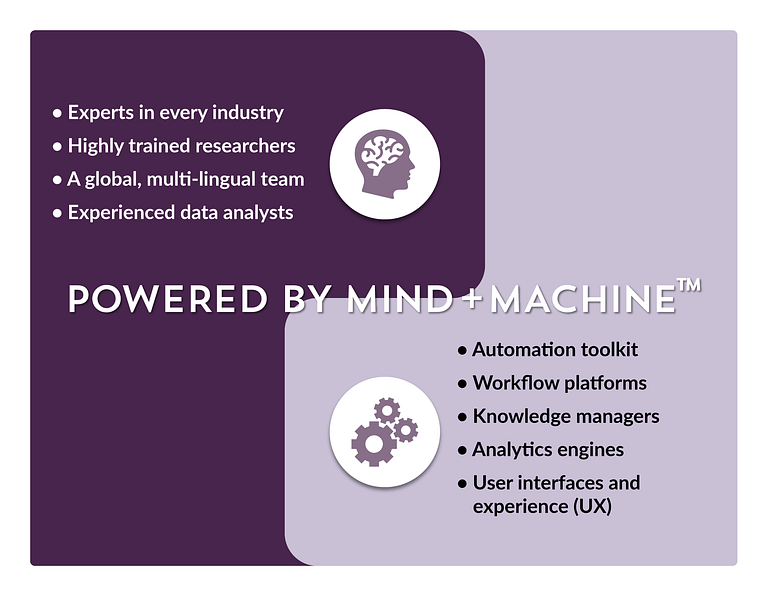 About the book
Mind+Machine™: The Book
Our co-founder and chief strategist Marc Vollenweider originally detailed the Mind+Machine™ approach in his 2016 book of the same title. This straightforward look at the reality of analytics in modern business still guides our overall ethos of delivery analytics in a responsive manner to help businesses achieve maximum impact.
You can find the book at the following outlets: