Financial Spreading
AI-Powered Financial Data Extraction
Accurate analysis. Accelerated extraction. Trust your Decisions.
Financial Spreading
Accelerate Financial Spreading with AI
Spreadsmart is an AI-powered financial spreading tool that replaces conventional manual data entry processes with automated data extraction to configurable templates. Our web-based platform leverages a combination of patented mapping technology, AI, OCR, custom algorithms, and ML/DL models to achieve a 70+% efficiency vs manual extraction with a near 100% final output accuracy.
Spreadsmart supports PDF, JPEG, PNG, TIFF, scanned low-resolution, and Excel document types in multiple languages, ensuring maximum flexibility and ease of use for your lending team.
With Spreadsmart, you can achieve faster loan approvals and more accurate credit risk assessments, enabling your lending institution to improve efficiency and profitability. Say goodbye to time-consuming manual processes and hello to the power of AI with Spreadsmart.
Patented technology for faster data extraction
70% faster data extraction of financial statements.
Proprietary algorithms and powerful OCR for high accuracy
Extract data from scanned low-resolution documents.
Flexible and configurable to off the shelf platforms and client's own models.
Flexible and configurable to off the shelf platforms and client's own models.
Our Advantage
Delivering Results
Automates process of data extraction from structured and non-structured financial reports to a customized output template by using mind+machine™ approach
70% faster data extraction from financial statements; overall reduction in time taken for credit risk assessments, financial modeling and due diligence processes
Ability to extract financial data from native PDF, scanned PDF, and MS Excel in multiple languages.
Reduces time spent on quality assurance of extracted data points by 15% due to seamless online and offline auditing.
Powerful OCR technology handles scanned and low-resolution documents, resulting in 99.6% data accuracy.
Proprietary algorithms adapt to the client's needs, and further improve the overall data accuracy.
Enables setting up of custom rule sets for treatment of financial line items to increase consistency in the credit process.
Built-in API's to easily communicate with any system for import or export of data i.e seamless integration.
Designed to integrate efficiently with other platforms and customized models, without needing to commit to a massive overhaul.
Both on-premise and cloud-based solution deployment options are available, regardless of the size of the organization.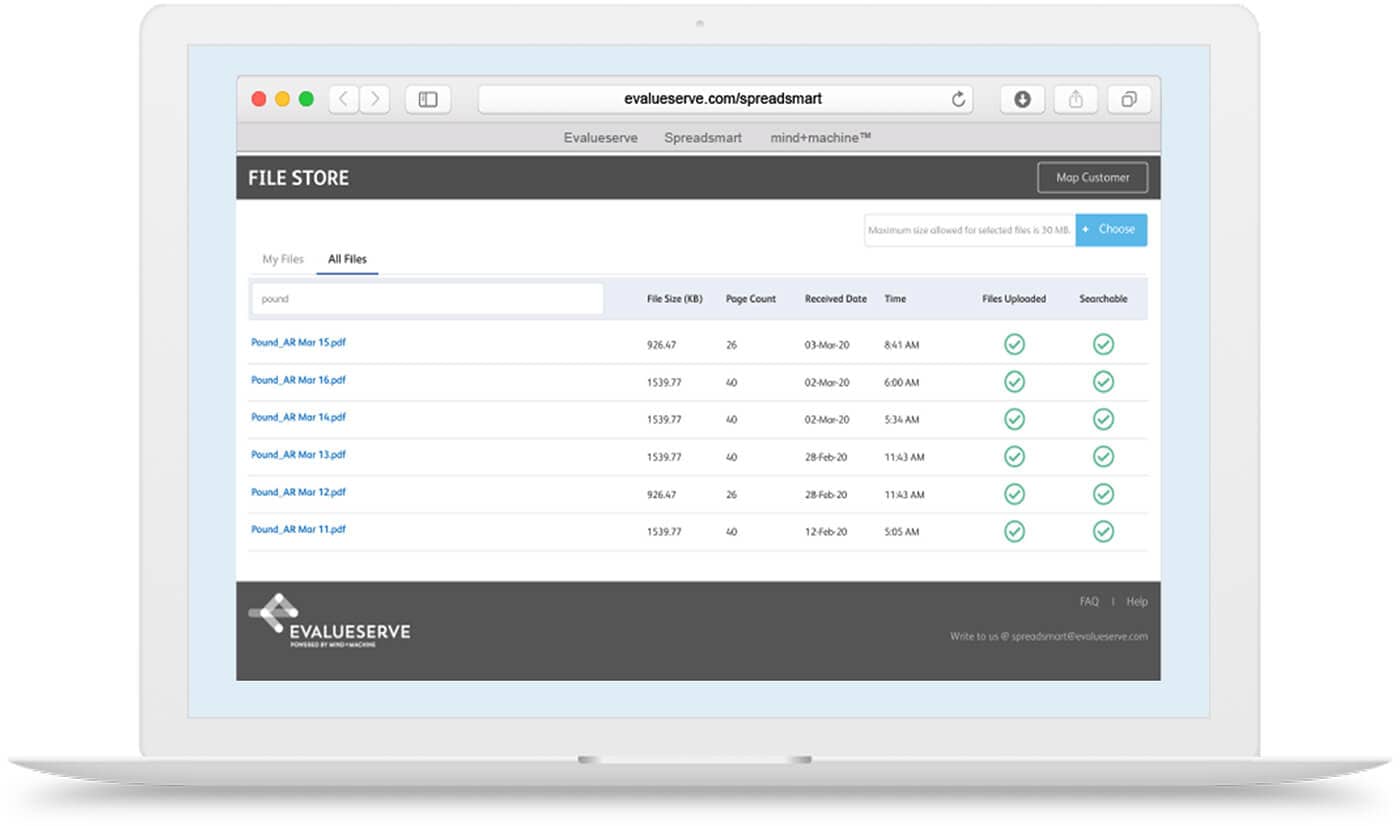 Covenant Tracking and Monitoring
Supports covenant category creation, custom covenant formula creation, tracking covenant basis defined frequency, automatically calculates covenant value from spread data.
If a company is breaching any covenant provides an option to generate pre-defined breach letters to the customer automatically. 
Spreadsmart also has a comprehensive reporting module useful for MIS / governance purposes as well as for tracking customer and spread data.
It has a dedicated section for audit reports given the critical nature of data being handled.
Key reports include customer details, user details, taxonomy report, maker checker log, and technical exception report.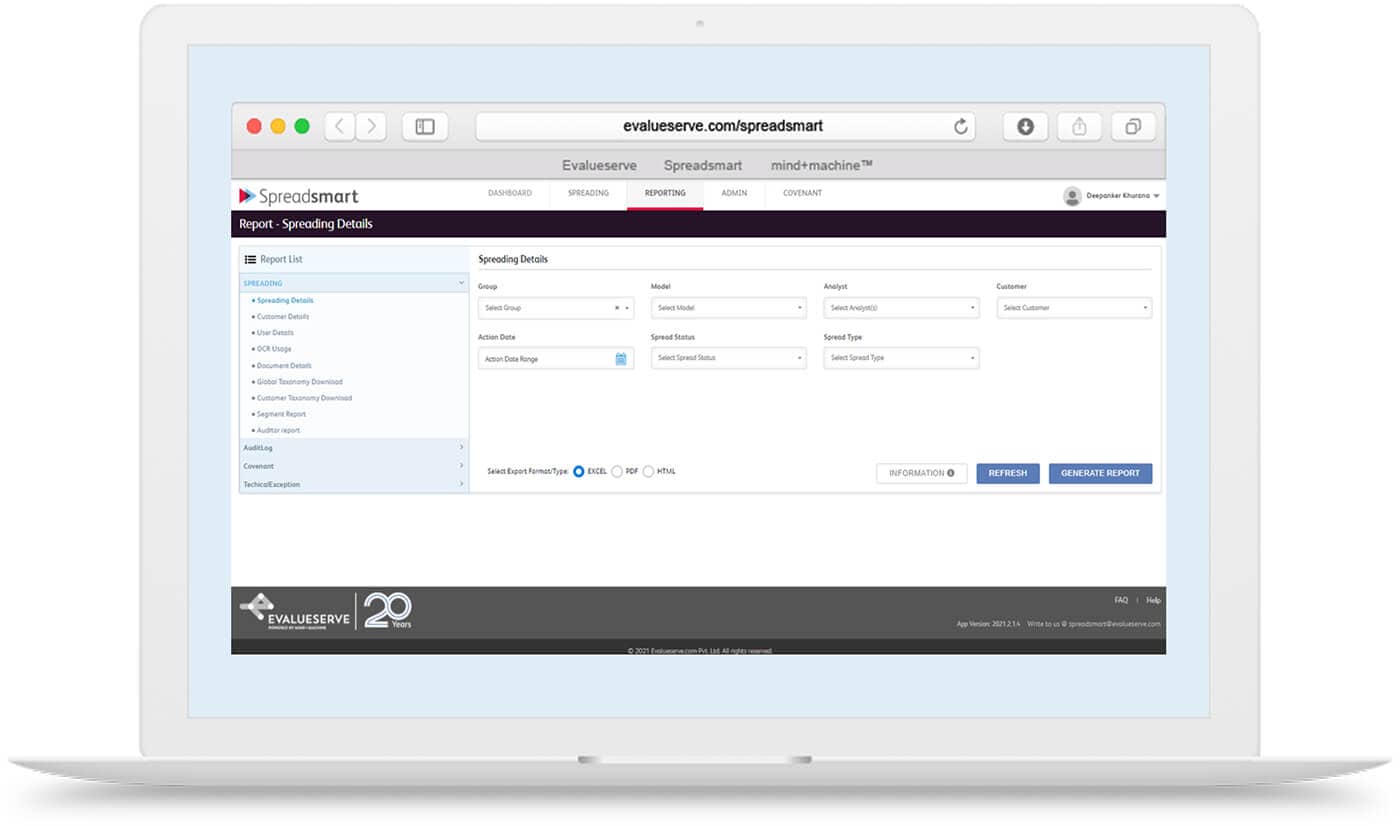 Reference Case
Boost Efficiency with Fully Automated Financial Spreading
Banks depend on fast, accurate financial spreading to process credit applications promptly and minimize risk, but existing manual processes can be cumbersome, inaccurate and slow.
Related Resources
Optimize your outcomes.
Related Industries
Additional Industries.
Spreadsmart
Request a Custom Demo.
Get in touch today to find out about how Evalueserve can help you improve your processes, making you better, faster and more efficient.