Publishwise – Powering Knowledge Management (KM) Programs
Unlock Complex Knowledge Management Challenges with AI and NLP Powered Solutions
Evalueserve's KM program is powered by an AI-enabled platform, Publishwise, a knowledge asset reuse & discovery platform. The digital platform lets you swiftly lookup past content using Modern Search and Recommendation Engines. The platform's search functionality is backed by a customized Semantic Engine and the Recommendation Feature uses NLP and ML for content recommendations.
Overview
Streamline your KM Program and Save Hours Spent Searching Past Content
Teams across the business spectrum often struggle to find relevant content when they need it. The required information is either siloed or the knowledge management system isn't optimized with correct business taxonomy and tagging. To solve this challenge, they need an organized, efficient, and robust Content and Knowledge Management program. The most effective KM strategy follows a programmatic approach that includes a digital platform and the right amount of human involvement.
Evalueserve has worked with clients across industries for two decades to run extensive KM programs. We offer a hybrid solution that combines our AI-enabled digital solution, Publishwise, and highly experienced KM Experts. Publishwise is a cloud-based platform that leverages machine learning-based recommendation engines to identify relevant content, provides intelligent keyword search and filter functionality to lookup past content, and has an in-built centralized repository. Our KM experts work with the clients' to create / enhanced taxonomy, assist in sanitization of existing knowledge assets and in co-creation of assets, and provide ongoing change management support for better adoption.
Optimized Access of Past Content with ML/NLP Powered Engines
Advanced Search to Fast-track Early Drafts of a Proposal
Centralized Repository for a Unified View Across Teams and Geographies
Seamless Integration with Application such as CRM and SharePoint
Access information faster and enhance the quality of deliverables
Advanced Search - Easily traverse through your content repository via Semantic Search and customizable refiners.

Recommendation Engine

- Discover relevant past content; advanced text analytics and machine learning based recommendation engine enables this.
Customized Refiners - Filter the content using completely customizable refiners such as Country, Business Unit, Nature of Content, Time frame, etc.
Content Libraries - Handy access to your most used content via customized library for each content type; easy search and export of content.
Flexible Integrations - Integrates with internal and external data sources & applications for maximum value creation (CRMs, SharePoint, etc.).
Access Control - Configure access to specific documents as per your business rules and needs.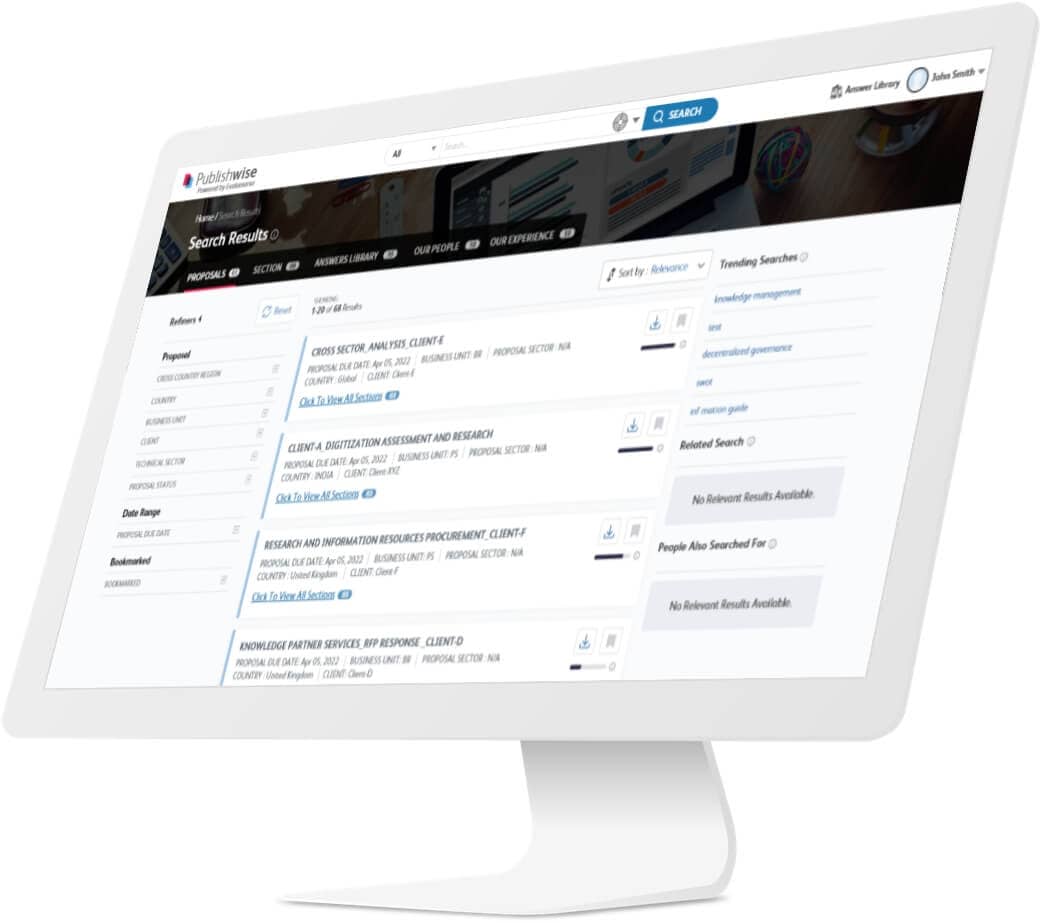 I was able to tap into proposals and past collaterals within seconds that were created by another team and in another geography, that I wasn't aware of.
Director, Business Development
for a Leading Consulting Firm
Built by combining human expertise and technology to meet your business requirements
Tailored to Align with Your KM Goals
We know that an off-the-shelf search or workflow solution does not address the KM nuances of modern-day organizations. That's why we start with a discovery and setup phase where our KM specialists will work with you to understand your objectives and the nature of your content & documents.
Ongoing Content Stewardship
We understand that your past proposal & RFP repository might not be residing in a centralized library. We have 20+ years of experience in KM consulting across various organizations. Our experts can work with you to identify document taxonomy and content tagging gaps. In addition, we provide ongoing content stewardship to manage the entire content lifecycle.
Featured Success Story
Leading Consulting Firm uses Publishwise to deliver high quality proposals in lesser time.
Accessed by 700+ global business development and pre-sales staff
Mi/NLP engines provide recommendations from 1,200+ past proposals for each new RFP
Reduced the time taken to look for past pre-sales content by 40%
Ongoing content stewardship provided by Evalueserve KM specialists helps maintain the proposal content, taxonomy, tagging, and overall alignment with the firm's KM objectives
Related Resources
Optimize your outcomes.
Related Products
AI-optimized products that scale.
We offer a distinct suite of products with careful attention to client-specific agility and seamless integration into existing platforms.
Related Industries
Additional Industries.
Publishwise
Request a Custom Demo.
Get in touch today to find out about how Evalueserve can help you improve your processes, making you better, faster and more efficient.