There are competitive intelligence tactics that can assist various departments within an organization achieve its strategic business goals. Competitive Intelligence provides a holistic view of the organization's business ventures ranging from tracking competitors to supply chain intelligence.
In this article, we'll focus on how Competitive Intelligence tactics provide businesses and various departments a detailed and accurate course of action to gain a competitive advantage in their respective market or industry. Different teams will gain more specific benefits from competitive intelligence. Competitive Intelligence helps identify how your competitors are playing in the market, but it is not limited to just competitor behavior and isn't only for strategy or marketing teams.
Sales Teams
Competitive Intelligence is a crucial part of the sales process and a growing number of competitive intelligence tools have shown up in the market in recent years. Sales teams can use CI to understand how a prospect may be using a competitor's product. It can reveal what pain points the prospect is facing with the competitor's product and help your sales reps close a deal with the prospect by identifying how your product or services could resolve those pain points.
Sales teams benefit from competitive intelligence tactics with the ability to target smarter and engage in more informed conversations. They can head into sales calls more prepared with information about competitors, the landscape of the prospect, and gain real-time competitive intel during the calls to adjust their sales strategy more accordingly.
A great way for sales teams to organize all this information in preparation for their sales calls is Sales Battle cards. Sales Battlecards are competitive intelligence tools that sales reps use to prepare information about competitors, clients, and prospects to ensure they can answer questions and exceed expectations.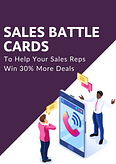 •

Sales Reps Can Win 30% More Deals
Sales Battle Card Templates
This all leads to improved win rates because sales reps can adapt their strategies when given more information about their prospect's needs, the competitors they are up against, and the market their prospects are facing.
Marketing Teams
Marketing Teams benefit from Competitive Intelligence due to the adaptive nature of the profession. Marketing teams are constantly testing messaging and designs to increase demand and lead generation to help the sales team win more deals.
Competitive intelligence helps marketing teams define a clear picture of the larger market and landscape. It helps marketing teams understand customers and their behavior better than competitors do so they can adjust their messaging and other strategies to target pain points and necessary solutions.
It helps create a client-focused marketing strategy, which enables sales teams to bring in more prospects and close more deals.
Marketing teams can also use CI tactics to refresh their content by tracking the type of content competitors are publishing, finding what works best for their industry by monitoring their customer's behavior, and attending industry events relevant to their product or service. Events can be used for lead generation tactics to gain relevant insights directly from prospects and customers.
Product Teams
Product teams benefit from Competitive Intelligence tactics with the ability to view and create product roadmaps based on competitor and customer profiles, tracking emerging competitors, and understanding competitor products and business models.
Your product team needs to understand how competitors are pricing and packaging their products so they can understand where their margins are compared to the rest of the market. They need to see the value and price offered by competitors so they can adjust accordingly and find if their current pricing model can remain competitive against other organizations in the market.
Another important part of competitive intelligence that is valuable for product teams is understanding the market. Understanding where your customers and other external stakeholders want the product to go can help product teams further develop a product to fit the needs of the consumer and ultimately enable sales to win more deals.
They should track competitors' positions and monitor their consumers with Competitive Intelligence tools to remain proactive in product development and refinement to stay ahead of the curve.
Procurement Teams
Procurement teams must find the best solutions and vendors to source direct materials and ensure that they arrive on time and are the most cost-effective solutions. Procurement teams benefit from Competitive Intelligence because they can use it to gain insights into how their vendors are faring in current conditions, consumer behavior trends and patterns, and how competitors are sourcing materials.
An important component of competitive intelligence for procurement teams is gathering and analyzing multiple factors that may be value levelers. It includes innovation and disruption, competitive dynamics, and quantitative data gathering.
Competitive Intelligence helps procurement teams understand their supply chain by identifying the most efficient suppliers, analyzing spend data and trends, and identifying and monitoring risk factors throughout the procurement process.
Procurement teams use competitive intelligence to monitor their competitors, their market, their vendors, and how internal and external stakeholders are contributing to environmental, social, and government relations. 
Executive Teams
Executive Leadership Teams use Competitive Intelligence tactics to drive their decision-making process and move the company forward in their respective industries. Competitive Intelligence helps Executive Teams understand the landscape and how the top competitors are moving in the industry.
Executive teams look to identify their stakeholders and find relevant information that can be verified through research.
When communicating Competitive Intelligence to your Executive teams, it's best to keep it short and use their preferred methods of communication so it is easily digestible for them.
Executives need a clear view of the competitive landscape to drive their decisions and move the company forward ahead of the curve. CI also helps Executives ensure they are not missing out on potential growth opportunities, avoiding information silos, and avoid being blindsided by competitor movements.
Strategy Teams
Competitive Intelligence helps Strategy Teams identify opportunities for growth, how to combat competitor movements, and how to align the rest of the organization in a way that will achieve the company's quarterly, annual, or long-term goals.
The strategy team can further benefit from competitive intelligence by identifying the gaps that competitors are trying to fill, the gaps that need to be filled in the market, and relay that information to other teams across the organization with proposed solutions related to the goals of the executive team.
It can help the strategy team develop battle cards, competitive strategies, deliver internal content, build engagement from internal and external stakeholders, and keep the organization's story and goals under control from unnecessary problems that could come up in the media, during manufacturing, or in future endeavors.