What is a competitive audit?
A competitive audit or competitor audit is an essential part of competitive intelligence. It involves a complete assessment of your competition through notes of their products, branding, content, features, and benefits.
It also includes several other factors, such as:
Strengths and weaknesses
Unique features
Overarching messages
Price points
Value propositions
User ratings and reviews
Mission and value
Offers
Analyzing your competitors' assets helps you clarify what other messages potential customers are seeing throughout their buyer's journey. If you can successfully outperform those messages, you can then outperform your competitors.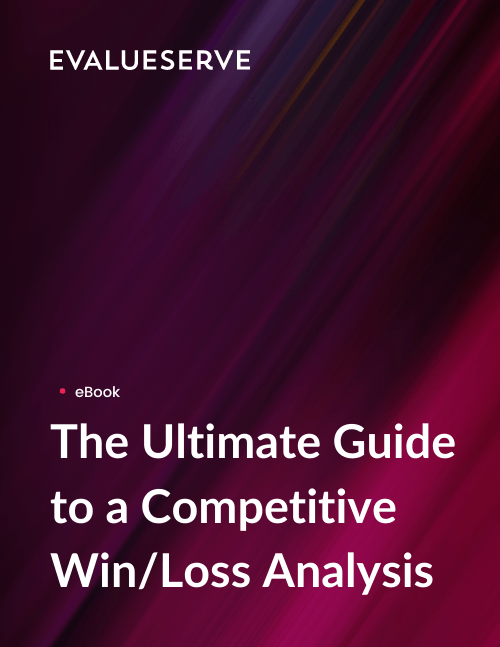 The Ultimate Guide to a Competitive Win/Loss Analysis
Why is a competitive audit important?
Out of all the products that are similar to yours, why should potential customers choose yours instead?
If you don't know the answer, a competitive audit is overdue. It'll give you actionable insights on which areas of your business to improve, based on an analysis of your direct and indirect competition.
Sure, your competition may be doing a lot of things right. But there are also things they may be doing wrong, and you should take note of both.
Here's a brief example.
Let's say you're analyzing a direct competitor's homepage. It looks good. Well laid-out. But as a good researcher, you don't stop there: you decide to triangulate your data by looking at other sources.
In viewing their Google Business profile, you notice visitors to their site complain about not having easy access to a contact number. What would you do in this situation? You'd put a contact number front-and-center on your homepage.
To you, this may seem like an afterthought. But for users who are actively looking for solutions, this is huge. They want to reach their goal faster, and you should help them do it.
Where are your competitor's strong? Where are they weak? Is their value proposition generic? Could you do better? These are all questions to keep in mind during your audit. But they aren't the only ones.
In this article, we'll guide you through the key questions you should ask when analyzing your competitors.
The purpose of your audit
What are you trying to accomplish?
When done right, competitive audits can dig up gold. So much so that there are entire businesses dedicated to this type of research.
Because they're so eye-opening, you might get carried away with aspects that don't align with what you need to discover.
That's why, before conducting your audit, you should always ask the following question:
"What am I trying to accomplish with this audit?"
Example goals can be:
I want to create a stronger value proposition.
I want to remove all objections toward saying "yes" to our offer.
I want to outrank the competition on organic search results.
If that's not enough to set you off on the right direction, you can answer an alternative question:
What are you looking for?
Are you looking for quantitative data or qualitative data? Are you looking to discover relevant keywords and phrases your competition uses to search for products like yours?
Are you looking for numbers, such as how many direct competitors you should focus on? Are you looking at their price points so you can make better deals?
Are you looking for ways they describe your product so you can perfect your value proposition? Or are you looking for their objections regarding your product?
As you can see, there's a range of questions to kickstart your research.
Identify competitors
You can't outrank your competitors without first knowing who they are.
In a perfect world, you'd be able to analyze each and every competitor under the sun. While not necessarily impossible, that would be extremely draining. After all, depending on what you're selling, you're more than likely to have competition across the globe.
Not only that, but you stand against both direct and indirect competitors. So your job isn't to identify all of your competitors, but the ones that are more likely to steal market share.
Start by understanding the difference between direct and indirect competitors.
Direct competitors
Google Sheets and Microsoft Excel. Nike and Adidas. A Samsung phone and an iPhone. These are famous examples of direct competitors.
Your direct competition provides the exact same, or very similar products to yours. Your visitors and prospects are their visitors and prospects. And oftentimes, their offer matches yours.
In one of our articles, we gave a no-brainer example of this.
"If you have a lemonade stand, the neighbor's lemonade stand next to yours is your direct competition."
Maybe the neighbor's lemonade is cheaper, but it's also sour. Yours, on the other hand, is a bit more expensive – but that's because you work with quality home-grown lemons.
When evaluating their options, people will put it on the scale: which of those businesses is likely to help them with what they're looking for right now?
Indirect competitors
Project management tools compete with other project management tools. But they also compete with notepads, pens, spreadsheets…and anything else people use as alternatives to those tools.
Indirect competitors are businesses that provide alternatives to your products. Or, if they sell similar products, those aren't their primary solutions.
As an indirect competitor, you should give prospects good reasons for switching. For example:
Comparing a mess of crumbled papers and a bunch of spreadsheets to a single, centralized hub could help people realize the importance of a project management tool.
Elevate Your Impact with Competitive Intelligence
Next: find your most important competitors
Once you have a good idea of your direct and indirect competition, it's time to pinpoint the "bosses."
When evaluating their product options, potential buyers will narrow their options down to just a few. This simplifies the decision-making process for them.
Here's why that matters.
Try to imagine your prospective customers have a few tabs open, and they're balancing your product against two similar products. Those are the two competitors you want to target.
But how do you find your most powerful competitors? Here are some methods you can use.
What methods to use
Interviews/surveys
You should interview and/or survey your leads and customers to grab raw, context-rich qualitative data. The questions you ask should be tied to your initial purpose.
In your research, ask your customers they were using before choosing your solution. Was it a hacked-together version of your product (indirect competitor)? Or was it a similar product (direct competitor)?
Internal stakeholder interviews
Talking to product owners is just as important as talking to leads and customers. During internal stakeholder interviews, business owners will mention products they believe to be direct and indirect competitors.
After listing potential direct and indirect competitors, you should work together to limit those competitors to two or three options. This will give you plenty of data to focus on.
Googling related keywords and seeing who appears
When you Google your product's name or your product category, what shows up on the first page results?
Back to our project management tool example. If you look at the results of the search "project management tools," products like ProofHub, Zoho, Scoro, among others will surface. Make a list of the ones that show on the first page.
Other techniques include using longer tail keywords, such as "project management tools for small businesses" or "project management tools for agencies." These are likely to yield more direct competitors based on your niche.
What are the goals of your audit?
Strengths and weaknesses of competition
List the advantages of a competitor's product by answering the question: What does this company do well?
Be critical here. Testimonials and 5-star reviews are great starting points. You can also make notes of findings such as:
Do customers rave about their prompt customer service?
Has their product solved a pressing need they couldn't solve anywhere else?
Is the user experience (UX) good?
When it comes to weaknesses, those angry 1-star reviews can be incredible. For you, at least.
When listing disadvantages, answer the question: What does this company do poorly on?
Does their customer support take forever to answer?
Do they not deliver on their promises?
What do customers complain the most about?
User loyalty and engagement
If your competitor has a high social media engagement in the form of likes and comments, their user loyalty is likely to be strong. And the more loyal their customers are, the longer they might stick with the competition in the long run.  
What makes their users loyal? Is it that they reply to every single comment? Do they have a dedicated channel to directly interact with users, like a Discord server? Write that down.
Key differentiators
This is where value propositions make their entrance.
A value proposition states your brand's key differentiator in a clear and desirable way. What's your competitor's value proposition?
Of course, products can have multiple differentiators. Typically, each of your products will have key differentiators and unique features. You should know what those are, including what people like or dislike about them.
Key differentiators include:
Unique features
Unique processes (how it's made, where it's made, who made it)
Interesting product history
Interesting voice and tone
Great user experience
The fastest shipping
Awesome free content
This research will help you uncover those differentiators and perfect your own value proposition.
Create a summary and action items to share with teams
Finally, make your competitive audit concise and actionable. You can use Google Sheets or any familiar documenting tools to organize your data.
This way, everyone will stay on the same page and make educated decisions (moving forward.
Here's what you should include in your summary:
Separate tabs for direct and indirect competitors.
A brief summary for each competitor.
Strengths and weaknesses for each of the competitors you've listed, as well as their value propositions.
The target audience of each competitor. Who are they targeting? Are they targeting the right people?
Your competitors' power users. Who are the users interacting with their product the most? Are they the same users who interact with your solution?
And of course, their unique features or service offerings
Add any first impressions, interesting insights, and key takeaways from your competitive audit into the summary.
Pro tip: include visuals to guide your rationale. These could be screenshots or videos of products, testimonials, and case studies, for instance.
A word of encouragement
Whenever you feel overwhelmed by the amount of data you need to collect, circle back to your initial purpose. Remind yourself that the data you're collecting only matters if it matches that purpose.
On a final note, avoid doing a competitive audit to swipe messages and ideas from your competitors. All you're doing is trying to ethically rise above the competition through data-driven research.