Journey to Make Pitchbook Process Efficient
Reports and presentations are critical for the financial industry, as they act as decision-making tools for both investors and clients. But how do you ensure that your reports and presentations shine above that of your peers? The challenge often lies in formatting immense amounts of text and data, while ensuring visual appeal and maintaining the sanctity of content.
Because of the growing emphasis on innovative and creative presentation, design teams have been augmented from desktop publishing team to presentation design services or graphic support teams that integrate the latest design elements and trends across the industry into their clients' reports and presentations. Presentation Design teams can create and work on pitchbooks to ensure accuracy and efficiency, so that their clients gain an edge in the market.
Evolution of Presentation Design Services
During the initial phases, presentations were just a bunch of slides with text. Whenever presenters had to show something, they would draw it on a sideboard. Designing slides was a time-consuming process and a deck usually took multiple days to be created. The format and content were dull and hardly managed to grab businesses' attention.
With time, designers started integrating various elements to make their designs livelier and more informative. All this while they kept to the thumb rule: Mind retains visual elements more than text. Designers started using icons, custom layouts, customized infographics, etc., and were able to present visually engaging content. The result was an immediate success and acceptance from clients, who were now looking for more creative presentations. Therefore, designers started creating custom designs and maintaining a huge repository of their designs.
The stage was set for leveraging these custom designs for recurring work or creating a new design using the existing ones. This prompted designers to think of ingenious solutions through which varied artifacts could be stored and accessed by both designers and their clients. This saved time, reduced turnaround time, and enabled the development of customized design software suites.
With technological advancements, clients have started looking for customized solutions such as conversion of decks to new templates, one-click formatting buttons, templates, macros, customized formatting ribbons, proprietary colors, fonts, etc., to complete recurring tasks without human intervention.
In a nutshell, the contribution of designers has evolved from mere formatting to providing customized solutions using RPA and proprietary solutions, among others. Design evolution is now deeply integrated with organizations' innovation processes, as well as backed by continuous feedback from customers.
The evolution of presentation design services across investment banking firms, is best illustrated by the
graphic below.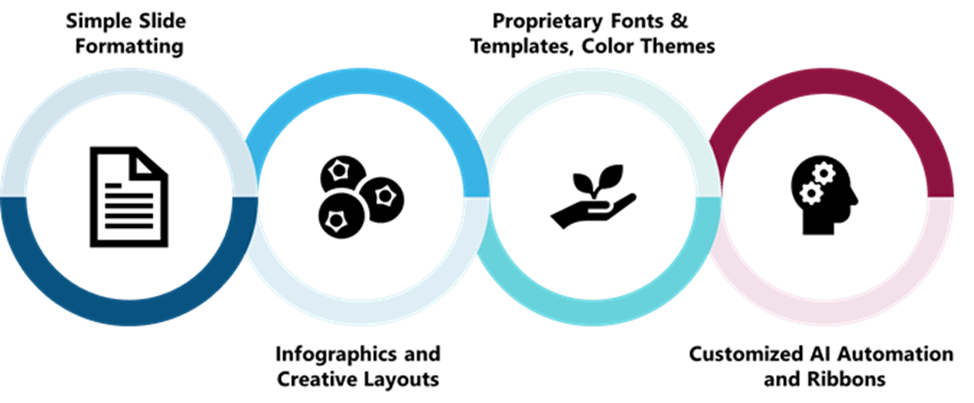 Simple Slide Formatting
Earlier, PPT formatting was aimed at transforming a rough presentation into something more beautiful and presentable
Infographics and Creative Layouts
With the evolution of design, designers started working with Infographics, in which they present data and concepts using graphics, along with minimal text and numbers
Proprietary Fonts, Templates, and Color Themes
Designers started creating creative templates using proprietary fonts and
color themes
Customized RPA and Design Ribbons
With technology advancements, design is now integrated with technology and focused on creating proprietary solutions (e.g., through a mind+machineTM approach at Evalueserve)
Further, we have discussed problems specific to our investment banking clients, and how Evalueserve helped in making Pitchbook creation more efficient.
Customized Functionalities to Help Improve Efficiency and Quality of Pitchbook Creation
Problem Statement
Investment banks create large pitchbooks and management presentations on a regular basis. The process of curating content and developing artifacts involves several manual, repetitive, and time-consuming tasks, such as creating credentials slides and ensuring adherence to brand guidelines. These tasks can have a significant negative impact on bankers' productivity. Our client, a major investment bank, was looking for technology to shorten its turnaround time on pitchbooks and presentations. Its junior analysts were spending many hours on manually searching, resizing, and placing logos; selecting templates; creating tombstone slides; and formatting. Not only was the process far too slow and cumbersome, but the bank was also facing competitive pressure to streamline and standardize its processes.
Evalueserve Solution
Evalueserve designers set about making the process easy for bankers by creating tools that helped to
Standardize formatting
Automate repetitive tasks (making slide titles consistent, etc.)
–       Create one-click buttons for formatting charts and tables
–       Fix margins across decks
–       Format multiple shapes at one go, through select shapes by their size, color, and size feature
Develop tombstone creation tools
Create a logo repository covering 67,000+ public companies (with a mechanism for regular updates)
The resulting suite of PowerPoint productivity tools made pitchbook creation smarter and more efficient.
Business Impact
95%
Saved process time spent on applying logos on pitch presentations
90%
Reduced time taken
to create Tombstone
40%
Time saved by standardization of templates
50%
Time save in formatting Pitchbooks
In addition to above, our presentation design services team work as an extension to investment banking teams with 300+ designers, and help bankers in formatting slides as per brand guidelines, creating custom PowerPoint templates, creating maps, charts, tables, converting pdf to excel, word, & PowerPoint, logos, tombstones, custom graphics/infographics & data driven visualization using our proprietary mind + machineTM technology, RPA, customizable design ribbons, and other tools.
Conclusion
There is a multitude of challenges faced by investment bankers, and the most significant is creating eye-catching and practical pitchbook presentations while reducing the turnaround time. Evalueserve provides holistic design solutions to investment banking clients, including template and layout creation, formatting as per brand guidelines, and creating client ready pitchbooks by using our proprietary productivity tools. We offer services across the value chain of pitchbook creation, and our presentation design services team help bankers create and format these pitchbooks efficiently.
Read more about our proprietary bankers' productivity suite – Pitchready at
https://www.evalueserve.com/product/pitchready/
To know more about our services to Investment Banking, visit our webpage Investment Banking Advisory – Evalueserve