High Competition and Slow Monetization – Two of the Biggest Challenges Even the Most Successful EdTech Companies Face
EdTech is one of the fastest-growing sectors globally, with skills development solutions receiving the highest funding in 2020. This growth wave has been triggered by the global talent crisis and mobility restrictions following the outbreak of the COVID-19 pandemic. EdTech has opened alternatives to graduate degrees, enabled professionals to upskill themselves, and made it possible for corporations to adapt to the post-pandemic era. So, it's safe to say the future of learning looks promising because of EdTech.
The rapid digitalization of the economy, workplace, and education will increase competition among the new generation of EdTech companies. Although the EdTech market is expected to reach US $375 billion by 2026 (according to Global Market Insights), it is marked by increased volatility and disruption. Despite these constraints, this sector is one of the very few that grew tremendously during the COVID-19 lockdown.
Amid intensifying competition, we see giants, such as 2U INC, Apple, CISCO, and Coursera, alongside start-ups such as Byju's and Unacademy. The industry welcomes all types of agreements, including mergers, acquisitions, and joint ventures. For example, let's take Unacademy, founded in 2015; it first acquired Wifistudy for USD 10 million and continued acquiring at least eight more companies during the past 18 months. Likewise, Byju's – the EdTech decacorn and India's most valuable unicorn – has been on a buying frenzy last year. It recently acquired Singapore-based Great Learning and Bengaluru-based augmented reality start-up, Whodat.
Over the past 18 months, more than 15,000 companies entered the sector and are fighting for a piece of the pie to monetize market opportunities successfully. Growth is inevitable, but monetizing the increasing number of users can be a challenge, even for EdTech giants. Therefore, two of the biggest challenges EdTech companies need to address today are high competition and slow monetization. Investors often have unrealistic expectations and can get frustrated by slow RoI. They are also reluctant to finance new projects. On the other hand, the number of start-ups has skyrocketed over the past couple of years, leading to intense competition for funding and pressure on cutting development costs or compromising on margins with competitors.
Thought Leadership as a Differentiation Strategy for Long-term Monetization
If we were to highlight one common aspect that proved to be a game changer for all EdTech companies it would be their ability to make their voices heard above the marketing noise. When the end game for these companies went beyond offering the best EdTech products or services to becoming an inspiration that changed mindsets and behaviors, that is when their commitment was recognized.
Thought leadership remains one of the most effective strategies, as it generates new ways of thinking that influence the entire EdTech industry, resulting in new business models or customer loyalty. By sharing their knowledge and understanding on meaningful topics, companies can position themselves as authorities. This helps in laying the foundation for monetization tactics in the long term.
Thought Leadership is Essentially about Building Trust and Credibility
Thought leadership should not be considered a selling tool. Monetizing the future of learning in the digital era does not limit to building the best learning platform or even learning ecosystems. EdTech companies that strive in this competitive landscape, characterized by global talent and mobility crises, will be looked at for their products or services as well as their expertise, ideas, and information. Thought leadership is essentially about building trust and credibility. Only after they had succeeded in providing such value, choosing them over their competitors comes as a natural consequence.
An EdTech industry leader's voice helps in guiding users and proving that they are worth listening to. Once that level of authority is established, consumers get more educated and are more willing to make decisions that focus on evidence-based research and insight-led content.
But how can thought leadership address the two main challenges of the EdTech sector – high competition and slow monetization? The simple answer is: by working as an enabler for a long-term customer value creation process.
While a large number of start-ups are able to solve the product / market challenge, many still fail to either find ways to acquire customers at a low cost or increase the LTV (Lifetime Value) of a customer. Harmonizing the two variables is the key to building effective and efficient growth engines. As the cost of acquiring customers (CAC) in the EdTech industry is usually high, it is important for them to use intelligent means to find the desired balance.
A well-designed thought leadership program can help EdTech companies:
Lower their CAC by helping them to:
Identify their key target market and develop a reliable strategy for reaching customers
Establish their marketing objectives and know exactly what they want to achieve with their strategic initiatives
Plan (educational) content development that helps build trust by providing information that relates to their problems
Measure the effectiveness of different strategic initiatives and offer the ability to tweak them for a flawless fit
Increase LTV of a customer by enabling access to the following benefits:
Positioning versus competition
Build a loyal, repeat audience and a solid network of consumers
Get healthy traction on content they create, powering their PR opportunities
Demand generation
Fuel other content creators, easing future collaborations
Increase credibility and build brand awareness
How Evalueserve Can Help EdTech Companies Build a Thought Leadership Strategy and Monetize Their Expertise
Define an End-to-End EdTech GTM Solution that Includes an Integrated Thought Leadership Program
If you want to succeed in a competitive environment such as the EdTech industry, your business needs to develop approaches and marketing content based on customer preferences. Our Thought Leadership Strategy Support offering includes an end-to-end market and opportunity assessment, which can be customized to clients' requirements.
We can start by helping you define what an end-to-end go-to-market solution could look like for you.
Each EdTech company may have business segments that they want to harvest. Evalueserve can offer support to identify, define, and integrate these segments within a general GTM strategy.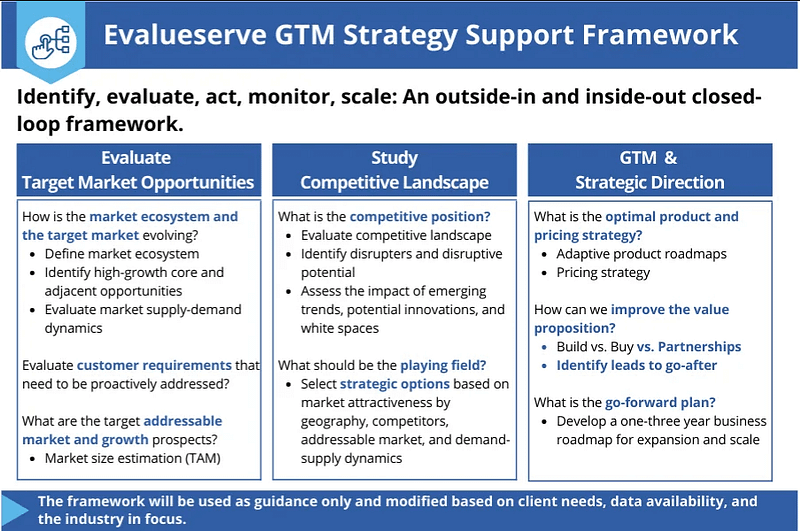 When paving your way to becoming a thought leader in EdTech, your ability to identify and understand industry trends and use that knowledge to educate your audience is key to building trust. Evalueserve's AI Solution for opportunity identification provides a framework that will enable you to discover actionable insights, optimize the process of information gathering, process large sets of data, and distribute it to the relevant audience.
When your EdTech company struggles to sift through market data to find relevant opportunities and stay ahead of the game, Evalueserve's AI-powered analytics tools can tell you a story about your customers and prospects, helping you identify opportunities and increase conversion rates quickly.
In addition to recognizing what these 'sweet spots' represent, we offer systematic support in building a tailored thought leadership program in alignment with your overall business and GTM strategies.
Thought leadership aims to achieve several short- to long-term goals, which typically fall under one or multiple categories. Some of these goals can be:
Establish credibility in a new market, build new audiences
Position the organization as a leader in a new market, innovation, a new topic, a new technology, etc.
Develop brand awareness
Increase the company's attractiveness to investors
Build reputation and credibility
Develop a differentiated PR and branding strategy
Look attractive to existing and potential employees
Uniquely position offerings against social, technological, economic, environmental, or political circumstances
After your goals are defined, Evalueserve will make sure they are consistent with the overall business strategy and that the GTM solution is assimilating the thought leadership program as one of its main components.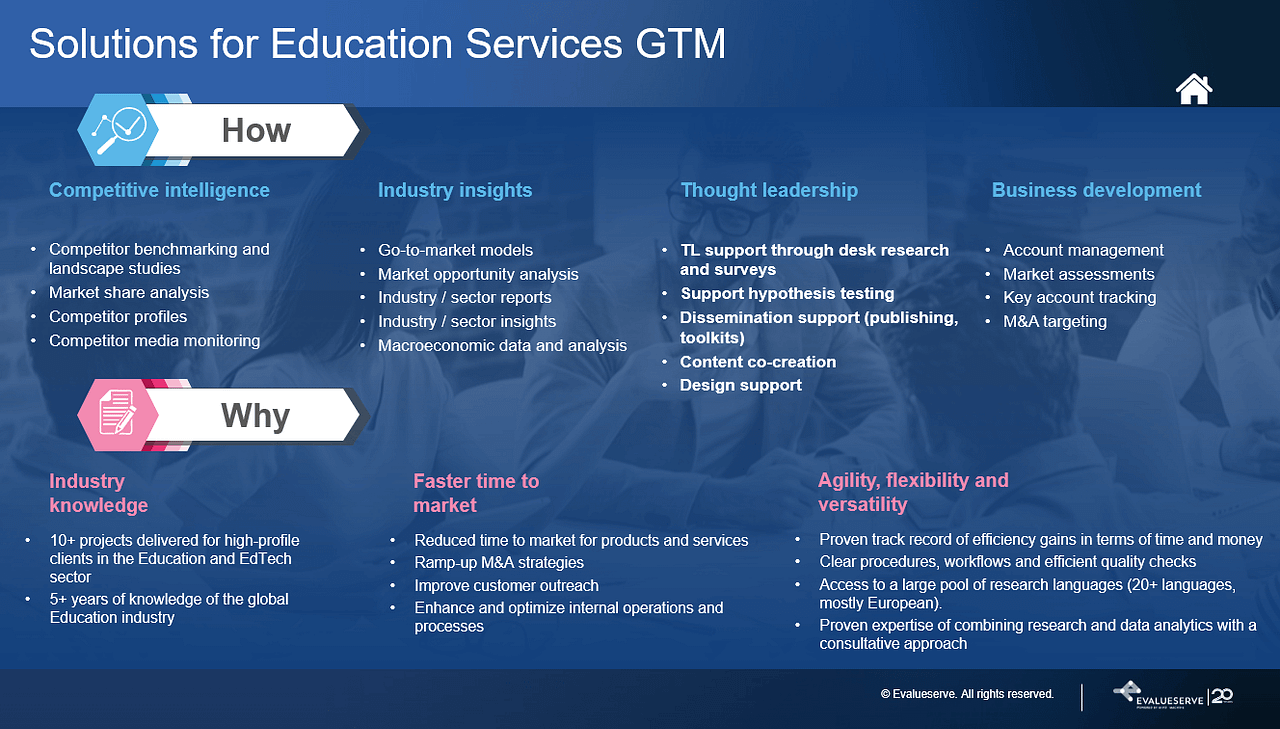 How Evalueserve Helped an EdTech Company Position itself as an Industry Thought Leader
Our industry experts zoom-in on a particular sub-industry, industry sector, trend, topic of interest, etc., to support our client's decision-makers in building a tailored thought leadership approach based on evidence-based research and insight-led content.
USE CASE: Thought Leadership and Visualization – Talent Mobility Solution in EdTech
Objectives: Revamp and repurpose the client's thought leadership program
High-level requirements and expected strategic benefits:

Position the company as an industry thought leader by creating unique, proactive, and strategic content on the company's website. This involved creation of a microsite / landing page that hosted an outplacement index, survey results, relevant heatmaps, and market-facing point-of-views / marketing materials
Differentiate client's positioning from competitors as a domain expert
Develop thought leadership as a branding tool for customers and lead generation
Increase online mind share and provide customers more visibility into national and local media

Solutioning: Evalueserve adopted a three-phase process to develop unique thought leadership.
Evalueserve has access to valuable, relevant resources, such as industry and domain experts, existing frameworks, advanced technology, a pool of internal and external talent with diverse language capabilities and local market insights, global or local databases, etc. Our transparent approach and solid experience in a variety of EdTech use cases allow us to go as deep and / or as wide as the customer requires, as well as offer flexibility in methodology options.
Conclusion
Thought leadership should not be a definite goal. Offering the right products and services should not represent the final endgame for a future-looking, innovative EdTech company. Having a reliable partner that can create value by integrating such strategies into the bigger picture will help you navigate wisely as you move toward your business goals. Our aim is to always take a consultative approach that is heavily data-driven and cost-effective. Our solutions equip our EdTech customers with the tools needed to monetize growth opportunities and gain competitive advantage.