Today, all progressive industries are adopting new analytical methods to optimize everything from inventory to manufacturing units to sales to marketing efforts. They are using the power of analytics to minimize disruptions in their supply chain, identify potential customers and prevent existing valuable customers to churn, and drive pricing and contracting. Why MedTech companies should lag behind in this run? Let's examine some of the analytics use cases which have good application in MedTech industries as well.
"My company cannot leverage the true power of analytics, as there isn't enough good data available." – I worked in the MedTech sector for almost 40 years with that assumption. Many of my counterparts continue to believe that internal MedTech data is sparse, poorly defined, and widely spread across multiple systems, and they are reliant on the 'best available' sales or tracking information, which may not be good enough for analytics applications.
However, it's never too late to learn something new, as long as you have your eyes wide open. I have observed how businesses source data, only to appreciate similar data accessibility in the MedTech space, especially in a new world of connected devices. Be it healthcare websites, smart watches and monitors, pharmaceuticals or hospitals – all generate a steady stream of high-quality internal and third-party data that can be used for advanced and predictive analytics, supported by highly skilled resources who can augment efforts to dramatically enhance the speed and quality of data-based decision-making.
This understanding has completely changed my view, and I feel obligated, in a way, to shatter the long-held myth about dearth of MedTech data.
First Things First – Why are Companies Adopting Analytics?
Progressive industries have made or enhanced business analytics as an integral part of their regular operations to optimize everything – from inventory to manufacturing units to sales and marketing efforts. They are using its power to minimize disruptions in supply chain; identify potential customers; prevent turnover of valuable customers; make enhanced decisions around pricing, contracting, and profitability; and drive innovation and overall growth.
In fact, today's enhanced analytics is helping companies to fulfil three of their biggest business objectives:
Improving top line by understanding consumer behavior, anticipating future events, and gaining new insights to build valuable relationships,
Minimizing cost by making effective strategic decisions and bringing in processes and operational efficiencies, and
Identifying growth opportunities by interpreting information on market size, competitive landscape, and innovation and growth.
While several industries initially struggled with minimal or scattered data, skillful planning helped them uncover relevant and powerful insights to solve business problems and achieve goals.
Take the case of a pharmaceutical company we worked with using analytics for pre-launch planning and tracking of an innovative product in the cardiovascular space. The company began by collating data on demographic factors, such as disease prevalence and public and private healthcare expenditure; sales potential; and regulatory parameters, such as level of HTA from multiple paid and public sources. Thereafter, it created an indexing model, under which it ranked and clustered 28 countries for launch sequencing, and also a post-launch dashboard to track product uptake across each cluster.
In another case, a leading manufacturing company developed a customer-retention framework to grow its client base by retaining customers, increasing their purchase potential, and improving its relationship with them. It gathered data from internal sources, such as CRM systems, invoices, warranty claims, and call center data, besides data on industrial activity index, employment rate, etc., from public sources. It developed three models to predict churn and detect its triggers. The model revealed which customers held churn risk, prioritized which could be retained, and identified up-selling and cross-selling opportunities to help the company optimize leads.
The third and most interesting case was related to a Fortune 100 heavy equipment manufacturer that sells machinery through a global network of dealers and distributors. The company wanted to achieve supply chain efficiency by benchmarking financial performance across regions and segments. It used its dealers and distributors' internal databases and financial reports, including from income statements, balance sheet, and cash flow statement, to create a centralized repository of financial data. The repository was used to develop a benchmarking and optimization model that helped compare dealers on the basis of KPIs for each segment, and ultimately reduce overall decision-making time and effort.
And Now – Can MedTech Companies Adopt a Similar Analytics Strategy?
Having acknowledged the availability of data from diverse sources, and browsed through examples from various industries, I investigated the potential for analytics use cases within MedTech. I foresee companies adopting an enhanced data-based approach to meet three critical goals.
Improvement of top line: Most MedTech companies have detailed and long-term and specific invoice data on customers and their purchasing pattern, including detailed SKUs and packaging information. This can be used for predictive customer analytics use cases, such as upsell and cross-sell, customer churn prediction, lead prioritization, and even demand forecasting at the SKU-level. Furthermore, customer segmentation can help in targeted marketing, product innovation, and enhanced pricing structure.
Pic 1: Architecture for collating customer data from internal and external sources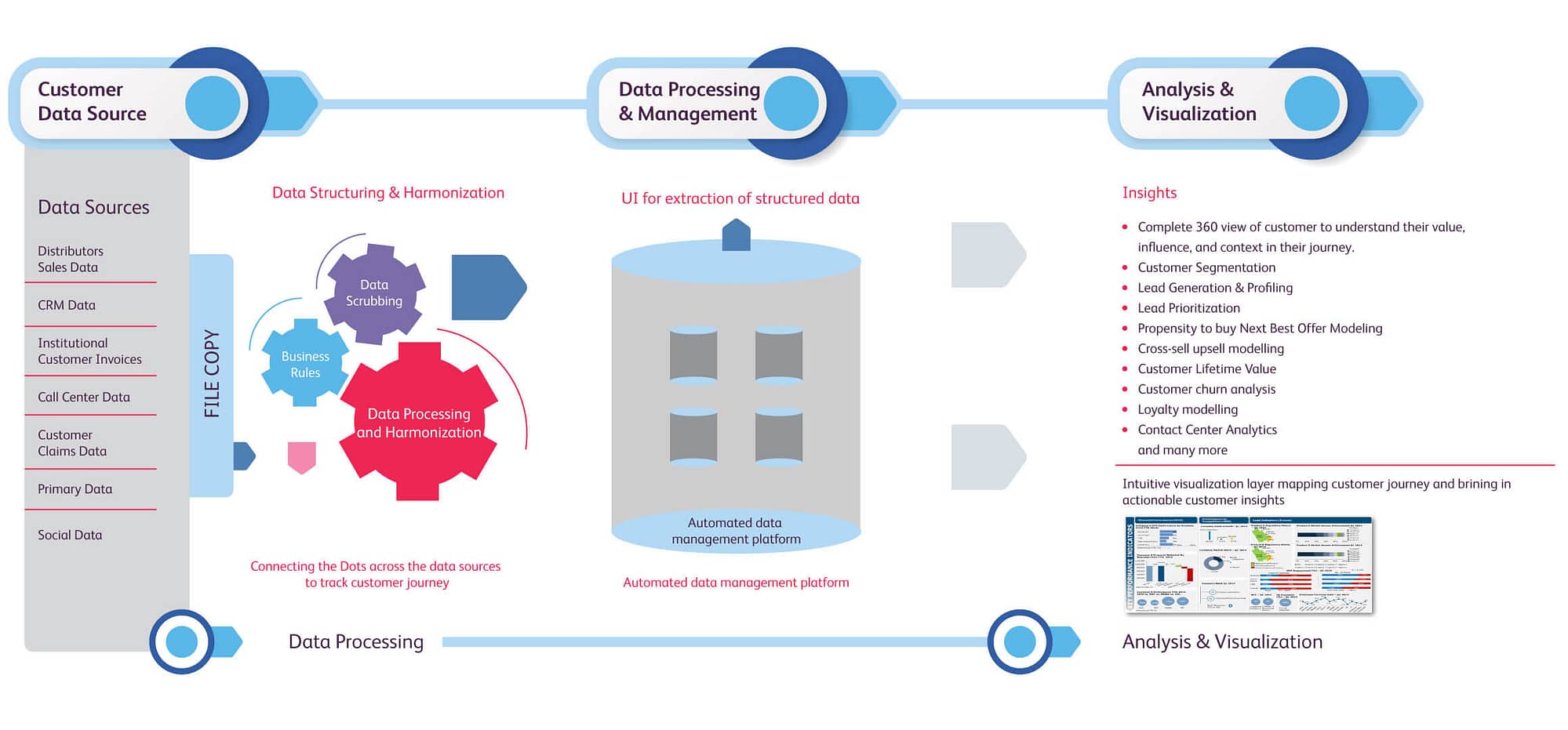 Cost minimization: MedTech companies also have well-structured supply chain data, which can be leveraged to bring about manufacturing and operational efficiency to save millions of dollars. It can also be used for inventory prediction, brand protection and anti-counterfeiting, sourcing and procurement intelligence, and efficient and optimal resource utilization. In addition, sensor data from devices can be used to predict machine failure to increase operational efficiency and save cost.
Identification of growth opportunities: In addition to internal customer and supply chain data, MedTech companies have access to third-party data providers such as IQVIA, LexisNexis, and publicly available data sources such as WHO, U.S. Census, and PubMed. Companies can leverage such data to understand market dynamics, access market potential, and design / enhance launch plans. Moreover, they can use data on disease incidence and prevalence, along with EMR data, to predict market demand.
These are just a few examples of how advanced analytics can enable MedTech companies to realize incremental revenue and cost savings. Companies can begin the process by leveraging existing data resources to run pilot projects, without boiling the ocean all at once by investing heavily on developing in-house capabilities. Once they successfully execute those pilot projects, they can begin to scale, operationalize, and centralize their analytics investments in data, technology, and people, to go after bigger problems and opportunities.
Which innovation will augment your and your team's efforts? That is an apt topic for a conversation, and I would be glad to engage with you.