A leading design software provider wanted to have a competitive intelligence system that enabled its product development and strategy teams to have real-time insights and information on its key competitors.  
The system was required to have the following features:  
– Allows access to all competitor news, excluding irrelevant news items
– Offers a repository for research documents
– Analyzes competitor news and initiatives and provides near real-time intelligence
This leading design software provider is familiar with the need to act first and have actionable intel on competitors and market shifts. Their strategy team wanted to spend less time researching and more time acting on the intel available.  
The software provider found difficulty in acting on their own research in a timely manner and felt stretched thin across multiple products and competitors. They couldn't strategically react to what competitors were doing fast enough and they felt like they were missing information on their competition.  
The key stakeholders at this firm wanted to stay ahead of their competitors and set their focus on product, partnerships, innovations, marketing initiatives, social media activity, mergers & acquisitions, and geographic expansion on close to a dozen competitors.  
The software provider needed near-real-time intel on competitors that was easily summarized and stored in a centralized knowledge repository available to any stakeholder that needed it.  
We developed a dedicated competitive intelligence portal, based on Insightsfirst, to collect and disseminate information on the client's key competitors across the globe. 
Insightsfirst provided:  
– Detailed Competitor Profiles
– Daily News Tracking
– Continuous Insights Evolution
– Portal Integration Using Single Sign-on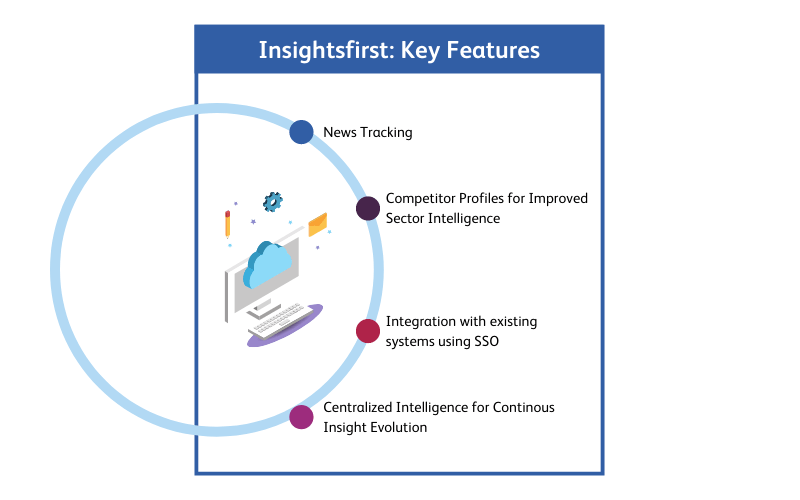 Detailed Competitor Profiles 
Detailed profiles on 11 competitors were established to track strategic information on product stack and innovation, customer segmentation and reach, marketing, social media, geographic diversity, and talent.  

For the client, the detailed competitor profiles provided necessary intel on how their competition was approaching the marketing and reaching customers with new products, strategies, etc. The intel foreshadowed actionable strategies for the client to combat what competitors were doing. 
Daily News Tracking 
The system provided daily news updates on the products, partnerships, marketing initiatives, social media activity, mergers & acquisitions, and geographic expansion on 11 competitors.  

The articles were collected by artificial intelligence (AI) and summarized by our expert analysts, providing only the most relevant and insightful information for the client at a quick glance.  
Continuous Insights Evolution 
The platform gave weekly updates on competitor insights, along with key takeaways and aspects. It tracked key competitor developments, and industry landscape changes to gather insights that help in decision-making.  

The information summarized by our expert analysts to provide actionable intel relevant to the client's needs.  
Portal Integration Using Single Sign-On 
The platform's integration with the company's single sign-on made it easy for client stakeholders to move between their internal systems and our platform, increasing convenience and adoption.  
Key Components of Insightsfirst
Centralized Intelligence
Integration with SSO
AI-Powered Competitor Tracking
Actionable Intel based on Analyst Commentary
Implementing our competitive intelligence solution for the multinational design software client improved their team's efficiency and ability to gather information on competitors.  
Results 
The portal was easily integrated with the client's internal system which was already being used by multiple teams across the organization.  
This was an important feature for the client to enable easier communication and distribution of information across multiple teams within the organization.   
The client's team was able to spend more time making actionable decisions based on the data and research provided through our competitive intelligence solution. The platform helped improve the client's data-driven decision-making processes and gave more time back to employees to analyze the data on competitors provided by our platform.  
Detailed Competitor Profiles
to understand how competitors are making moves within the sector
Continuous Insight Evolution
with Daily News Tracking all stored in a Centralized Location
Portal Integration Using SSO
to streamline communication and integrate with existing business systems