Over the past decade, the rise of digital initiatives has penetrated nearly every industry across various sectors. However, various organizations have yet to plan their digital transformation journeys and have found it difficult to understand consumer needs and digital marketing. A food and beverage giant was having difficulty finding ways to remain relevant during a shift in consumer needs. The client also wanted to maintain their brand as a trusted producer of foods. In order to do this, the client needed help with planning and implementing their digital marketing journey.
Our team focused on building a strong foundation for the client by establishing three pillars of change, which was tailored to the client's long-term goals and objectives.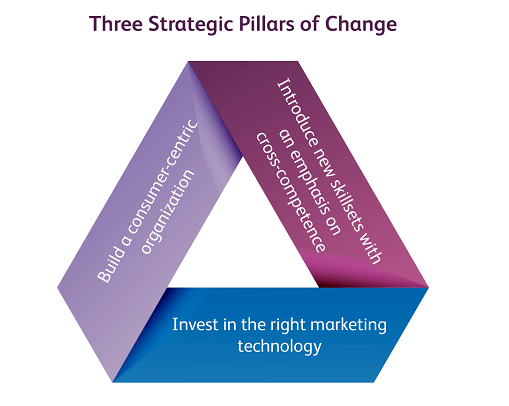 Step 1: Building a consumer-centric organization—In order for the client to understand their consumer's needs, creating the optimum consumer experience should be the first step. We looked at incorporating this into the consumer journey with the optimum mix of channels, media, and personalized offerings.
Step 2: Introducing new skillsets—The client's teams needed to look at upskilling their teams' UI/UX, content, innovation, analytics and channels so that they would be able to reach their goals. We also looked at finding ways to encourage the client's organization to open its mindset to new ideas, think broader than marketing, and continue to self-educate on new skills.
Step 3: Investing in the right marketing tech—Our team ensured that the right marketing platforms and technology stacks (Ad-Tech and Mar-Tech) would be incorporated to fit the organization's infrastructure and needs. By choosing technology that fit the client's needs, the client would be able to create a frictionless marketing environment.
By establishing three pillars of change, the client was able to start enacting specific use cases that would show signs of change in a short amount of time. This allowed the client to build confidence in their digital marketing journey and keep their eye on long-term goals. Oftentimes organizations hyper-focus on tactics (which do have their own merits when used at the right time) and push their organization's overall goals to the wayside. This can make it difficult for organizations to find success in their own digital marketing journeys.
Lowered operational costs, sped-up access to critical metrics, and provided a flexible foundation to integrate third-party tools and data from 300+ global branded web properties in GDPR and CCPA compliance manner. 
Enhanced personalization of digital marketing initiatives to specific consumer segments via custom personas, demographics, interests, and online behavior. This improved the client's messaging and targeting of specific consumers they were pursuing. 
Direct to Consumer e-commerce website allowed consumers to purchase products and branded meals directly from the company. This end-to-end digital marketing and analytics strategy enabled the client to keep consumers on their website longer and gather enough data to form a 360 view of the consumer. 
Lowered operational costs
Rebuilt digital marketing data lake stack and CRM environment
Enhanced personalization
Improved the client's messaging and targeting of specific consumers
Direct to Consumer
ecommerce website allowed consumers to make purchases directly from the company
Talk to One of Our Experts
Get in touch today to find out about how Evalueserve can help you improve your processes, making you better, faster and more efficient.