Within the Financial Services industry, there is constant pressure to improve and maintain high levels of financial crime risk management. These standards can be related to technology, people, identification of risk, or even all three at once. A top global bank needed our help with making process improvements to flag high-risk accounts, in keeping with the Financial Crimes Enforcement Network (FinCEN) beneficial ownership (BO) requirements. The Evalueserve team joined forces with the bank and tailored an intelligent solution that would include data harmonization, cleansing, triggers, and flags for relevant account updates and dynamic market intelligence (MI) dashboard. 
In order to build a comprehensive intelligence solution that would monitor the bank's client risk profile, we drew upon our deep understanding of the bank's systems and processes, and developed an optimized risk management process that covered all aspects: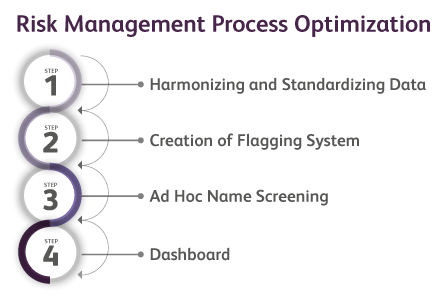 Step 1: Harmonizing and Standardizing Data
The bank's client data was originally spread across a wide range of internal data sources, so the first step we needed to address was implementing data aggregation across multiple systems. This required harmonization, standardization, and deduplication of client records whose products and accounts were on multiple systems. This process also resulted in creating an ID for each client record, so that there was only a single client identifier rather than many fragmented and confusing reiterations. 
Step 2: Creation of Flagging System 
In order to flag records, we reviewed data completeness and created weightings for the missing data points that required updates. After this initial update, the bank used the flags on an ongoing basis, which assisted with reducing the need for time-consuming periodic CDD reviews. This helped the bank improve their overall efficiency and focus on risk-related activities. 
Step 3: Ad Hoc Name Screening (with false positive removal)
We translated the bank's high-risk country list into code that helped identify clients in the portfolio that would require additional screening, based on their country of residence or other relevant information fields. This satisfied the original need for a list of high-risk clients in the portfolio, but also allowed the identification of specific clients. We built a tool that allowed a single entry of a client's name in order to perform search of the bank's preferred sources of information. 
This cut-out the tedious manual process of searching multiple times for a single client name on different websites or tools. Our tool included access to sanctions and PEP screenings lists, negative media, court records and Panama (and related) Papers, in order to fully centralize the process. We were also able to reduce false-positive hits in searches utilizing machine learning, natural language processing (NLP),  and sentiment analysis among other techniques. 
Step 4: Intelligence Dashboard 
To facilitate an environment where the bank can monitor their client's risk with ease, we designed an intelligence dashboard that made the information instantly visible in near-real-time and provide some MI visualization. 
Due to this holistic risk identification process, the bank was compliant with FinCEN's new requirements. Since all their customer data was aggregated into one place, after being cleansed and standardized, the bank was able to work with a clean set of customer records and improve their risk management practices. The client's know your customer (KYC) remediation was also more effective since the flagging system provided alerts on points that needed to be processed. The intelligence dashboard that we designed for the client enabled them to have a holistic view of all their customer risk information in near-real time. 
Reduced rate of errors during risk assessment
Due to the harmonization and standardization of data, the bank's information contains less errors and accurate information they can derive insight from.
Improved overall risk management process
All the steps optimized the bank's risk management process, from the quality of the data to the implementation of the flagging system.
Adherence to strenuous FinCEN BO requirements
The risk management process was designed with the FinCEN BO standards at the center.
Talk to One of Our Experts
Get in touch today to find out about how Evalueserve can help you improve your processes, making you better, faster and more efficient.