Pesticides in fields are often used as tank mixtures, which can lead to chances of synergistic effect due to the combination of two active compounds, have started to pose serious ecological risk. As there has been increased emphasis on environment protection, the Environmental Protection Agency (EPA) has re-introduced a regulation regarding the submission of specific data in accordance with FIFRA 7 U.S.C. § 136 et seq. As a result, it is now required for new pesticide registrants to include synergy data, along with a request for registration made to US-EPA. 
While these combinations may have a high level of pesticide efficacy, the activity of the combinations may be additive and hence have synergistic effects. Thus, these combinations are now required to be docketed at the EPA.
The re-introduction of this regulation has greatly impacted the regulatory teams of Agro-chemical businesses. Our client, a leading Agro-chemical company needed help with grappling with this regulation. Their regulatory compliance teams needed patent support for synergy, especially with patent and regulatory filing support, as huge sets of references (often in the thousands) were required to be reviewed and summarized.  
Our team provided the client with a comprehensive and robust analysis identifying relevant patent literature that disclosed synergistic data of different combinations of pesticide mixtures, toxicity and Greater than Additive Effects (GTA). With this information, the client could then identify the combinations of pesticides they would be interested in, as well as previously unexpected combinations. Supplementary search and analysis, such as ecological risk estimates, were then conducted for the combinations of interest. In close co-ordination with the client's regulatory team, our team then drafted the full report which was ready to be submitted to EPA.
The seamless integration of data backed by robust research and analysis, provided the client with actionable insights. Our research methodology was comprised of the following elements: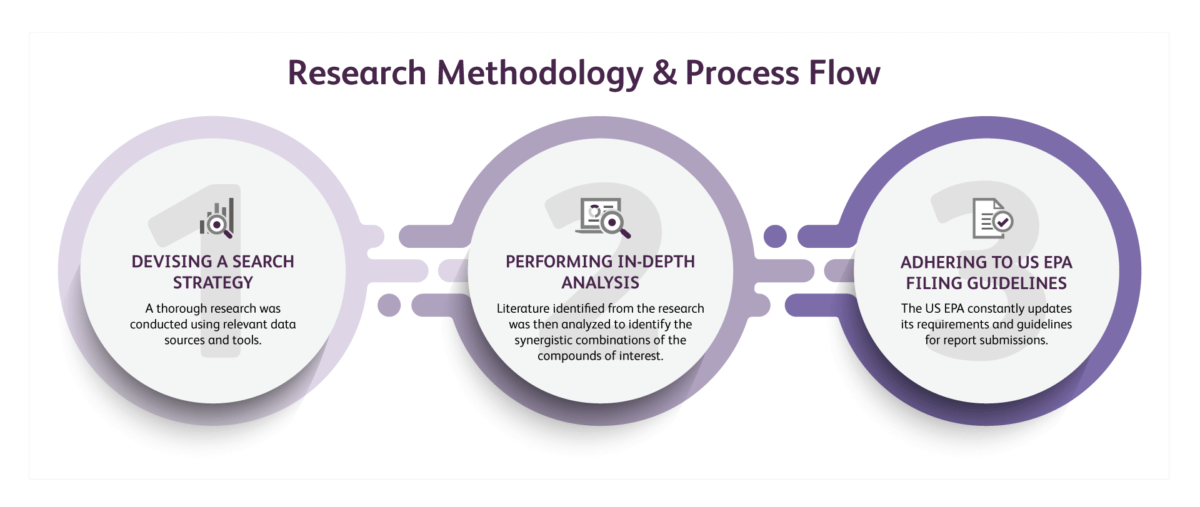 Phase one: Devising a search strategy—A thorough research was conducted using relevant data sources and tools. The project team could then capture all the key elements (such as IUPAC names, chemical names, common names, CAS numbers, and chemical structures) and thereafter implemented multiple search concepts ensuring comprehensiveness.
Phase two: Performing an In-depth Analysis—Literature identified from the research was then analyzed to identify the synergistic combinations of the compounds of interest. Furthermore, the original versions of patent documents were then analyzed in detail (based on full specifications) to identify key elements. 
Phrase three: Adhering to US EPA Filing Guidelines—The US EPA constantly updates its requirements and guidelines for report submissions. Outdated data can result in rejection or the delay of application. Closely tracking and monitoring regulatory updated ensured that the necessary procedural guidelines were followed, and that the application would be accepted by the EPA and processed without delay. 
Our team's synergy report helped the client reach their regulatory timelines, which is essential for ensuring a successful commercial launch. Our clear and transparent process enabled the client's regulatory team to not only understand the whole process, but also expedite their communications with the EPA. The knowledge and expertise of our team made it easy for the client to seamlessly engage and execute this complex process. 
"Evalueserve has consistently provided the level of detailed information and review that my project requires, with rapid turn-around times and effective communication throughout. Evalueserve's combination of streamlined process and knowledgeable experts delivered high quality results to my team."
Regulatory Toxicologist
Leading Agro-Chemical Company
All checkpoints cleared
Covered all checkpoints of the FIFRA 7 U.S.C. § 136 et seq
Swift submission time
Swiftly submited the report while adhering to the US EPA guidelines
Minimal effort from regulatory team
Support product launched with minimal effort from regulatory team
Talk to One of Our Experts
Get in touch today to find out about how Evalueserve can help you improve your processes, making you better, faster and more efficient.