Leading Logistics Provider Fast Tracks Its Digital Transformation Journey by Focusing on High ROI Use Cases
The Challenge
In the age of hyper-technology, organizations are collecting more data than ever before and have started to find ways to start analyzing it. A leading logistics provider understood that using data analytics to guide decisions is important, but many do not have a long-term strategy or goal that would take their data strategy to the next level.
Over a span of 5+ years spent developing workshops, educational sessions, and supporting the creation of the Analytics Center of Excellence (CoE), we worked alongside the leading logistics provider's C-suite to develop their data and analytics strategy.
However, now the client wanted to implement this strategy and focus on executing high RoI use cases to achieve the following objectives:
Improve their data management practices
Develop a long-term analytics roadmap
Gain sustainable competitive advantage
Our Solution
In order to ensure that the client would be able to achieve all of their objectives, our team introduced the solution in phases. The first phase focused on creating a long-term, 10-step analytics roadmap. Then, the second phase focused on strategic elements such as: RI-focused, long-term high adoption, and high operationalization.
Phase One: A Long-term Roadmap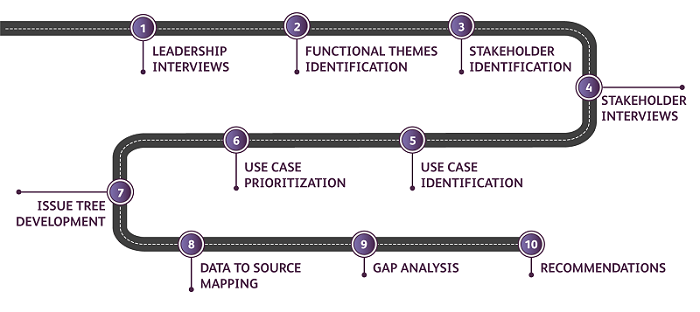 The ten-step framework ensured that our recommendations considered a variety of perspectives within the organization such as stakeholders, leaders and business units. Conducting interviews with leadership and business stakeholders gave us insight into the client's strategic objectives, which then led us to identifying relevant use cases. Taking the time to really understand the client's goals and objectives helped us tailor recommendations that would fit their needs and business model.
Not only did the framework ensure that our suggestions were relevant, but it also allowed the client to see how a long-term roadmap would shape their organization's team and objectives for the future. Oftentimes, organizations get stuck on short-term tactical digital initiatives. Following a long-term roadmap enabled the client to not only stay on track, but also make plans for the future.
Phase Two: Focus on Strategic Elements
Our team then shifted focus onto strategic elements of the solution such as RoI, level of adoption, and level of operationalization. Focusing on these elements ensured that the client would not only improve their data management practices but would also sustain long-term competitive advantage.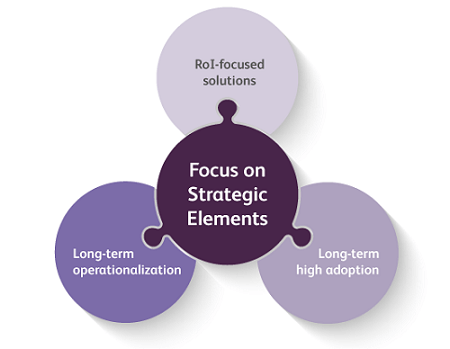 ROI focused solutions
Rather than aiming for quantity, the client's roadmap should be full of changes that bring measurable and impactful RoI to the leading logistics provider. We first identified use cases that would bring short-term and long-term impact to the client, and then prioritized them based on the following criteria, which ensured the success of the selected use cases:
Complexity of the project
ROI of the project
Universality
Integrity of the data
Strategic alignment
Ease of implementation
This criterion enabled our team to identify a total of 145 use cases across the client's business units, and then prioritize 139 use cases. Identifying and prioritizing the use cases helped our team create a solid foundation for the client's digital analytics roadmap.
Long-term high adoption/operationalization
Creating great solutions was only half the battle, we wanted to make sure that the client would quickly adopt and operationalize these use cases. We found that establishing best practices across functions helped during this process, which was done through leadership interviews and stakeholder interviews. These interviews allowed us to understand the specific issues each function was struggling with adopting certain data practices. This gave us the information needed to tailor best practices that would suit each of the client's functions.
We also encouraged long-term adoption and operationalization through the creation and hosting of the 'Art of Possible' and Design Thinking workshops. These workshops empowered key stakeholders with the knowledge needed to not only understand the importance of data, but also spot areas within their business units that data analytics could be applied. These workshops also helped keep the client's different teams aligned and focused, as they started to adopt specific use cases.
Business Impact
Using a framework that focused on high priority and high RoI helped our client achieve adopt a robust digital strategy that transformed their business in a span of three years. Making these achievements in such a short amount of time cemented the effectiveness of digital transformation for the client. The adoption rate of selected digital initiatives ranged from 90-100%, which directly contributed to the client's business transformation across functions in a relatively short amount of time. Throughout this relationship, we were able to truly understand the client's business strategy and provide solutions directly related to the client's needs. 
"With Evalueserve as our partner, we could take our analytics maturity further than ever before. I am very excited where this will go in the future".
Director, Leading Logistics Provider
Empowering stakeholders with relevant knowledge:

Support not just for analytics and insights, but also in the change management process (through 'Art of Possible' and Design Thinking workshops)

Focus on High RoI, high priority use-cases:

Use case prioritization based on data-driven framework and balanced across different business goals (from topline growth to employee engagement to customer experience to asset optimization)

High adoption rate of 90-100%:

The majority of the recommendations and projects were adopted by the client

Business Transformation in 3 years:

Business transformation across functions (sales, HR, finance, etc.) occurred in a (relatively) short amount of time
Fill-out the form to learn how you can fast-track your digital transformation journey.