Financial services firms are increasing their investments in equipping their client-facing teams with information that can help personalize their client interactions and stay up-to-date with changing business requirements. These processes can be enabled through the implementation of a robust consumer relationship management (CRM) system.
Our client, a global merchant bank, wanted to transition from a disjointed and decentralized file-based system to a more unified cloud-based CRM solution platform, DealCloud. Other challenges that our client experienced with their current system was:
• Inconsistent and error-prone data
• Fragmented data sources
• Redundant data capturing processes across teams
• Error-prone manual processes when updating information
The client was also working with time constraints since their technology partner DealCloud was heading the implementation of the CRM program while our team was in charge of analytics. On average, CRM implementation takes around 11 to 12 months, but the longer the implementation would take, the more it would cost the client. This is why the client relied on our team to implement their data quickly.
Our team focused on providing the client with a consumer relationship management solution that fit the client's specific banking needs, time constraints, and data needs. Along with CRM implementation and data management process, our team focused on moving the client up the maturity curve by introducing them to new data, advanced reporting, and analytics practices that derive more value for bankers and building a custom CRM roadmap for continued success. Our team broke down the process into three phases on the client's roadmap:
Phase 1: CRM Platform Implementation
For the first phase of the CRM solution, the team put together a data strategy that would define the client's steady-state reporting and analytics goals, develop key use cases for various business units, and define the structure for data extraction and automation based on business requirements. This ensured that the client would have a solid foundation for their data. We then created a blueprint and data structure for the client by identifying the data required, defining the business logic for the data, defining data taxonomy in collaboration with the vendor, and comprehensively source across all of the organization's repositories. This ensured that the vendor's platform would be able to integrate into the organization smoothly.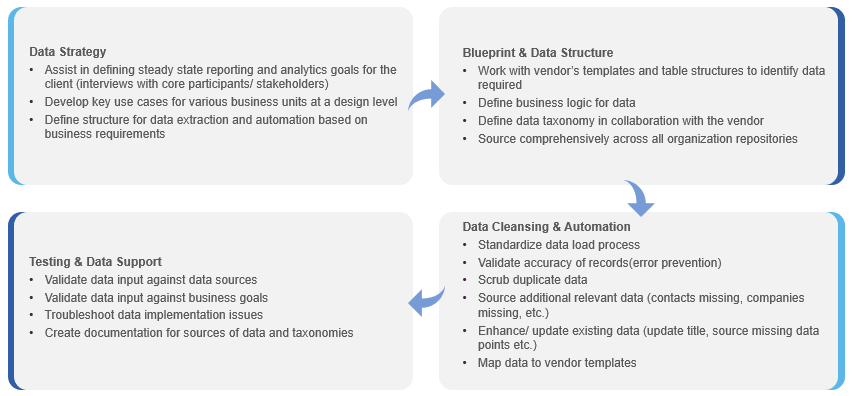 After the initial planning, our team performed data cleansing and augmentation for the client by standardizing the data load process, validating the accuracy of records (error prevention), scrubbing duplicate data, sourcing additional relevant data, enhancing/updating existing data, and mapping data to vendor templates. Not only did this step ensure that the client's data was cleaned and standardized, but it also ensured that the client had additional relevant data they could use. Finally, we performed testing and data support by validating data input against data sources and business goals, troubleshooting data implementation issues, and creating a document of sources of data and taxonomies. This step helped the client side-step possible data-related problems.  
Phase 2: Data Maintenance, Basic Analytics & Reporting
In the second phase of our CRM solution, we focused on continuing data management and introducing basic analytics and reporting. Our ongoing data maintenance and governance included data extraction, cleansing, ongoing collaboration with DealCloud to upload data files to the platform and maintain change logs and data dictionaries.
Our team also enriched the client's data by identifying data gaps in the CRM data sets and then bridging these gaps and missing values through research and industry knowledge. Maintaining and enriching the client's data ensured that the client would be able to uphold the initial goals and objectives. We then analyzed historical deals to identify to prepare case studies of successful and failed deals, analyze reasons, analogies, etc.
Phase 3: Advanced Reporting Cognitive Analytics
For the third phase of the CRM solution, we looked at elevating the client's data by introducing advanced reporting & insights, and by introducing cognitive analytics. We provided client segmentation, which transitioned from standard company categorization to customized and machine learning (ML) based client segmentation that can help formulate more focused initiatives.
Our team also devised more targeted investor strategies, quick response time, and deal cycles by inviting qualified investors for certain types of deals. Finally, we aggregated more business-critical KPIs and scenarios through advanced visualizations for quicker decision-making and reporting.
Through our team's smooth implementation and data management process, the client was able to utilize their CRM program 6 months sooner, save on implementation costs, reduce turnaround time, and improve the quality of their data. The client was also able to capture and integrate ~12,000 clean interactions and deals from 2TB of data, deduplicate large volumes of data, augment their investor company profiling and classification research, and rapidly extract and cleanse 900 buyer logs and around 17,000 interactions and deals.
Reduce turnaround time by 50%
and implemented end-to-end CRM in 6 months through automation and mining
Move up the maturity curve
by introducing new data practices and building a CRM roadmap
Improve the quality of data by 98%
and maintained data accuracy through deduping algorithms
Talk to One of Our Experts
Get in touch today to find out about how Evalueserve can help you improve your processes, making you better, faster and more efficient.