Summary
One of our clients, a large institutional asset manager offering investment, advice and retirement solution wanted an in-depth competitor assessment across workplace advice solutions to better understand its product positioning, prevailing strength and weaknesses.
Evalueserve's Market & Competitive Intelligence team, working closely with client's institutional strategy team.  provided actionable insights conducting a comprehensive competitor benchmarking study. This study involved identifying the service offerings and solutions of competitors in-depth. The client was subsequently furnished with key insights to showcase the strengths and weaknesses of the competitors' offerings in comparison to their own. The holistic competitive landscape view empowered the client to engage in intelligent competition and make well-informed decisions.
The Challenge
Our client wanted to enhance their understanding of the workplace advice industry. They sought to conduct product benchmarking in order to identify gaps within their own product portfolio and marketing strategies. Additionally, they wished to delve deeply into the capabilities of their peers to ascertain the strategies adopted by them.
The firm aimed to obtain a schematic comparison of their offerings and capabilities in the workplace advice space in relation to other firms. This comparison would provide valuable insights into the most crucial and rapidly developing capabilities. The ultimate goal was to bridge the gaps in their offerings by enhancing the most critical capabilities based on these insights.
Our Solution
Our team undertook a comprehensive competitive benchmarking analysis, following a structured five-step approach.
Step 1 > Peer Segmentation
Segmenting peers basis their dominant market share in workplace advice industry (Recordkeepers, DC Managed Account Sponsors, Institutional Investment Consultants, Retirement Advisors)
Step 2 > Framework
Created a framework where we dissected workplace advice solutions given to the participants basis their product features (Solutions and Pricing, Diversification, Financial Performance)
Step 3 > Identified Subject Areas
Using the framework, we identified relevant subject areas in each block
Step 4 > Competitor Matrix
Created a detailed benchmarking matrix against each subject area, highlighting product types, fees, features. This gave a comprehensive view of competitors' capabilities
Step 5 > Benchmarked
Performed a relative benchmarking where-in we measured competitors' positioning with our client. This step allowed to measure client's performance and made them understand how they stand against their competitors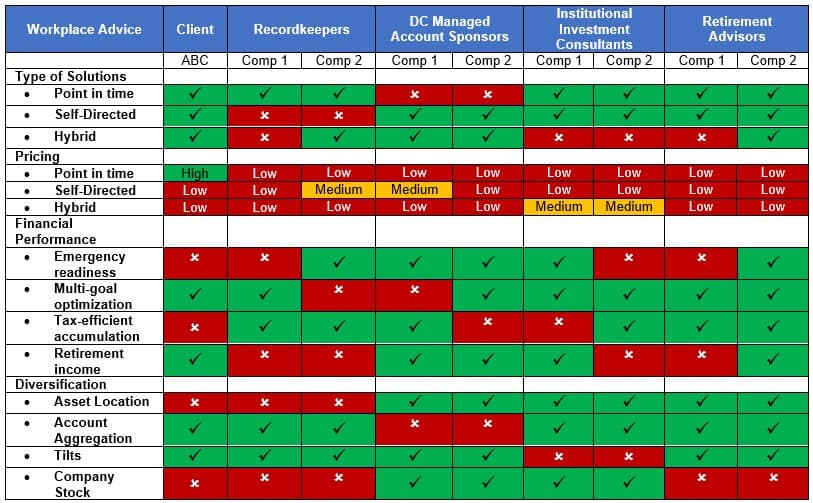 Business Impact
The research provided client with deeper view of their positioning and the available opportunity helping them build their strategy in workplace advice space. The key actionable insights delivered were:
Market Positioning: The assessment provided the client with an independent view of their market positioning, allowing them to benchmark themselves against their peers. This information was valuable for the client as it helped them to identify areas where they could improve their market position.
High performance areas and gaps: The assessment also identified areas where the client was performing better or at par when compared to the industry players. This information was helpful for the client as it highlighted their strengths and areas where they could continue to focus their efforts.
Key improvement areas: By conducting a detailed analysis of competitors' workplace advice solution capabilities, the client was able to obtain an impartial assessment of their performance in comparison to their peers. The competitive benchmarking analysis enabled the client to identify areas for improvement by delving into gaps in its offerings.

They found that their self-directed and hybrid solutions were highly competitive in terms of fee charges. However, their point-in-time advice solution had a significantly higher fee compared to peers, who often offered it as a complementary service.
Their workplace advice solution lacked important capabilities like Asset Location and Emergency Readiness.
This information was valuable for the client as it helped them to identify areas where they could make changes to improve their market positioning strategy.
Talk to One of Our Experts
Get in touch today to find out about how Evalueserve can help you improve your processes, making you better, faster and more efficient.