Within the passenger vehicle segments, the sale of internal combustion engine (ICE) vehicles is expected to plateau over the next two decades. This translates into declining lubricant sales for ICE vehicles. Fortunately, as the saying goes – when one door closes, another door opens — the rapid growth of new energy vehicles (NEVs), which include battery electric, hybrids, and hydrogen vehicles, shows strong upside potential for existing players that choose to expand their product lines into e-fluids.
Many original equipment manufacturers (OEMs) are still using existing internal combustion engine vehicle fluids in their NEVs. Sometimes this is because ICE fluids meet most requirements of NEVs, and other times it is due to limitations in product availability or high price points. However, as NEVs develop, the performance gap between existing transmission fluids and what the OEMs expect, for example, due to higher thermal management efficiency needs and increasing more-in-one integration of drive systems, will continue to grow.
With headwinds building in the traditional internal combustion engine space, understanding the opportunities in the e-fluids market for lubricants manufacturers and retailers becomes key:
• Understanding the known and likely e-fluids requirements from OEMs, as well as the potential for standardization and functional changes for e-fluids in the evolving more-in-one integrated systems
• Identifying attractive pockets of opportunity and understand differentiating factors, premiumization opportunities, and pricing sensitivity of customers. 
• Understanding the decision-making process for selecting e-fluids and the role of component suppliers. 
• Identifying and anticipating EV incentivization measures and regulations in target countries. 
To support lubricant makers expanding into the future mobility space, we are following the fundamentals of our GREEN Framework, designed to generate insights to support decarbonization initiatives from strategy formulation to market execution.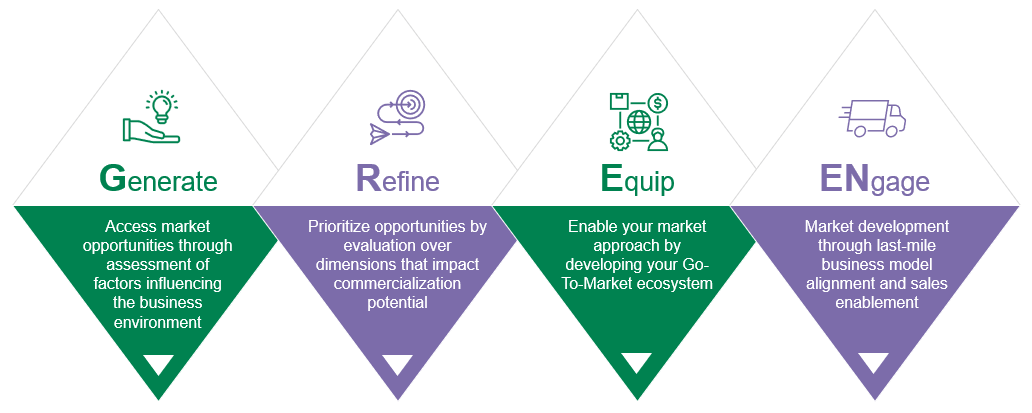 Our team drilled down to devise a 7-step program, aligned into the first 2 steps of our GREEN Framework: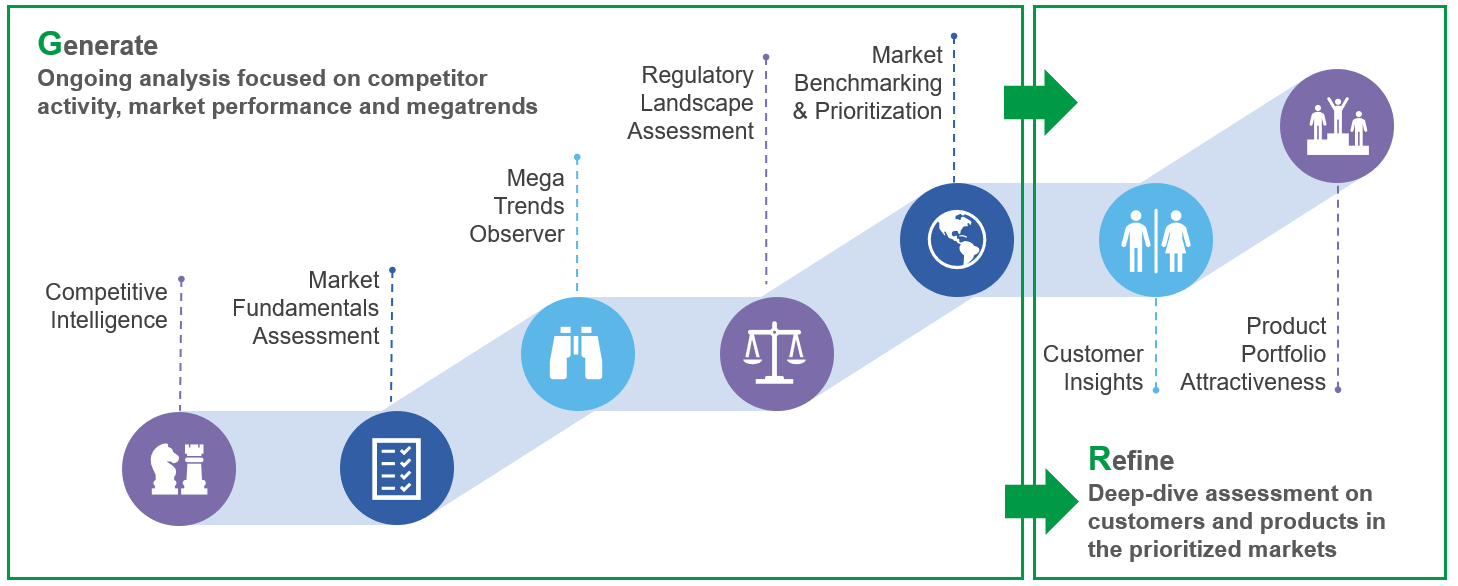 The first component – Generate – sets up a smart-aggregated monitoring and insights motor to draw intelligence on the market, competitors, regulatory, and megatrends. We combine automated data streams with quantitative and qualitative research to draw insights on competitor strategies, assessment of OEM development trajectories, NEV and battery adoption trends, regulations, and OEM and supplier strategic partnership opportunities to generate a robust market benchmarking and prioritization assessment.
From there, in the second component – Refine – we can provide insights on customers through technical and commercial evaluations across the value chain to inform a recurring assessment of product portfolio attractiveness. The outputs help decision-making by providing insights on, for example, how attractive R&D for e-thermal fluids is for heavy-duty vehicles in China, or how attractive the retail market for e-transmission fluids is for passenger cars in the European Union.
Improves product portfolio management strategy
The framework increases structure and integrates impact modeling into long-term product portfolio strategy, while accelerating near-term decision making based on the current product portfolio.
Supports agile GTM testing
This program can be rapidly scaled across any market of interest, a significant benefit considering the rapid NEV segment growth and increased focus from governments on emissions regulations and fiscal stimulus linked to sustainability.
Builds the foundation to drive decarbonization
Automotive manufacturers are pivoting into NEVs, but rely on the simultaneous development of an electric vehicle components and aftermarket ecosystem, with e-fluids playing a key role in ensuring high performance, optimal thermal management and reduced friction especially as NEV technical requirements diverge from traditional ICE product functionalities.
Talk to One of Our Experts
Get in touch today to find out about how Evalueserve can help you improve your processes, making you better, faster and more efficient.