Neobanks in India
Will They Disrupt or Operate in Sync with Legacy Banks?
Overview
The Rise of Neobanks in India
Neobanks are technologically innovative startups that follow a niche customer-focused approach and manage the entire process from customer onboarding to money management to customer service digitally. In contrast to other countries (such as the US and the UK), Neobanks in India are not directly regulated (due to RBI restrictions), and they partner with regulated financial institutions to offer services. Unless regulatory guidelines surrounding digital-only banks in the country evolve, Neobanks would continue working in partnership with legacy banks to enhance their competitive positioning and complement the overall banking system.
MSMEs
Gig workers
Tourists
Millennials
Low operating costs
No minimum balance requirement
Automated services
Technology Advantage
Regulatory hurdles
Trust building
Lack of entry barriers
Limited revenue potential
Journey
The Evolution of Neobanks in India
Neobanks have been witnessing a sharp growth in India, which has a large underserved target population and an underpenetrated retail and SME market, as they have the ability to offer value-added services and seamless customer experiences
They have been able to take advantage of the COVID-19-precipitated situation to expand their product and service offerings. As the pandemic restricted physical visits to banks and customers became more familiar with digital
India's third largest fintech ecosystem globally (after the US and China), growing smartphone penetration, rising digital payments market, and supportive government policies (UPI, Digital India, Start-up India, Jan Dhan Yojna), will ensure that Neobanking expands significantly in the country
Neobanks are likely to register a CAGR of 27.1% in transaction value over 2021–26, driven by growing internet penetration, rising smartphone adoption, and the ability to offer convenient and fast banking solutions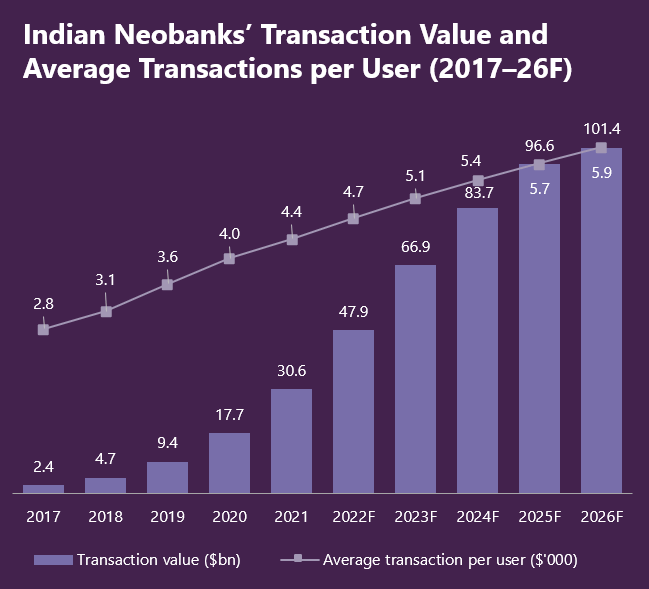 Publication
Will Neobanks Disrupt or Operate in Sync with Legacy Banks?
Legacy banks and Neobanks are expected to form a symbiotic relationship through a spate of partnerships/investments in the banking industry; the latter will help legacy banks to improve their digital capabilities, gain market share, and bring new products/services to the market at a faster pace. Download the full publication to know more.