Our People Stories
Anshuman Gupta
Managing Director, APAC Analytics, Consulting & Research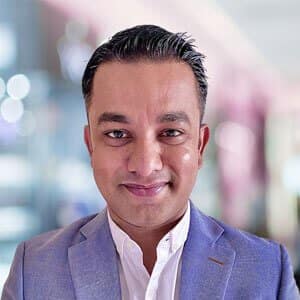 Evalueserve Made a Man of a Punk – Gave Me a Wealth of Skills, Life Experiences, and Friends!
As I sit down to think about 20 years of Evalueserve and its achievements, I can list so many that can be celebrated – its development into one of the best companies in terms of quality of services, financial performance, geographic growth, service portfolio expansion, ability to constantly reinvent / innovate, robust portfolio of clients / long-term relationships with them, etc. I must not forget 'happy clients,' which is one of Evalueserve's most valuable achievements.
However, the aspect that stands out is Evalueserve's ability to take in people of all categories (varying personalities, educational backgrounds, nationalities, etc.) and make top-notch professionals out of them. It has been my experience too. It still amazes me that Evalueserve found a use for me, despite knowing my deficiencies (haha!). It helped me improve as an individual. That has been the experience of many of my colleagues at Evalueserve too.
My last 16 years at Evalueserve makes for a journey of a life-time. It includes roles in four countries, enriching cultural experiences, an opportunity to meet some of the brightest people in the world and make great friends, constant learning, joy / satisfaction of doing good work and making a difference, and parties… so many parties full of laughter and good times J. I will probably write an account of my time at the firm someday – there are many stories to tell but they need to be told with care (smile).
Going by my suave personality (smile), it would be impossible for people who know me to think of me as anything other than the total package of awesomeness they see today (did I mention I am humble… very humble J). However, when I look back at the start of my stint at Evalueserve in 2004, I see an ill-suited but well-intentioned young man trying to start my career. I may have had some skills but I was very unpolished / untrained – a diamond in the rough if you will J. I also believe that my life experience would have been completely different if I were not hired by Evalueserve (it allowed me to learn / grow without a worry and invested in making that happen).
The fact that I was hired by Evalueserve (in 2004) is a testament to the culture of 'looking beyond the obvious' encoded in the company's DNA by our founders / early leaders. I wasn't an easy hire for sure (haha!). I showed up for my interview with long hair, earrings, a tie that didn't match anything, no belt, and cheap shoes. I did have some okay knowledge of accounting / taxation (commerce graduate), a smile on my face, a positive outlook towards life in general, and an unreasonable amount of confidence. My 2004 resume would be practically rejected by any organization of repute today!
My interviewers put me through a ringer (as far as I can remember). They asked questions ranging from inflationary drivers impacting the Indian economy to estimating the number of street lamps in Delhi. It is a bit of a haze… the whole interview. I do remember making some sense but also believe I wasn't a 'clear hire.' Luckily, I was successful in securing a position with the firm. Despite not being the 'typical' candidate, I was given a chance because my interviewers felt I could be trained / molded into a good analyst as I had the right ingredients. Not many companies do things like that even in today's world, in which companies are less restrictive in their demand for formal education. This was even truer of research / advisory firms, where the bar was even higher.
In the tough job-market of Gurgaon at that time, there were many better skilled / better educated professionals from top universities looking for opportunities like the one I was offered at Evalueserve. These were still the early days of India's knowledge industry.
When I look back, getting the job at Evalueserve was pure serendipity (I was meant to be a part of Evalueserve – thanks to Itty Gupta for referring me internally) and a few brave souls who took a chance on me (Manoj Madhusudnan and Vikram Suri). I will be forever grateful for the opportunity.
Once I joined the company, it treated me with respect and as an equal – the organization had a great culture of teaching / training employees, which continues even today. You always get help from your team members / seniors. I was lucky to work in different business units, locations, and with various clients. My experience ranged from learning the basics of being a researcher to managing P&L for business units. The depth and breadth of experience I got at Evalueserve has been just amazing. The opportunities I got were not because of my pedigree but because I was deemed fit for a role, based on my performance.
Again, when I look back, Evalueserve delivered on the promise it made to me in 2004… a promise it makes to all its employees even today. I still remember Manoj saying this to me in 2004: "if you give your best and have a positive attitude / solution-orientation in general, then the sky is the limit at Evalueserve – you will learn / grow / go places."
A big shout-out to all my bosses over the years for tolerating me and my partners in crime who have worked with me over the years – thanks a ton for taking me on this journey. It has been a pleasure to be a part of the journey of growing with Evalueserve – it is the longest relationship I have had outside of my immediate family.
Happy 20th Anniversary Evalueserve! It has been awesome 😊! Raising my glass for many more to come! Stay classy always 😊!
We offer numerous growth opportunities for professionals at all levels.
Share Your Story
We would love to hear from you, about your Evalueserve experience.