Our People Stories
Anton Jeldres Tiselj
Senior Consultant, Data Analytics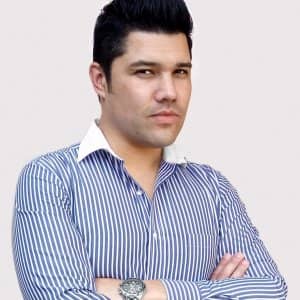 In 2022, Evalueserve Chile earned its first Great Place to Work Certification and was awarded the Compromiso Migrante recognition for diversity and inclusion by the Chilean government. We are highlighting a few incredible employees from our Chile office to celebrate these milestones.
Anton Jeldres Tiselj is a Senior Consultant in Evalueserve's Data Analytics division. He joined Evalueserve Chile in April 2016 and applies his domain knowledge in research and data harmonization. Read Anton's story below.
"Hi, my name is Anton Jeldres Tiselj. I'm a Senior Consultant for Validation and Data Standards (Level 5) in Evalueserve Chile's Data Analytics department. I joined the company in April 2016, and from the beginning, I realized that this company stood out from the rest. It has been a very enjoyable journey. Not only did I learn things I never thought I would, both soft and hard skills, but I also met an amazing group of people. 
My team conducts research and data harmonization, applying logic to provide quality service across our client's extensive database. Our contribution to their business is crucial —  we impact a wide range of industries and business functions, helping them make better decisions faster, reach new levels of efficiency and effectiveness, and make a noticeable impact on their profits and results.  
My responsibilities include overseeing all aspects of service to our clients. Through continuous, direct communication with our clients, I ensure that expectations are met month after month in terms of productivity and accuracy, thus maintaining the excellent business relationship we have built. We're about to start a new project with them thanks to our performance and dedication during the seven years we've been involved with this project. I'm very proud of it because I'm actively involved in decision-making, and my thoughts are always heard. I've learned here that any idea, no matter how crazy it seems at first, can be distilled and something really good can come out of it.  
In my time at Evalueserve, I've found that I can solve challenging tasks, work in dynamic scenarios, bring new ideas, and use my critical thinking skills. Soft skills management is an extremely important aspect of my job. My team consists of more than 20 people with different realities and personalities, and the ability to connect effectively with others is essential.
One of my favorite aspects of working at Evalueserve is the work/life balance, especially as a father of two little girls. Furthermore, Evalueserve trusts you by giving you the autonomy and flexibility that are invaluable in the modern world, which increases your sense of responsibility. Evalueserve also recognizes your efforts, encourages you, and provides you with career development tools based on your interests.
Looking to the future, I want to continue growing professionally and achieve all my proposed goals at Evalueserve after everything I have learned here."
We offer numerous growth opportunities for professionals at all levels.
Share Your Story
We would love to hear from you, about your Evalueserve experience.