Our People Stories
Balwant Rawat
Leader for IP and Innovation Management
The Atmosphere Full of Energy, Passion, and Warmth
I remember my first encounter with Evalueserve. I was fresh out of college when I got a call for a walk-in interview at Evalueserve in Oct 2001. I had a campus offer from Wipro Technologies and wasn't particularly nervous about the interview. Evalueserve was a startup and had been operational for a few months.
First IP Team Members at Evalueserve, October 2001
On the day, after a written assessment, I faced a formal interview with two employees, Gagan and Anita. After some technical questions, Anita asked me, "So, why did you opt to study computer software and not hardware (electrical / electronics) in your engineering?" I wasn't expecting this question. I thought for a moment, and said, "Because software runs on top of hardware, and I wanted to be on the top." Gagan, the other interviewer, burst out laughing, teasing Anita with a thumbs down. It was only later that I learned that Anita was an electronics engineer and Gagan a software engineer. Later that day, Gagan narrated the story to the COO, Ashish Gupta, who quipped, "I wonder where he would place mechanical engineers like me!" 🙂
After I cleared the interview rounds, I was handed an offer letter and introduced to all the employees in the company. Since there weren't more than 30 people present on the day, the introduction didn't take much time at all.
What amazed me during the introductions was the typical startup culture without any hierarchy. The atmosphere was full of energy, passion, and warmth. Work hard and party harder was the norm. Birthday parties were hostel-style, with the birthday boy receiving customary 'bumps' before the cake was cut. Not even the COO was spared! 🙂
In my very first client call, I interviewed the CTO of a mid-size cooperation in Silicon Valley. Days later, I traveled to the IBM research lab at IIT Delhi to meet top inventors and see patent application drafting demos. The direct exposure to senior leaders and empowerment in my first year was unimaginable in a conventional software development company. The work was challenging too and involved patenting for cutting edge technologies many years before market rollout. I remember working on a patent application related to 3G mobile communication standard in early 2002, which was later rolled out in India in 2009.
Evalueserve's core values have helped me immensely in my professional career and in shaping my personality. Taking initiative was appreciated and obligation to dissent was mandatory. I held multiple leadership positions during my tenure, led several new services and initiatives, and created training modules on patent drafting and search for campus hires. I won several awards for innovative ideas, which were later converted into two US patent applications. I also did a bit of marketing, spoke at conferences, and authored several whitepapers. One of the whitepapers, published in Sept 2007, accurately predicted the imminent launch of Google phone through stealth patent applications and became an instant hit in the international media. If you are interested, you can still find Evalueserve mentioned in Android history on the official Wikipedia page.
Its entrepreneurial values and pursuit of excellence have helped Evalueserve establish itself as a pioneer in knowledge process offshoring (KPO), as well as create a new patent research, drafting, and analytics service segment in India. Today, so many Evalueserve alumni hold leadership positions in top companies, while many have founded their own companies. I feel sincere gratitude towards Evalueserve for the learning and growth opportunities that it provided to me, and for making me who I am today.
Albert Einstein wrote in his biography that his role as a patent examiner at the Swiss Patent Office was the most creative seven years of his life. He enjoyed his work because it was uncommonly diversified. My message to everyone at Evalueserve is, just like Einstein, enjoy the moment, take initiative, give the best to your assigned role, and never stop learning from the countless opportunities you have at Evalueserve.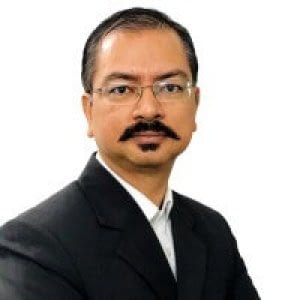 SHARE YOUR STORY
We would love to hear from you, about your Evalueserve experience.