Our People Stories
Saswati Sinha
Head of Human Resources for Evalueserve India
Saswati Sinha Rejoined Evalueserve to Lead India HR Operations
Saswati Sinha just began her third tenure with Evalueserve as Head of Human Resources for Evalueserve India. One of her most important jobs will be attracting new talent to Evalueserve, something Saswati's prior experience and personal background uniquely positions her to achieve.
We sat down with Saswati to learn more about her return to Evalueserve. Here is her story.
Q: Why did you decide to come back to Evalueserve?
Saswati: I left Evalueserve in 2012 and have been in touch with many members of Evalueserve family (current and ex) in the last 10 years. It never felt like I left. The connections I made when I was here continued over the last decade.
For me, it is like a homecoming. One doesn't need a reason to come back home, right?
Q: What are your hopes for your third tenure at Evalueserve? Is there anything you hope to achieve?
Saswati: I would like to do excellent work with great talent. I want to make a difference in our talent practices and take Evalueserve from where it is today to one of the best places to work in terms of culture and talent experience.
Evalueserve's strength has always been the way it treats and nurtures talent. Sadly, we only get to know this after we join. I want the world to know about our workplace before they join so we can attract and retain the best talent.
Q: How does your personal background influence your choice to join us?
Saswati: Let me share a couple of moments in time. When I was joining Evalueserve in my first stint way back in 2010, I had no idea what the organization was about.
My sister, who is an MTech from IIT Delhi (one of the premier institutes in India), told me I should pick up my Evalueserve job offer without any qualms as the company was one of the best places to work for. She said Evalueserve went to their campus every year and alumni had good things to say about the organization. Her strong endorsement sealed the deal, and I joined the company.
The second story was when I re-joined. I informed my parents and they asked me, "Is that the organization where your supervisor sent us a letter after you had resigned?"
Ratna Singh who was my supervisor at that time, sent a handwritten note to my parents stating I had been a great asset and Evalueserve will miss me. Even today after so many years and the failing memory of my parents, they remembered this gesture. This time my parents encouraged me to re-join, too.
To answer the question, yes, my personal background did influence my choice. The values that Evalueserve lives by resonate with the values I grew up with; honesty, integrity, the attitude of giving back to its talent, and building a strong base of excellent work. All of these are inherent parts of my personal background, which the organization embodies.
Q: Do you have a personal mission?
Saswati: My mission is to achieve "excellence" in whatever I do. I am a firm believer in achieving excellence in whatever one does, small or big. Driven more by passion than just doing a job, I hope to bring in the same passion in my role to drive excellence in my deliverables.
Q: How do you want people – your colleagues and the people you care about — to remember you?
Saswati: I want to be remembered as the person who gave people solutions and enabled them to better perform their roles. I also want to be remembered as a leader who led by example, and a friend who is not afraid to call a spade a 'spade' and still maintains the same level of collaboration and warmth.
Q: What separates Evalueserve from other places you've worked?
Saswati: Every place has its own strengths, but what makes Evalueserve unique is the seamless way in which we collaborate across geographies and locations. This is one of the very few organizations that thrive in building and maintaining 'connections,' which in turn leads to creating the power of 'one'. We work and grow together every day.
Q: What have you learned during your experiences at Evalueserve?
Saswati: The biggest lessons I learned in Evalueserve are that strong collaboration builds a healthy organization, and that continuous learning and transformation is the key to growth. There are no shortcuts.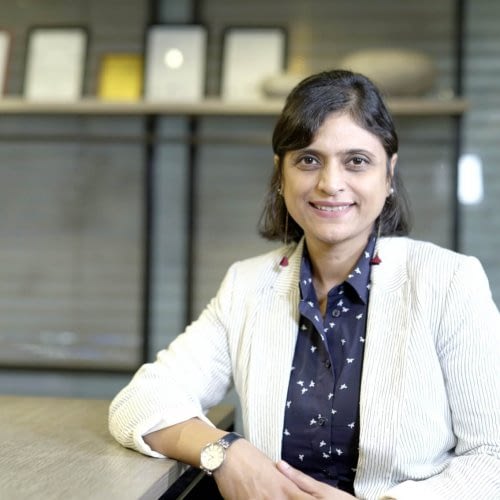 SHARE YOUR STORY
We would love to hear from you, about your Evalueserve experience.