With independent software vendor (ISV) tech being the lifeblood of major platform providers such as Microsoft, IBM, Google, Apple, Oracle, Salesforce, and more, an increasing number of companies have stormed the market. The growing number of ISVs has made it difficult for organizations to successfully identify ISVs that would fit their needs. With the new era of ISVs, how can companies find the best independent software vendor partner? 
What organizations need from ISV intelligence
Independent Software Vendors (ISVs) have enabled major platform providers such as Microsoft, IBM, Google, Apple, Salesforce and more, by developing third-party hardware and software that their operating systems rely on. However, as more and more ISVs have entered the market, it has become difficult for companies to spot the best one for them to partner with.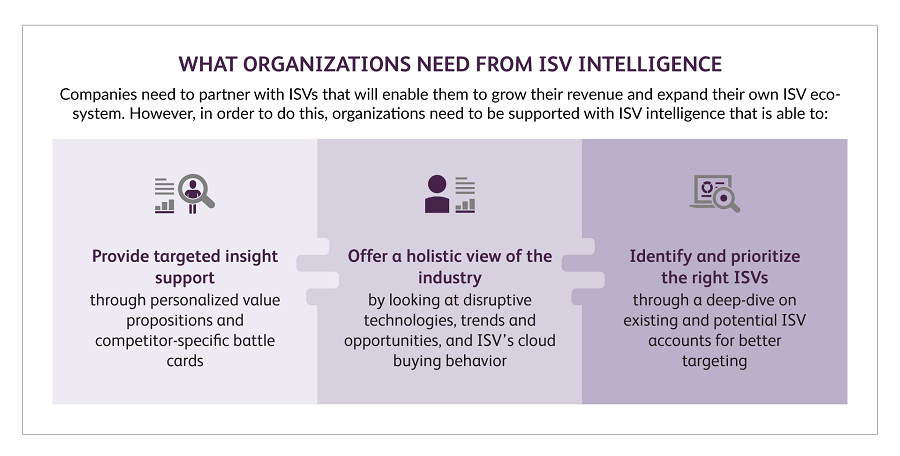 Taking your Independent Software Vendor program to the next level
Identifying and prioritizing potential independent software vendor partners is just the first step. Without finding the best ways to initiate and accelerate partner discussions will leave you far behind your competitors. Attention should be given to personalizing your pitch and keeping track of what your competitors are up to.
Tip #1: Do your homework!
Before approaching a possible partner, in any situation, it is important that you know enough about them and their strong points to enable focused customer meetings. By preparing a persona-based customized value proposition, you will hit the right notes with your possible partner and differentiate yourself apart from the rest. Identifying and analyzing key decision markers and their background will also give your meetings focus and direction.
Tip #2: Make your pitch razor sharp
Develop a razor-sharp pitch by empowering your teams with product and competitor specific battle cards. These battle cards gather in-depth assessments of your competitors and product's strategic profiles. Having powerful battle cards that contain detailed information will get you in the door but having specific recommendations for approaching situations when selling against competitors will set you apart.
Tip #3: Keep an eye on the market
Keeping a close eye on the market and competitor movements will ensure that you will be able to pounce on new opportunities and keep an eye on ISVs of interest. Covering subjects such as  independent software vendor product launches, recent cloud partnership announcements, strategic priorities, and expansion plans will keep you in the know.
Case Study Spotlight: The Early Bird Wins the Deal
One of our clients was looking into identifying emerging ISVs in the retail industry but were having difficulty finding the perfect fit for them. They wanted to build a long-term partnership with an emerging ISV so that they can grow. We leveraged our ISV intelligence program (IIP) to develop specific independent software vendor profiles for the client. We looked at the client's specific needs and interests to see which emerging independent software vendorwould best fit their needs. At the end of the project, we were able to provide the client with a total of 80+ ISVs, along with specific battle cards ensuring that the client will be able to accelerate their partner discussions. 
From Independent Software Vendor intelligence and beyond
As companies continue to rapidly build and expand their digital capabilities, ISVs will continue to come into conversation more and more. Companies will need to develop their strategic partnerships in order to grow their revenues and pursue new opportunities.
To learn more about Evalueserve's independent software vendor Intelligence Program (IIP), contact us to speak with an expert.