Until now, business professionals have had to rely on IP and R&D teams to frame and translate patent landscapes into terms they understand to make strategic business decisions.  With the new Project Home page and Explorer feature, Insightloupe facilitates navigation, and decision-makers now have the power to see and easily explore the full view of the patent landscape road. In this blog post, we explain how Evalueserve's new approach transforms patent landscapes from cumbersome tools to powerful instruments that anyone can use.
There is no doubt that 2020 challenged us all, transforming daily life and shifting our expectations and goals. When the road ahead is unchartered territory with so many market changes, patent landscapes are critical tools for business success.  Patent landscapes can provide key insights into planning and research, investment priorities and partnership opportunities, trending or disruptive technologies, and more.  
In the past, patent landscapes were accessible only to those with the expertise to use these tools and understand the insights. The good news in 2021 is that is no longer the case.
Patent Landscapes: In with the new, out with the old
Over many years of working with IP and Research and Development teams and business managers, we have heard the frustrations they often have trying to deliver insights from patent landscapes into the hands of decision-makers at their company.
These companies were using patent landscape tools that consisted of big excel files with endless lists of documents that were difficult to understand, especially for those without highly technical IP expertise. As a result, IP and R&D experts often had an uphill climb to translate patent landscape data into terminology that business decision-makers could understand. Even after putting in all this work, R&D and IP experts often struggled to convey critical information to those decision-makers.
For their part, business decision-makers had to rely on their R&D and IP colleagues to provide critical data and insights from patent landscapes, which meant that important information could be lost in translation. Decision-makers only had the information portrayed in the wide-view of a patent landscape, without the opportunity to drill down and see details that could be critical for high-stakes decisions.
Automated patent landscape tools can be an effective way to gain general insights about a technology or patent landscape, but these tools are not sufficient for high-stakes decisions when businesses require extreme accuracy.
What is the solution? In our previous blog post, we shared the wish-list of features that IP and RD teams wanted from their patent landscapes. Now for the first time, we have transformed the traditional patent landscape approach into a system that any user can easily navigate to access patent landscape data to make informed strategic decisions based on highly accurate data.
"Project Home" facilitates landscape navigation for any user
For users approaching a patent landscape for the first time, it can be difficult to know where and how to start. Insightloupe's new Project Home solves this with four main sections and visualizations that represent the most important user journeys and encourages users to drill down to see data: Explorer, Smart Search, Reports and Project Methodology. Project Home empowers any user, not just those with IP and R&D expertise, to uncover insights and data that can inform and transform business strategies.
Explorer: A new open road for patent landscapes
As we discussed, IP and R&D teams in the past often faced roadblocks with patent landscapes as they had to translate data for business teams. Explorer empowers the business team by allowing any user to be in the driver's seat to explore the patent landscape to make strategic decisions. This frees the IP and R&D team from having to translate and explain patent landscape findings into terms that the business team can understand. Any user can see and explore the key findings on their own to benefit from self-service exploration of the "what" and "who" in a specific technology domain. These insights are easy to understand, simple to navigate, and quick to consume.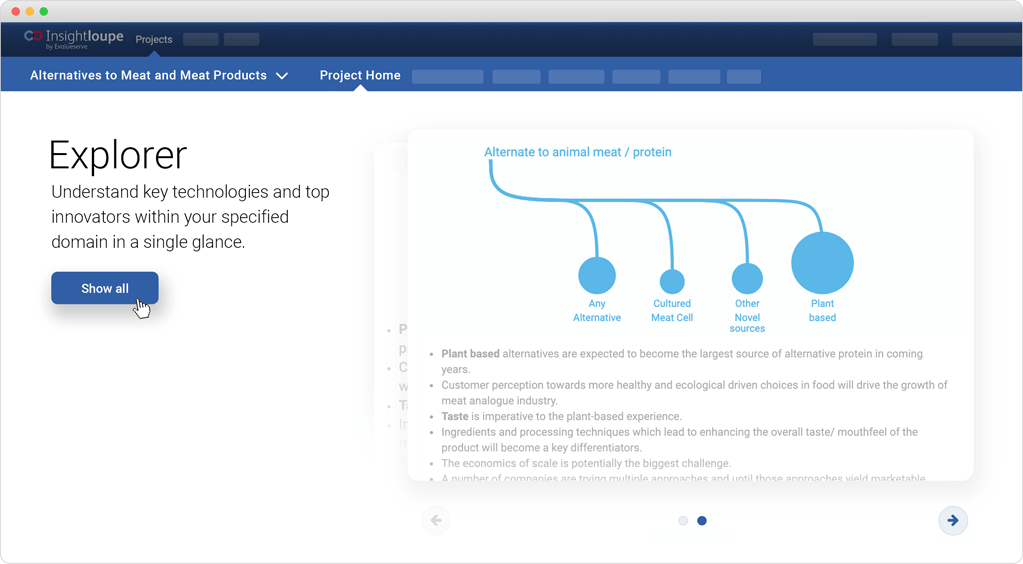 The old way of doing patent landscapes provided a "fixed story" based on data in prepared presentations. The new approach Insightloupe has been offering allows users to explore the patent landscape on their own, with a dynamic and easy way to drill down and see insights to inform their decisions and zoom out to see key insights at a glance. Insightloupe also leverages Evalueserve's unique taxonomy methodology where we map all relevant documents in the technology domain to problems, solutions, and applications.
Now IP professionals can go straight to understanding the key insights instead of having to de-code how to operate the analytical capabilities of the patent landscape.
Smart Search Easier and more detailed searches
Insightloupe's Smart Search section allows users to search for specific documents directly from the Project Home. To make searching easier, Smart Search shows real-time suggestions based on technology tags, organization type tags, patent number, and patent title from the project. When a user enters a keyword in the search input, a dropdown appears with those suggestions. After clicking on the search button, a user is redirected to documents filtered by keywords entered in the search field. In addition, users can enter the Advanced Search and the Documents page from the Project Home. Clients who use Insightloupe as a repository for all their IP and R&D intelligence projects also can use the 'Cross Project Search' feature.
Reports: Interactive reports that work with PowerPoint
To make informed decisions and communicate insights, IP, R&D and business teams need interactive reports and charts that link to their indexed project data to reveal details with a single click. Insightloupe's Report section makes it easy to create and view critical reports.
In Project Home, users will see a representation of the first interactive report available in the project. That means that this section would be visible only if there is such a report available. By default, the first four slides from the report will be visible on the Project Home.
Users can change slides in edit mode and importantly, can download a PowerPoint version of the report directly from the Project Home. The ability to download PowerPoint reports allows users to include confidential slides, with the option to click from the PowerPoint report back to the online version to see data.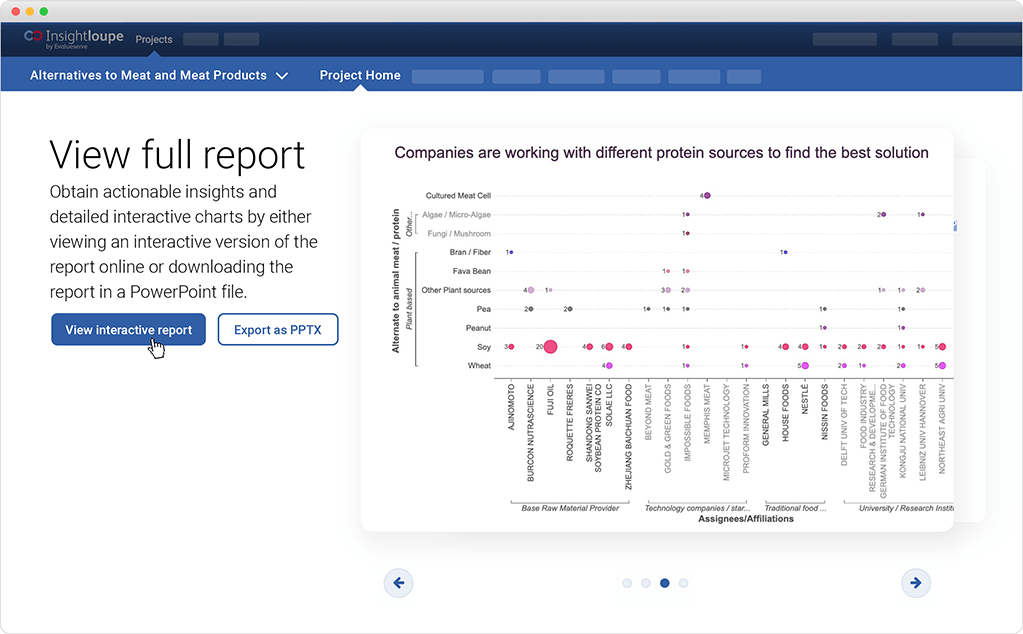 Project methodology
Understanding the basis for how a patent landscape has been executed and commissioned can help ascertain the accuracy of the insights derived. Insightloupe's project methodology widget provides this transparency by showing the objective of the project, the key questions the study answers, and the search strategy including the jurisdiction coverage, sources, time range, and language in the document.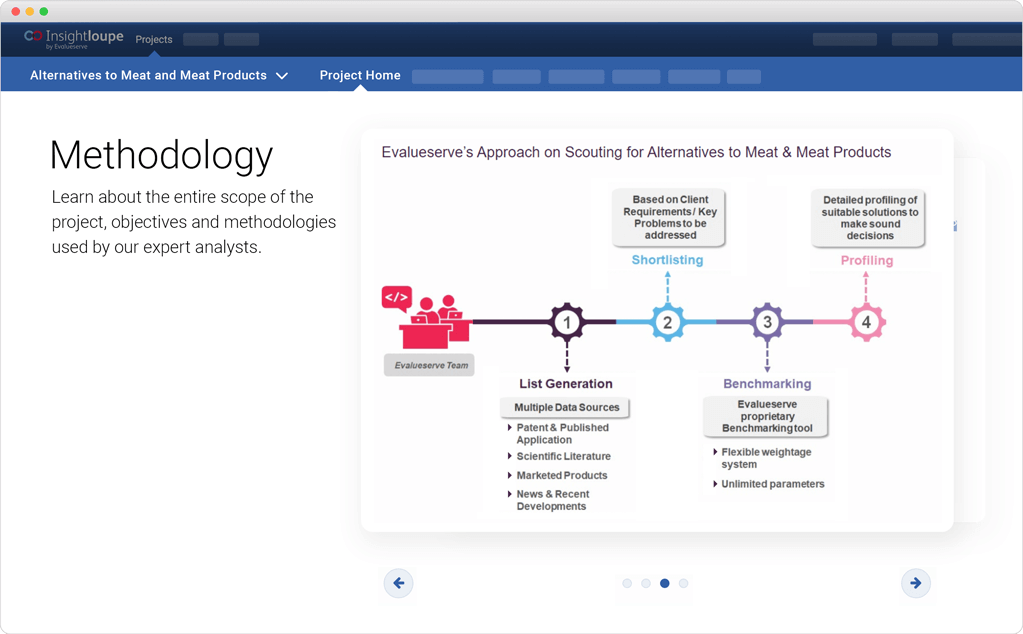 Exploring 2021 patent landscapes with confidence and ease
Here is a reason to be hopeful in 2021: burdensome patent landscapes are now a relic of the past! Our new approach to patent landscapes transforms how businesses make strategic decisions and who can access these valuable insights.
A Head of IP strategy at a Fast-Moving Consumer Goods company explains, "Insightloupe Explorer is a game-changer for our most critical decision making. As a busy executive, I don't have time to search patent landscapes trying to understand how to use their analytics- and still not feel confident in the accuracy of the insights. Now that we have Insightloupe with Explorer, I have an easy, accurate, and immediate view of the 'Who' and 'What' of our IP or R&D intelligence projects. I'm confident in our business decisions now."
2021 will test business strategies in new ways. Make sure your company has the patent landscape tools and insights required to successfully navigate the challenges and opportunities on the road ahead. Schedule your demo now to understand how Insightloupe has transformed patent landscapes and learn how our mind+machine™ approach can help drive your company's business success.