Financial statements, SEC filings, management presentations, etc., have long been the only reliable data sources for analysts. Not anymore. Researchers are increasingly seeking analysis-worthy data from non-traditional sources to back their assessments. These sources range from customer transactions, geospatial distribution, social media activities, weather pattern, and traffic and shipping statistics, to satellite imagery. The following illustration provides a few details of these sources:
Sources of alternative data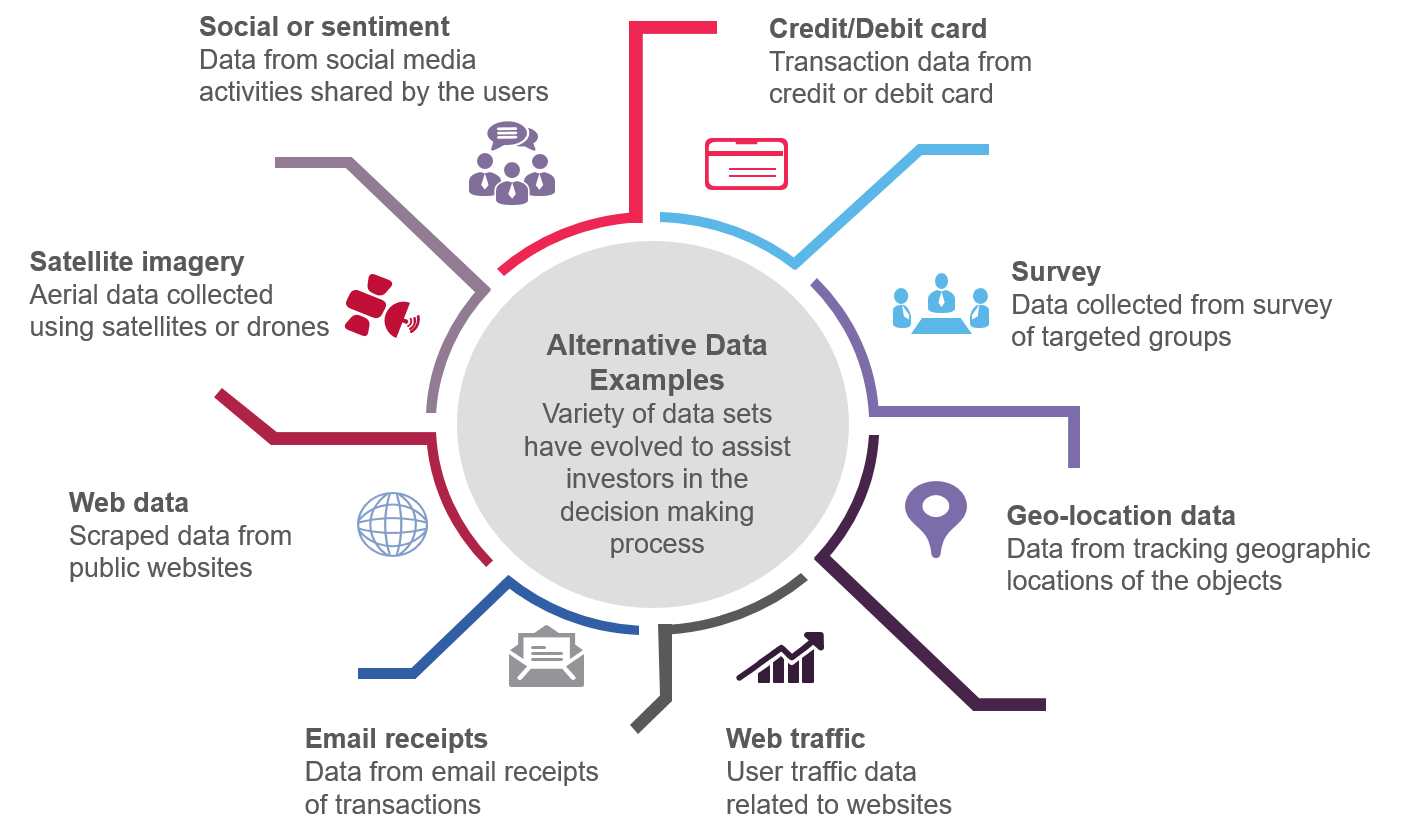 As in all other fields, the adoption of alternative data by investment firms for their research is also growing steadily. Indeed, alternative data is fast becoming a driving force behind the decision-making process of many research companies. Its use is gaining momentum as analysts look to provide value addition through differentiated research and more accurate analysis.
Alternative data can offer an edge to researchers and research firms by providing information that is otherwise unavailable to investors. Given below are a few use cases:
Satellite imagery can be used to track agricultural yield, construction progress, oil & gas production / storage, and even retail performance. In a notable case, a data firm detected a slowdown in a retail company, Pier 1 Imports, by using satellite images to track traffic in its parking lot. Based on the analysis, it was able to alert investors about an eventual guidance cut by the company.
Social media activity can be used to gauge the impact of an event, track sentiment change, and evaluate brand popularity or advertisement impact. For example, a data mining firm alerted its clients (investors) about an explosion at a natural gas facility in Austria by gaining access to a photo shared by an eyewitness. The news was made available to investors before it spread in the market, thereby benefitting the investors.
Geo-location data, which can be drawn from many apps or websites, can be used to track retail footfall. A data firm correctly predicted a decline in Chipotle's revenue using data gathered from check-ins in an app.
Web traffic helps identify user trends, enabling e-commerce companies to formulate strategies accordingly. An analytics firm created a model using web traffic data from Alexa.com, integrated with factors such as macroeconomic indicators, pricing, and inventory to predict revenue for an e-commerce company. The model provided a more accurate estimate than the analyst consensus. 
Credit and debit card transaction is another source of consumer spending related data that provides information on companies and consumers. A data firm created a model for Just Eat using consumer transaction data from bank and credit card records to predict its revenue. The model highlighted revenues above market expectations.
E-mail receipts highlight transaction data and can be used to track revenue. A data firm analyzed e-mail receipts for GoPro and observed low sales volume from third-party retailers, such as Amazon, Target, and Wal-Mart, and highlighted to investors that the consensus estimate is too high.
There are several similar instances of investors benefiting from the use of alternative data. These instances have boosted the acceptance of alternative data in the investment process.
Industry Snapshot
According to AlternativeData.org, the alternative data industry has almost tripled, from ~USD230 million in 2016 to ~USD650 million in 2018, representing ~3-4% of buy-side spending on research. AlternativeData.org estimates that the industry will grow by a factor of 2.6x to ~USD1.7 billion by 2020. Here's a snapshot of the buy-side spending on alternative data.
Buy-side spending on Alternative Data (USD million)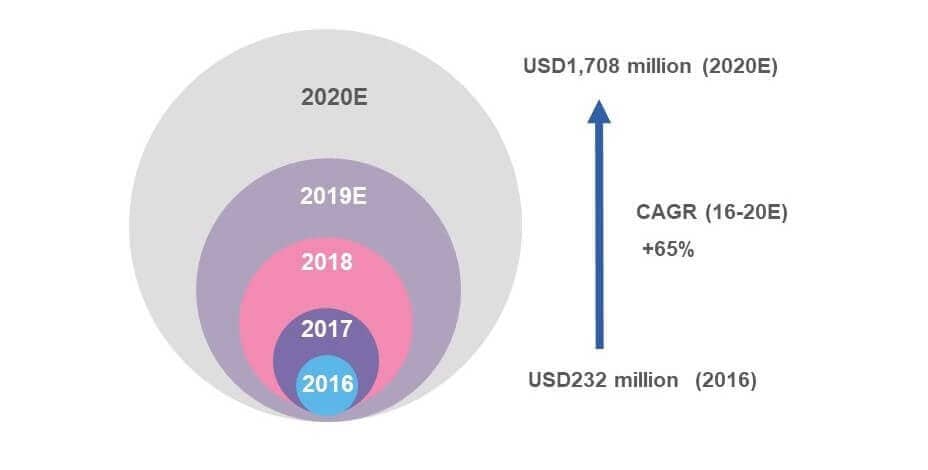 At the same time, the number of firms operating in the industry has increased four-fold in the past 10 years, reaching ~450 in 2019. These firms operate at various steps of the industry value chain – some specialize in the collection of web data, credit card data, satellite imagery, data on e-mail receipt, web traffic, while others specialize in the cleaning and analysis of data to provide useful insights. The following chart shows the number of firms operating in each alternative data type:
Number of firms operating in each Alternative data type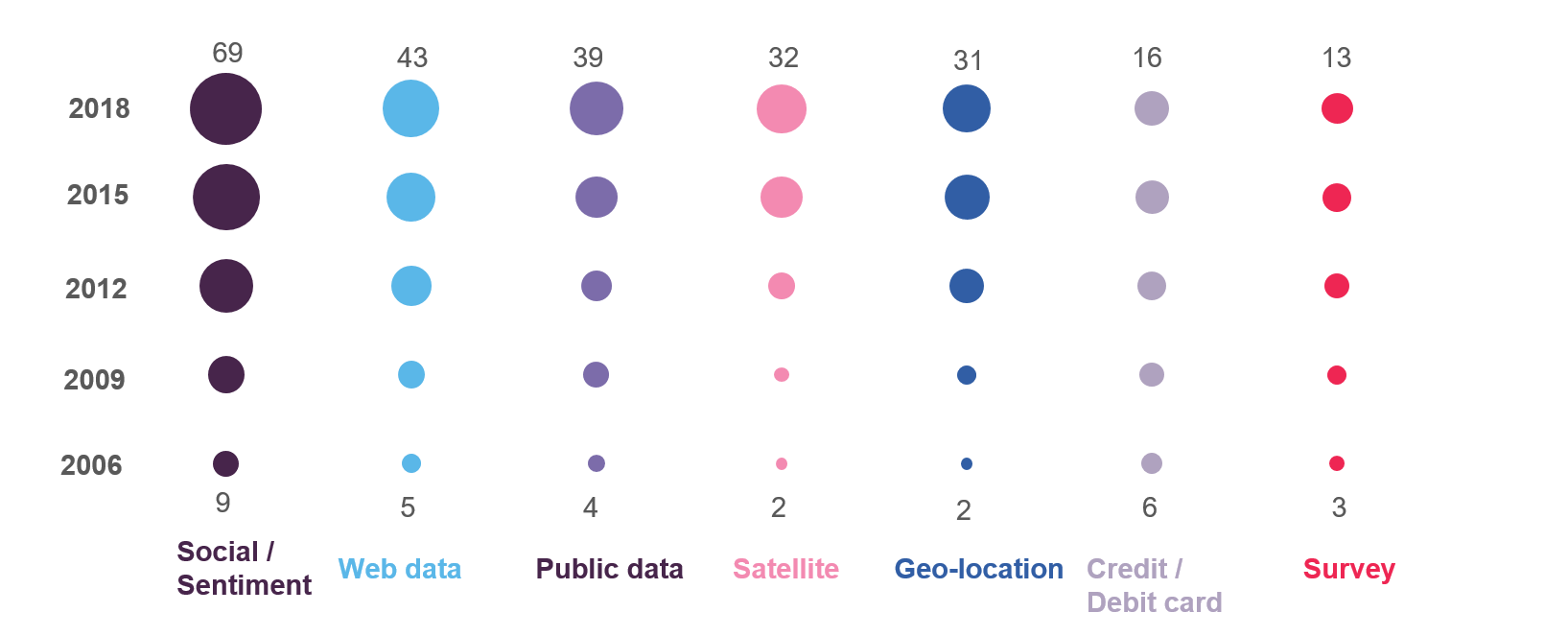 Firms operate at one or more of the stages of the alternative data supply chain. The following illustration shows the lifecycle of alternative data:
Alternative data supply chain
Sell-side investment firms too have recognized the importance of alternative data, as evident in the increase in related divisions within firms. Most of the large investment firms are also setting up their own divisions to work with alternative data. Some of these divisions are also looking to monetize these services by offering data services commercially to clients. The monetization of these services has been assisted by the rollout of MiFID II, which has brought in price transparency by unbundling research costs from trade execution commissions.
The Road Ahead
Despite the fast progress, alternative data also faces headwinds, as service offerings and complexities are increasing with growth. There is a dearth of standard tools that work with all varieties of data. At the same time, cost remains a barrier. For example, credit card data and satellite imagery can be very expensive and unaffordable for many small firms.
While the acceptance of alternative data is increasing, reliance on it as a major factor in investment decision-making remains limited. Improving accuracy of results derived from alternative data will continue to drive its use. Web data and credit / debit card data are currently the most used datasets, due to their high level of accuracy. The segment also remains exposed to concerns about data privacy and potential regulatory hurdles, as guidelines evolve.
Moreover, alternative data is voluminous, cumbersome, unstructured, complex, and incredibly difficult to work with. The industry needs more data scientists and engineers (with expertise in R, Matlab, Python, etc.) from various computer science and programing disciplines to decipher the data and utilize it.
The alternative data industry is in early development phase, but could surely be a game changer for players offering investment analysis. With technology and innovation, new sources are likely to evolve, and provide impetus to firms that jump on to this bandwagon, either by offering data or using it to maximize their business.