Continuously learning ways to grow and develop skillsets in an everchanging world has been instrumental in staying ahead. In a knowledge-intensive environment like ours, this becomes even more critical. We have found that involving our employees in the creation and understanding of their learning and development goals, has facilitated self-development and organizational progress. However, how can organizations assess their employees' learning goals and help corporate training teams support them? 
We reached out to employees across Evalueserve's Financial Services division (Gurugram office, India) to understand their learning and development expectations. Besides providing a spate of rather interesting insights into training expectations, the survey corroborated our long-held views about corporate training. We have always believed that a long-term learning path, comprising well-defined training initiatives, enhanced focus on technical skill building, and timely acknowledgement of efforts toward learning and development activities, are critical for a successful learning program. The survey created a strong bedrock on which we could build our training strategy for the division for 2020 and beyond. 
Our survey primarily focused on the subjects of employee skill development requirements, eagerness to cross-train, key challenges and hurdles faced in self-development, methods to drive training participation, and approaches to strengthen the learning culture within an organization.
While our survey was specifically aimed at Evalueserve's Financial Services BU, we believe its findings and key takeaways related to learning trends, challenges, and expectations are universally relevant. 
Survey finding 1: Skill development trends
Technical up skilling, specifically with regard to advanced use of MS Excel, VBA, SQL, Python, R, SAS, Power BI, and Tableau, stood out as a key aspiration. Analysts in the field of corporate finance; equity, credit, and economic research; investment strategy; portfolio management; data science; and quantitative finance and risk are looking to rapidly upgrade themselves in these skills. With these technical skills, the analysts expect to effectively handle data management, analysis, and visualization, which are increasingly gaining prominence in their line of work. VBA is the new in-demand base skill, preferred in parallel with MS Excel.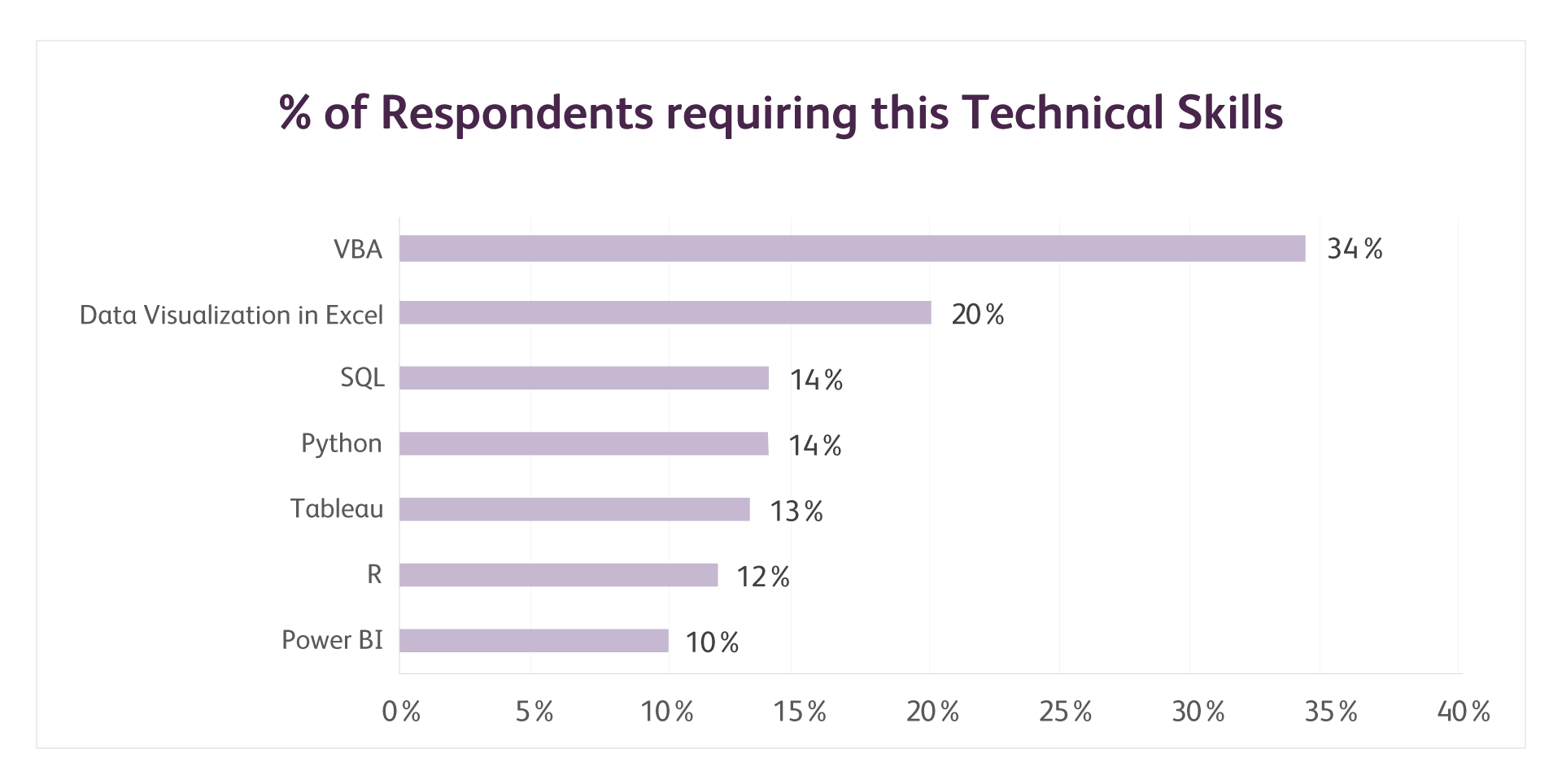 Survey finding 2: Demand for cross-training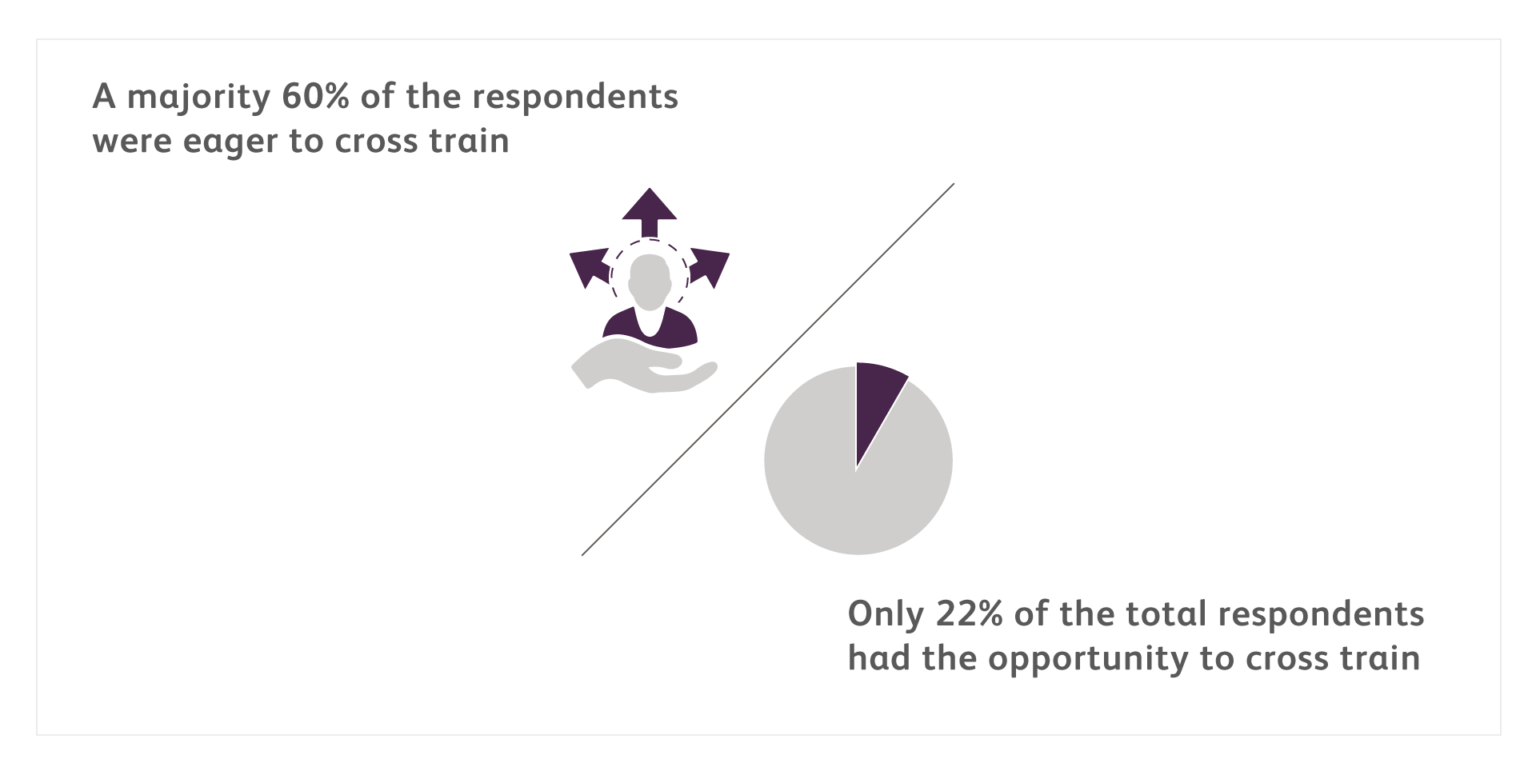 These results fully support our understanding that organizations offering cross training or "T-shaped" learning opportunities (in addition to "I-shaped" learning opportunities) see greater benefits. Besides higher return on investment, cross-training or availability of reskilling opportunities can positively impact employee motivation and sustainability within their current organizations. Cross-training also provides a platform for managers to evaluate employees across a range of roles. With the average job tenure shortening, it is becoming even more important to offer employees development opportunities and success avenues they are seeking within their current organizations. In a nutshell, organizations should offer an open learning and development culture. Managers can also identify and map complementary competencies to offer customizable cross-training packages. 
Survey finding 3: Work-related challenged and hurdles to self-development
Long working hours, odd shift timings, and tight schedules came up as some of the work-related challenges to self-development. While we have observed that classroom training is still the preferred learning method due to its experiential nature (we currently have a split of 65% classroom vs 35% online), the increasing use of online learning and MOOCs can probably give more flexible and consistent learning options to employees. However, the success of self-paced learning largely depends on self-motivation and dedication, the level of learning flexibility and interaction offered and, of course, time commitment.
Creativity applied to mobile app-based learning (for example – modules uploaded onto employee on-boarding apps) and online learning bytes (five-minute modules) are efficient as well as effective in building the required employee knowledge. Evalueserve's Investment Banking division recently hosted domain-related pre-requisite learning, as part of the employee on-boarding process, on the company's employee app, REACH. We achieved close to 100% success in required reading completion. With respect to learning bytes, the number of views of our learning videos increased by more than 10% across our locations compared with last year, with an average user rating of 5 stars! Offering employees a judicious mix of innovative learning formats is very important, because learning flexibility is as vital as work schedule flexibility. 
Survey finding 4: Well-defined learning and development needs
Survey participants felt an acute need for increased awareness of skillsets required to update and develop themselves in their existing roles, as well as competencies needed to transition from one career path to the other. They also pointed to the need for a mechanism that would keep them updated about available learning opportunities that will complement their development, and enable them to advance their personal, technical, and domain competencies. A career development assistance tool that will aid in linear and lateral progression has been ideated as a result of this ask. The tool can also be a good enabler for managers' goal setting processes and employee performance appraisals. 
Survey finding 5: Demand for industry-aligned learning offerings—a key ingredient for driving training participation
Respondents at all levels highlighted the need to keep learning programs relevant to their day-to-day work responsibilities. Team members and their managers seek industry-aligned learning offerings, and want to know how a particular program aligns with their roles. Moreover, people managers want actual competency enhancement and not just "check the box" formality. They want to know if team members have grasped the subject and can apply this knowledge to their job. Our findings clearly indicate that applied pedagogy is the key to outcome-based learning. Therefore, it is key to develop programs that clearly factor-in existing learning and skill gaps, and a robust mechanism to assess actual post-training learning enhancement.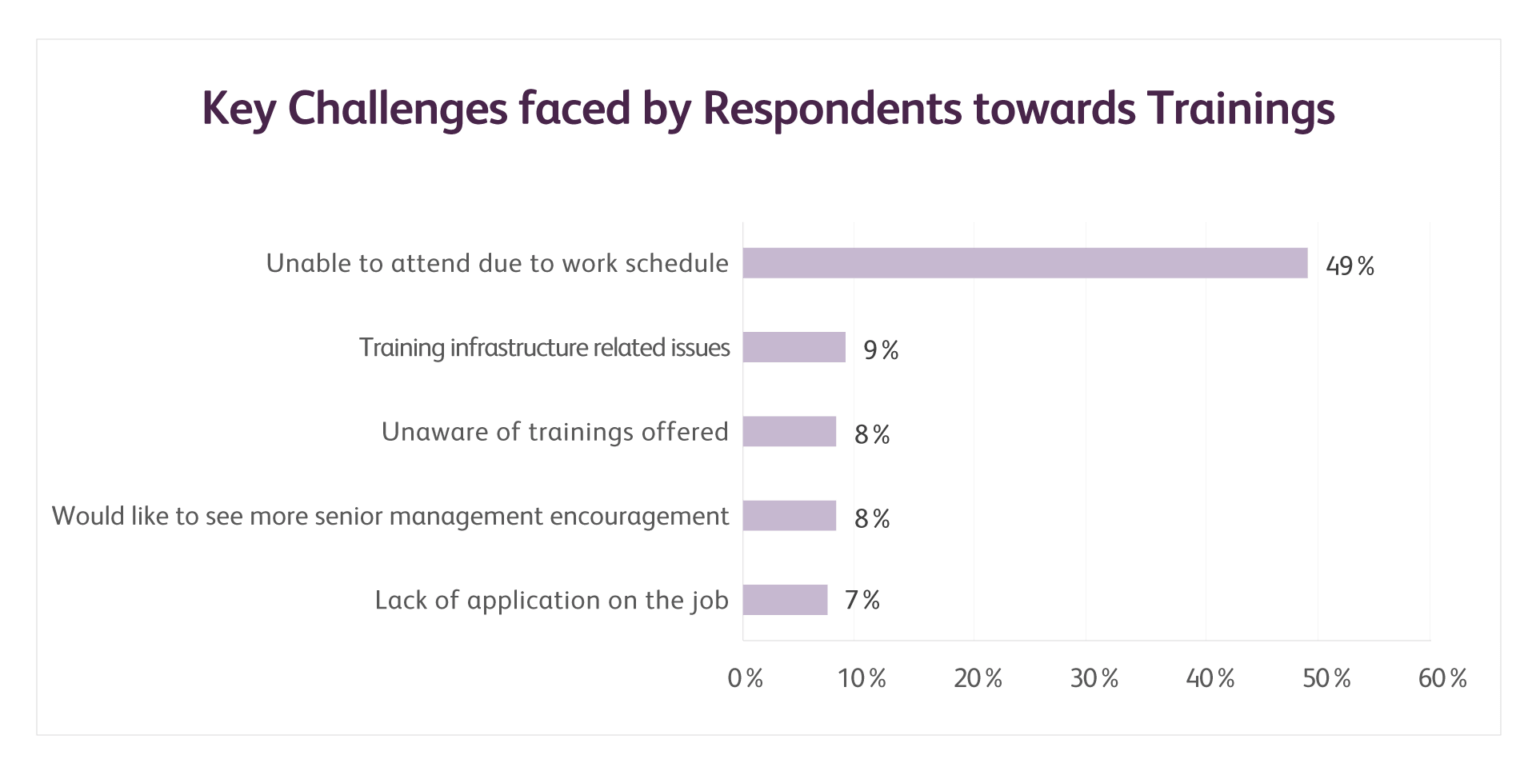 Survey finding 6: Fostering and nurturing a culture of continuous learning
On the question of strengthening the learning culture within an organization, the survey participants focused on the need to appraise employees on their efforts toward self or people development. They opined that stressing on "people development" in KPIs, encouraging minimum number of training hours, and rewarding those who surpass their goals would strengthen the learning culture within the organization. They also stressed on senior management involvement in sponsoring programs and encouraging training participation both of which send a strong message that leaders are aligned with the culture of continuous learning.
To conclude, our survey does not end with its finding, but has paved the way for our future employee development strategy, in which the key elements have been defined below. 
Please share your thoughts and suggestions in the comments section—we would love to hear from you!