As digital marketing reaches across industries and sectors, especially in B2B businesses as B2C business have embraced this for quite some time, more and more companies are using digital technologies to achieve specific objectives. However if countless organizations are incorporating technology into their processes, then why are only 1/3 of digital initiatives achieving success in improving and sustaining a company's overall performance? What can organizations do to create a successful digital marketing transformation?
Taking the first step
Building a digital marketing strategy is more than just adopting various use cases. Developing a robust strategy ensures that your technology is being used to achieve specific business, brand or marketing objectives. Regardless of industry, companies are finding that investing in long-term digital marketing strategies can bring benefits to their organization. Technology has proved itself time and time again that it is not just a passing fad, but a concrete investment for organizations of any size and industry. However, the hardest thing to do is start the digital marketing journey.
Some good questions to ask yourself is: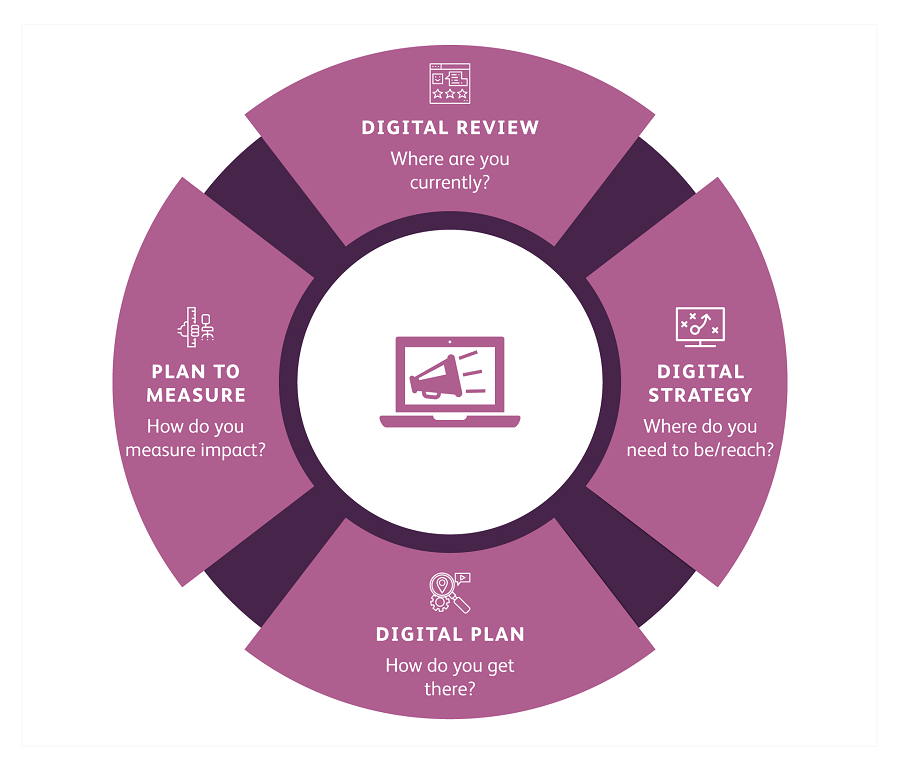 Where are you right now? 
Reviewing your current digital marketing efforts and solutions can help you understand where you are on your digital marketing journey. You can start this step by reviewing consumer insights, which helps you begin to map and identify gaps in your customer journey. Then, you can undertake a competitive audit, which will highlight strategies that your competitors have adopted. Taking a look at best-in-class companies from other industries and business models will add meaningful input to your audit. From this, you can start measuring your own business/brand performance and see areas that would need improvement or growth.
Where do you need to be? 
Creating and aligning your digital marketing strategy will help you ensure that your digital marketing journey will be precise and purposeful. Incorporating technology into your organization is more than just adding a couple use cases. Your digital vision should be directly linked to your corporate vision and objectives. Many issues that organizations face when progressing on their digital marketing journey, is the lack of alignment between digital and corporate goals. Ensuring that strategies are defined, will help you achieve defined objectives, since you will be able to see what direction your digital marketing journey should take. 
How will you measure the impact? 
ROI is one of the most grating terms heard in meetings. When you request additional budgets for building a new capability or for working on a new use case, would you ever invest without thinking of returns? No. Ensuring that your digital marketing journey brings impact and success to your organization, regardless of which step you are on, will ensure that there will be no wasted efforts. A solid plan to measure, will help you track the success of digital marketing initiatives for both the brand and business. As business objectives and digital marketing journeys differ from organization to organization, you will have to develop and maintain your organization's own balanced scorecard for measurement.
Building your foundation
With sheer breadth and depth of digital marketing technologies offered, it can be tempting to choose the most flashy and exciting ones. However, in order to build a solid foundation for sustained business benefits, you will need to gradually start your digital marketing transformation through these steps: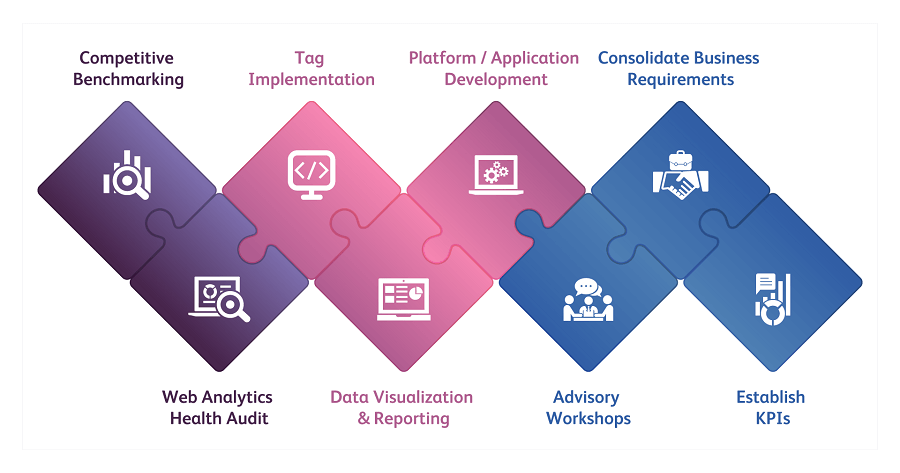 Phase 1: Looking out and in
For the first phase, looking at what your competitors are doing and then reflecting on your organization's own website health will help guide how you proceed with the following phases. Competitive benchmarking evaluates the breadth of what your competitors are doing digitally, benchmark their digital marketing initiatives, understand best-practices and identify unique digital features being leveraged. Web analytics health audit allows you to review and determine areas of discrepancies, challenges, opportunities and gaps. Having both an external and internal view of digital marketing initiatives will help you find what solutions will work best for your organization.
Phase 2: Starting with the basics
The second phase focuses on developing technologies that will prime your digital analytics program for success. Tag implementation, data visualization/reporting and platform/application development provides you with the foundation to build a robust digital asset, which is the hub of your marketing activity focused on creating a seamless experience for your customer. Whether it is a heavy equipment manufacturer or a grocery retailer, remember that >70% of B2B buyers research you before considering you for a purchase and for B2C businesses.  
Tag implementation uses JavaScript tags to accurately and effectively track website traffic and visitor behavior across all website pages to collect information about user journeys, purchase behaviors, reasons for fallout, etc. Data visualization and reporting uses excel/Tableau/browser-based dashboards to collate, analyze and present data in an easy to understand format, which aids in actionable decision-making. Platform/application development allows you to develop function-specific mobile applications (content sharing, customer login, etc.) to increase the ease of use, brand recall and visitor engagement levels.
Phase 3: Readying for the future
For the third phase, readying your digital foundation for the future and making sure that it aligns with your organization's overall goals will be the main focus. By holding advisory workshops, consolidating business requirements and establishing KPIs, your organization will start to see what the following steps will be for future digital marketing initiatives.
Advisory workshops give your teams on-site customized training designed to apply digital marketing best practices to your business model and objectives. Business requirements facilitates the process for gathering all of the business requirements that will shape your overall digital strategy. Finally, KPIs can be used to demonstrate the effectiveness of achieving key business objectives and evaluate success at reaching targets.
Evolving your data maturity

Fundamentals encompasses the initiatives/use cases your organization needs to prioritize in the first phase of your journey towards digital maturity. As the name suggests, this phase focuses on foundational digital marketing initiatives such as website health analysis, competitive benchmarking, web analytics tagging/ implementation, website traffic analysis & reporting and more. Covering the fundamentals will enable your organization to set up a robust digital asset (website) which is the hub of all marketing activities.
Accelerators focuses on the initiatives/use cases that will propel your objectives forward through increasingly complex functions such as search engine optimization, visitor engagement + A/B testing, customer/buyer interaction tracking and more. These functions build upon the fundamentals and will enable you to accelerate your digital marketing journey. 
Differentiators includes initiatives/ use cases which would enable you to differentiate your organization from your competitors. This phase focuses on advanced digital functions such as journey mapping & visitor segmentation, hyper experience personalization, marketing ROI assessment and more. Organizations in this phase are clearly ahead of the curve.
Things to remember
Your organization's digital marketing journey will be shaped by your vision and actions. Even when looking at your competitors who may be in the same industry, the shape of your journey can be totally different from theirs. Asking yourself important questions, and then using those questions to guide your organization's digital foundation will help you mature your digital marketing strategy. The time where business objectives and technical objectives were separate has come to an end, as both of these elements affect one another.
To learn how Digital Marketing 360 can help you get on the right path to your digital marketing journey, please email analytics@evalueserve.com .