Historically, the technology industry has been vulnerable to disruptive events that led to recession and economic crisis. This was illustrated during the 2008-09 global financial crisis, as technology investments were adversely impacted. While it is still early to quantify the impact of Covid-19 on the technology sector, there are things we know for sure regardless of scenarios:
Acceleration of remote working is expected to create demand for cloud infrastructure.
Growth of demand for specialized application software such as security software, BCP planning tools, collaboration and teleconferencing software.
Increased demand for communications equipment and telecom services, as work from home becomes the new norm.
Short-term decline in demand for on-premise software, as end-customers transition to cloud, while initiatives that require large CAPEX investments may be put on hold.
As we continue to witness this global crisis of unprecedented scale, actionable intelligence and strategic advice is more critical now than ever, especially for business leaders across the globe. Minimizing the impact of downturn and building a sustainable growth engine requires immediate action planning across strategy, sales and marketing functions.
Business leaders, from sales and marketing to strategy and pricing, will need to build and act on critical business action plans with clearly defined workstreams. Implications of the outbreak have been felt across key functions in an organization:
Strategy teams need to identify trends that will shape the industry going forward. In order to thrive, strategy teams will need to identify new value propositions, proactively conduct competitive intelligence in order to maintain and build competitive advantages. Focus will also shift towards building a resilient strategy for mitigating disruptions in the future.  
CMOs will have to rethink marketing strategy as marketing will need to be both smart and responsible. Foreseeing how customer needs, expectations and purchasing decisions will evolve will be the biggest challenge. Marketing will also need to create a more personalized and humanized experience for customers across channels and buying journeys. 
Sales execution strategies will evolve. Large on-premise deals that require professional services support may get adversely impacted. Online and channel sales would become prevalent, and free trials and training sessions could become an essential component of sales strategy.
As these organizational functions collaborate to jointly respond to global crisis, they need to build scenario-based business plans with a strong hypothesis surrounding industry dynamics, customer needs, coupled with a right strategy to leapfrog competition. They will also need to define the strategic initiatives that marketing and sales need to undertake with clear alignment on executing responsibility and timelines.
We at Evalueserve are working with strategy, sales and marketing teams belonging to some of the leading technology giants. Through strategic insights that considers a variety of market scenarios, we are helping our clients to navigate this unprecedented and rapidly evolving situation.
Evalueserve's three staged framework can help technology clients assess the impact of Covid-19 and help build and execute the strategy to not just minimize the Covid-19 impact, but to also build a future growth engine.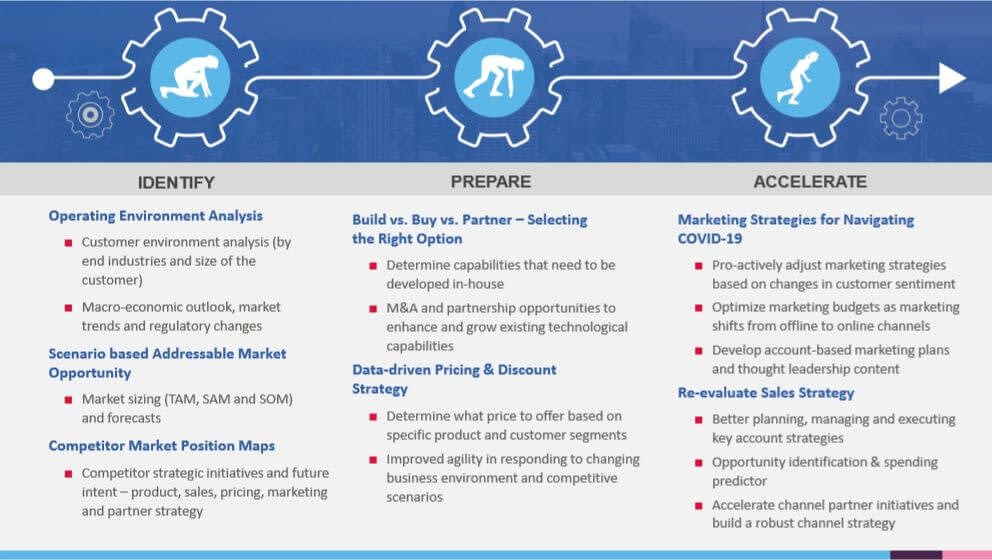 If you want to discuss how we can support you, please do not hesitate to reach out to us at insightsfirst@evalueserve.com.