Introduction
Voluntary carbon markets (VCMs) are a new-age solution that can not only help companies incentivize projects aimed towards climate change mitigation to meet Net Zero 2050 goals, but also help in the reduction and offsetting of greenhouse gases (GHG) and carbon dioxide (CO2) emissions for their investors and participants.
The idea behind VCMs is to utilise the cap-and-trade provisions for compliance carbon markets (CCMs) based on the Kyoto Protocol of 1997, for the benefits of any individuals, or organisations, or governments looking to offset their emissions beyond mandates, with an eye on complete decarbonisation.
Hence, until such time that new carbon dioxide stops being emitted in any part of an industry's value chain, VCMs will not just remain a viable decarbonisation remedy, but also become a whole new trading market for high-value carbon credits generated therein.
While early VCM movers had focused on carbon offsets projects that followed the carbon avoidance and reduction route, a more conscientious focus is seen growing in the carbon removal and sequestration technologies-based projects. Hence, Carbon Capture, Utilisation, and Storage (CCUS), appear pegged to be a potential high-growth area in these voluntary markets.
Carbon Capture
As mentioned previously, carbon capture falls within the broader carbon offset category of projects that aim for carbon removal and sequestration. The process is one inspired from nature, in that, it follows the principle of trees absorbing carbon emissions from the atmosphere and storing them.
Projects around carbon capture and storage (CCS) have been a smaller but still significant part of VCMs so far. However, with the realization that there is a greater need to remove the carbon emissions already present in the planet's atmosphere, such projects are garnering more and more interest.
This move has already started gaining momentum over the last couple of years. The biggest players are directly setting up massive funds and partnering with carbon capture projects to offset carbon emissions. However, not everyone can plan an outlay of $1 billion like Microsoft and Tesla Inc. Nor does everyone have the scale of emissions that industry giants might have.
This is where purchasing carbon credits through VCMs of a scale comparable to an individual or organisation's emissions comes into play. For, investors and stakeholders at all levels are waking up to the 1.5-degree temperature target and asking for increased transparency and responsibility in the efforts their organisation is putting towards this goal. Global bodies including the Taskforce on Scaling Voluntary Carbon Markets (TSVCM), IEA, among others look at carbon capture as a necessary tool in this movement.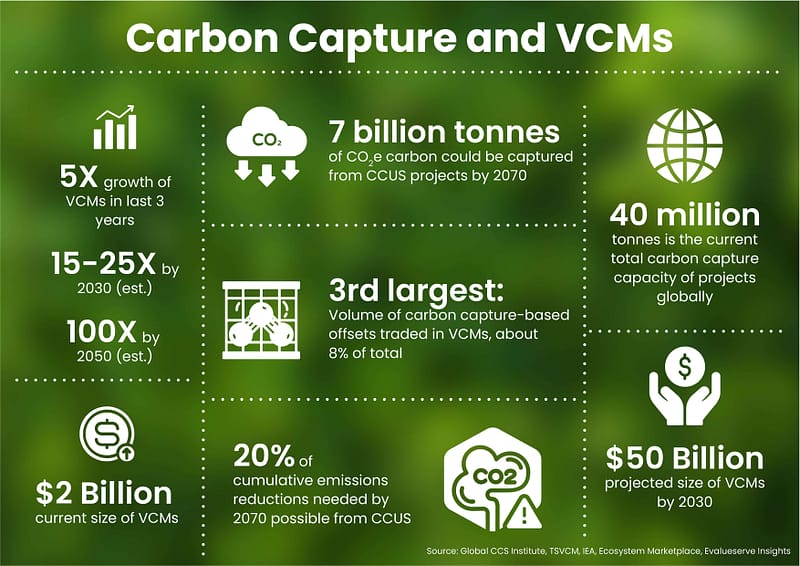 Advantages and Challenges
Conclusion
The potential for carbon capture as a major contributor towards carbon emissions removal and sequestration is undeniable. Projections for the coming decades seem to indicate that overall growth story of voluntary carbon markets will continue to be told for a long time. With the gathering momentum around the urgency towards climate change mitigation activities, and the role that carbon capture is pegged to play in it, it is a distinct possibility that carbon offset credits issued from such projects will become more highly sought after in coming years. Being in the business of doing business, profitability is always a concern. And it seems carbon offsets from carbon capture-based projects may very well have that base covered as well.
Carbon Offset Platform: To tackle these challenges and gain all the advantages of participation in voluntary carbon markets, our team of experts at Evalueserve has developed our very own Carbon Offset Platform. This platform comprises a global database of projects from across various carbon offset registries, which helps you in analysing the best-fit project in terms of abatement as well as economics. To know more about how our Carbon Offset Platform can empower your decarbonisation journey, please connect with our team of experts today.
Get decarbonization publications delivered to your inbox by filling out the form below.