The 26th United Nations Climate Change Conference (COP26), held in Glasgow in November 2021, culminated in the Glasgow Climate Pact, which sets out how nations will lower emissions to reduce temperature increases. The negotiation process was tortuous, and the draft agreement was revised many times before nearly 200 participating countries passed it. The United Nations has called the pact a 'compromise agreement.'
During the conference, the Chinese delegation participated actively in negotiations and consultations. China and the US announced the 'U.S.-China Joint Glasgow Declaration on Enhancing Climate Action in the 2020s.' In the declaration, both countries pledge to continue working together on a series of initiatives over the next decade to address the issue of climate change.
On November 4, at a side event of COP26, the International Platform on Sustainable Finance published a consolidation of China and the EU's green taxonomies, labeled the Common Ground Taxonomy. The report identifies areas of commonality and differences between China and the EU's existing green taxonomies, thereby providing critical data for their respective green finance markets.
Meanwhile, China has started efforts to advance towards its goal of carbon neutrality. On November 8, China's central bank launched a carbon-reduction support tool that will enable financial institutions to get low-cost loans as well as guide them to offer loans for projects in fields such as clean energy, energy conservation, and environmental protection. Furthermore, China's National Association of Financial Market Institutional Investors recently announced that the country will now allow foreign issuers to issue green, social, and sustainability bonds in the Chinese market.
Carbon Market Data (EU ETS & China Carbon Market – November 2021)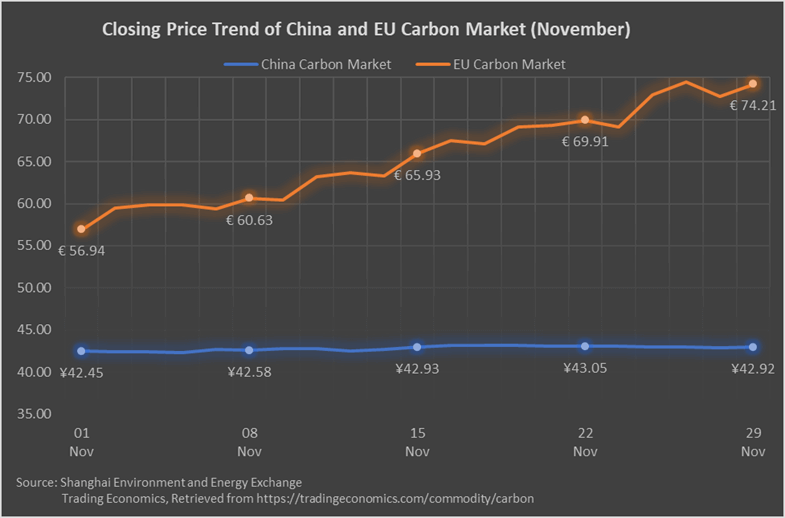 Note: This chart is generated from daily closing prices in November, with the closing price of each Monday as markers.
News Overview
ESG Main Event – COP26
Xi Jinping Delivers Written Speech to COP26
On November 1, President Xi Jinping delivered a written speech at the COP26 World Leaders Summit. In the speech, he pointed out that the adverse effects of climate change are increasingly apparent, and the urgency of global action continues to increase. Dealing with climate change and promoting the recovery of the world economy are major issues that the world is facing, he said. The president made the following three suggestions to address these challenges:
Maintain multilateral consensus
Focus on pragmatic actions
Accelerate green transformation
(http://www.mee.gov.cn/ywdt/szyw/202111/t20211102_958669.shtml)

China-U.S. Joint Glasgow Declaration on Enhancing Climate Action in the 2020s
During COP26, China and the United States issued the China-U.S. Joint Glasgow Declaration on Enhancing Climate Action in the 2020s. The two countries announced that they plan to work together, along with other countries, in this decisive decade to enhance and accelerate climate action and boost cooperation. The declaration is aimed at narrowing the gap between existing technologies and sustainable long-term goals, including by accelerating green and low-carbon transformation and enabling climate technology innovation.
(http://world.people.com.cn/n1/2021/1111/c1002-32279932.html)
Closing of the United Nations Climate Change Conference
COP26 conference, which was extended by one day, closed on the evening of November 13 in Glasgow. Following two weeks of negotiations, the participating nations completed the implementation rules of the Paris Agreement, including the remaining issues of market mechanism, transparency, and common timeframe of nationally determined contributions.
(https://www.chinanews.com.cn/gj/2021/11-14/9608800.shtml)
COP26 Ends with Agreement but Falls Short on Climate Action
The Glasgow Climate Pact  has been termed an 'agreement of compromise' by the UN. "It is an important step but is not enough," said United Nations Secretary-General António Guterres in his wrap-up message to the conference. Some of the key achievements of COP26 include delivering climate-friendly cooling, reducing methane emissions, calling for more ambition, boosting nature-based solutions, pledging for net-zero emissions by universities, making plans to end deforestation, and protecting peatlands ecosystems.
(https://www.unep.org/news-and-stories/story/cop26-ends-agreement-falls-short-climate-action)
Policy-related Initiatives
Common Ground Taxonomy: Consolidation of China and EU's Green Definitions
On November 4, at COP26, the International Platform on Sustainable Finance published the Common Ground Taxonomy (CGT), a comparative study of the green taxonomies of China and the EU for environmentally sustainable investment. The CGT's mission is to comprehensively assess China and the EU's existing taxonomies and identify commonalities and differences in their methodologies and outcomes.
(https://www.senecaesg.com/blog/common-ground-taxonomy-consolidation-of-china-and-eu-green-definitions/?utm_source=sendinblue&utm_campaign=Seneca%2020211118&utm_medium=email)


Carbon Peak and Carbon Neutrality to be Integrated into China's Decision-making Process
At the 12th Caixin Summit held on November 13, Wu Sa, the deputy director of the Economic Research Institute of the National Development and Reform Commission, said that the Chinese government is building a 'carbon peak and carbon neutrality' related policy framework, which will be integrated into the country's decision-making process. Wu Sa explained that the framework will cover financial investment-related regulatory policies as well as amendments to laws and regulations.
(https://www.caixin.com/2021-11-13/101804912.html)


China Unveils Regulation on Groundwater Management
Chinese Premier Li Keqiang has signed a State Council decree unveiling a regulation on the management of groundwater. The regulation, which sets out specific rules in the areas of survey and planning, conservation and protection, over-exploitation treatment, pollution control, and supervision and management to improve groundwater management, will come into force on December 1, 2021.
(http://www.mee.gov.cn/ywdt/szyw/202111/t20211109_959741.shtml)
China to Allow GSS Panda Bonds Issuance
The National Association of Financial Market Institutional Investors (NAFMII), a self-regulatory body under the People's Bank of China, announced the launch of the Panda Bonds pilot program late last week. Panda bonds are renminbi-denominated bonds issued in the Chinese market by foreign issuers. The pilot program will authorize overseas issuers to issue social and sustainable development bonds.
(https://fundselectorasia.com/china-to-allow-gss-panda-bonds-issuance/?NLID=FSA-News-16-Nov-2021-ROW-ex-HK-SG&NL_issueDate=20211116&utm_source=FSA-News-16-Nov-2021-ROW-ex-HK-SG-20211116&utm_medium=email&utm_campaign=investmentnews&utm_visit=&msdynttrid=SQyWrLFQd0BgkUNHFdj3cq9QuxMOUORiB_c5lV_lhv8)

Green Finance
China's Central Bank Rolls Out New Lending Tool for Carbon Reduction
The People's Bank of China (PBOC) has rolled out a supporting tool for carbon reduction as part of its efforts to facilitate China's goal of carbon neutrality. The bank will provide low-cost loans for financial institutions through the new tool. According to a PBOC statement, the bank will also guide institutions to provide loans to firms in key carbon-reduction fields, on the premise of independent decision-making and risk-taking.
(http://www.news.cn/english/2021-11/08/c_1310299029.htm)
PipeChina Issues RMB 6 bn of Green Bonds
On November 12, PipeChina successfully issued the first green ultra-short-term financing bonds. It was the first time PipeChina appeared in the open market after its establishment. The bonds were exclusively underwritten by the Industrial and Commercial Bank of China. The issuance amount of RMB 6 bn, with a maturity of 270 days, is the largest bond issuance this year. The funds raised will be used in the construction of green and low-carbon natural gas storage and transportation infrastructure (such as gas storage facilities).
(https://www.caixin.com/2021-11-14/101804907.html)
Four Departments Support Guangzhou Futures Exchange to Build Carbon Futures Market
On November 5, the Ministry of Industry and Information Technology, the People's Bank of China, the China Banking Regulatory Commission, and the China Securities Regulatory Commission jointly issued the 'Guiding Opinions on Strengthening the Integration of Industry to Promote the Green Development of Industry.' The 'opinions' put forward under the item 'innovative green financial products and services' aim to encourage financial institutions to develop climate-friendly financial products, support the Guangzhou Futures Exchange to build a carbon futures market, and standardize the development of carbon financial services.
(http://finance.china.com.cn/esg/20211106/5687820.shtml)
Other Developments

China Banking and Insurance Regulatory Commission Announces Results of Corporate Governance Evaluation
The China Banking and Insurance Regulatory Commission (CBIRC) has released the results of its corporate governance evaluation of banking and insurance institutions for 2021. The evaluation shows 138 (accounting for 7.43%) institutions with E-level (poor) corporate governance evaluation results, which is slightly lower than 10.16% in 2020. The CBIRC stated that the evaluation results show that awareness of corporate governance has gradually increased in the banking and insurance industry in recent years, and that corporate governance construction and reform have achieved some results; however, there are still some problems that cannot be ignored and require attention.
(https://finance.sina.com.cn/jjxw/2021-11-19/doc-iktzqtyu8155242.shtml)
Xiamen Airlines Introduces Country's First Carbon-neutral Ticket
Xiamen Airlines, in alliance with Industrial Bank, has launched China's first carbon-neutral airline tickets. The carbon-neutral tickets, being sold on Xiamen Airlines' APP platform, covers all airlines. Passengers who buy the tickets with the carbon-neutral logo will offset part of their carbon emissions during the flight.
(https://finance.sina.com.cn/jjxw/2021-11-12/doc-iktzscyy5142679.shtml)