Introduction
The management consulting industry in the Middle East is experiencing a dynamic transformation, driven by economic diversification, infrastructure development, digitalization, and government support. As the region's potential continues to grow, management consulting companies are actively expanding their presence to capitalize on the lucrative opportunities. In this blog, we explore the latest developments in the Middle Eastern consulting landscape and highlight the critical role of competitive intelligence (CI) in gaining a competitive edge.
Expanding Consulting Landscape
The Middle East is attracting global consulting giants, including McKinsey & Company, BCG, Bain, PwC, and other prominent firms. These companies have established dedicated teams and resources to cater to the region's evolving needs. Few notable events in 2023.
In January 2023, Deloitte launched a new firm in Egypt and a digital center in Jordan as part of Deloitte Middle East. The new digital center will offer professional consulting, digital, and technology services.
In the same month, EY introduced a Saudi Law Practice team in Riyadh.
In February 2023, McKinsey & Company introduced its subsidiary, QuantumBlack, in the Middle East to cater to clients in Egypt, Saudi Arabia, and the UAE. It has also added new members to its Middle East Partnership team.
The Importance of Competitive Intelligence
Competitive intelligence plays a pivotal role in the Middle East's thriving consulting industry. Here are three key reasons why consultants need CI:
1. Understanding the Competitive Landscape: The Middle East boasts a diverse business environment with various industries and market players. CI empowers consultants to comprehend companies' strategies, capabilities, and market positioning. Our Insightsfirst CI program, for example, highlights the top consulting firms in the region based on thought leadership positioning, a crucial marketing tool. These firms are sought after by clients for their industry knowledge, innovative approaches, and cutting-edge ideas. The graph below for example shows how PwC has been leading among management consulting firms in last 6 months in publishing thought leadership.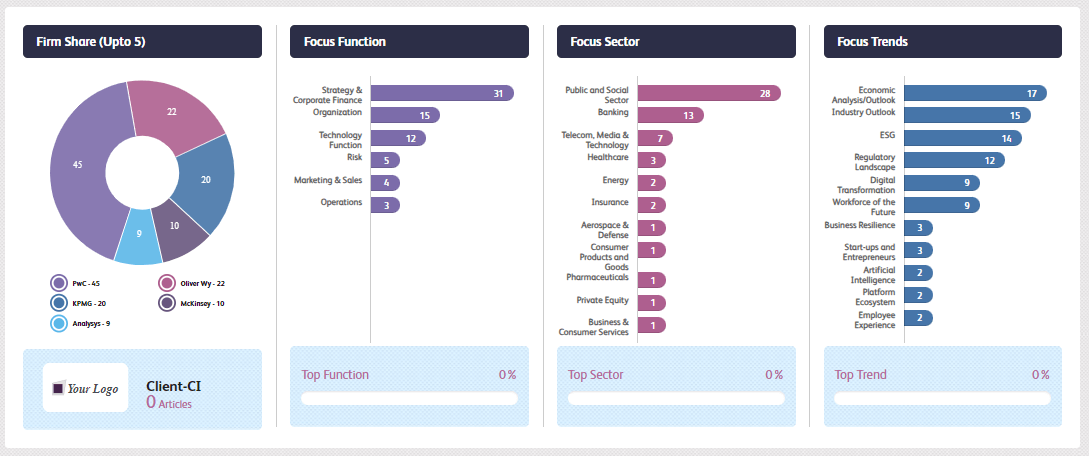 2. Tailoring Services to Local Dynamics: Each Middle Eastern country has its distinct business culture, regulations, and market dynamics. CI helps consultants stay informed about local market trends, customer preferences, and industry-specific challenges. This knowledge enables consultants to customize their services and solutions to meet the specific needs of clients in the Middle East effectively.
3. Identifying Niche Opportunities: The Middle East is witnessing significant growth and transformation across industries such as oil and gas, construction, finance, and technology. Through analyzing market gaps, emerging trends, and competitive advantages, consultants can provide targeted recommendations to clients, assisting them in capitalizing on untapped markets and sectors.
Addressing Key Challenges with Insightsfirst:
Conducting CI studies in the Middle East presents unique challenges, including limited data availability and language and cultural barriers. Insightsfirst, Evalueserve's CI platform, addresses these challenges through tailor-made programs:
1. Limited Data Availability: Insightsfirst overcomes data limitations by analyzing 200,000+ global and regional data sources. For instance, our platform reveals how consulting firms actively assist organizations in leveraging emerging technologies. It also provides insights on recruitment trends and changes in executive leadership within top consulting firms in the Middle East.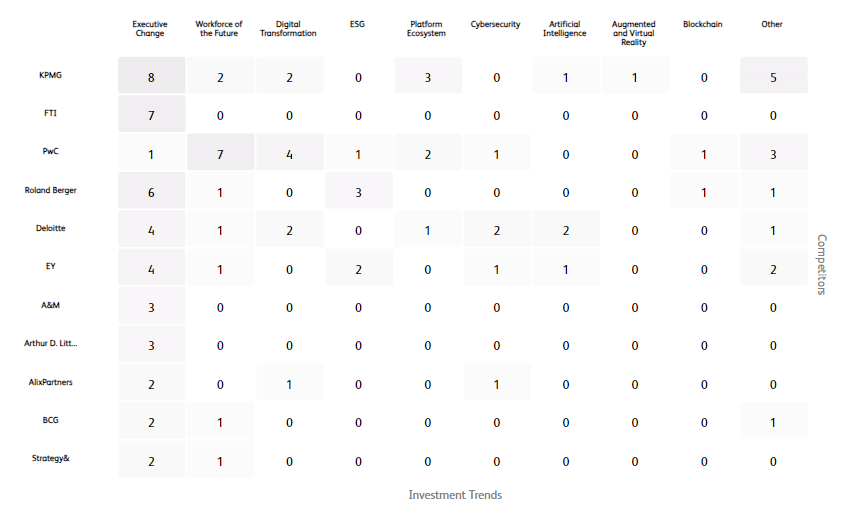 2. Language and Cultural Issues: The Middle East's cultural diversity and language variations can pose challenges in gathering intelligence from local sources or analyzing non-English data. Evalueserve addresses this by offering local language capabilities through our Egypt and Dubai offices, leveraging a talent pool of local domain experts with a deep understanding of the region.
3. Enhancing Insightsfirst with GenAI Chatbot: To make Insightsfirst more intuitive and user-friendly, we have introduced a GenAI chatbot. Trained on proprietary datasets and leveraging large language models, the chatbot provides human-like, professional, concise, and relevant responses to specific inquiries. With this enhancement, Insightsfirst offers management consultants bespoke and actionable insights tailored to their requirements. For example, when asked on Generative AI initiatives in Middle East, the bot curates and provides human-like response including initiatives taken by companies like Accenture and Deloitte.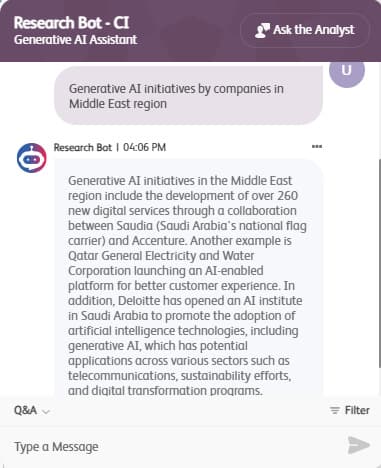 Conclusion
As the Middle Eastern consulting landscape continues to evolve, embracing competitive intelligence is vital for staying ahead in the market. Evalueserve's holistic CI program, combined with local expertise and cultural understanding, helps consultants overcome data limitations and navigate the dynamic Middle Eastern business environment successfully. Unlock the full potential of the Middle East's growth opportunities with Insightsfirst and gain a competitive edge in the region's management consulting industry.
–> Click here to access our Ultimate Guide to Integrating AI in Competitive Intelligence Programs. Competitive and market intelligence are critical to staying ahead in the competitive markets of the Middle East, and AI is an unparalleled tool for competitive intelligence.