Technology Sector Finds Itself in Hot Water in Q3 2022
Globally, technology sector stocks faced a major downturn in 2022, owing to high inflation, repeated interest rate hikes by the Federal Reserve, and prevailing geopolitical conditions. Since the beginning of 2022, the Nasdaq-100 declined more than 32%, landing the tech-focused benchmark straight into the bear market territory. Following the hike in the Fed rate in Sep 2022, the six largest US tech companies lost a massive ~USD500 billion!
Decline in valuation of major sub-sectors
The lasting effects of COVID-19 (such as labor shortage) have led to significant inflation and interest rate hikes by reserve banks, which have hit the technology sub-sectors quite hard.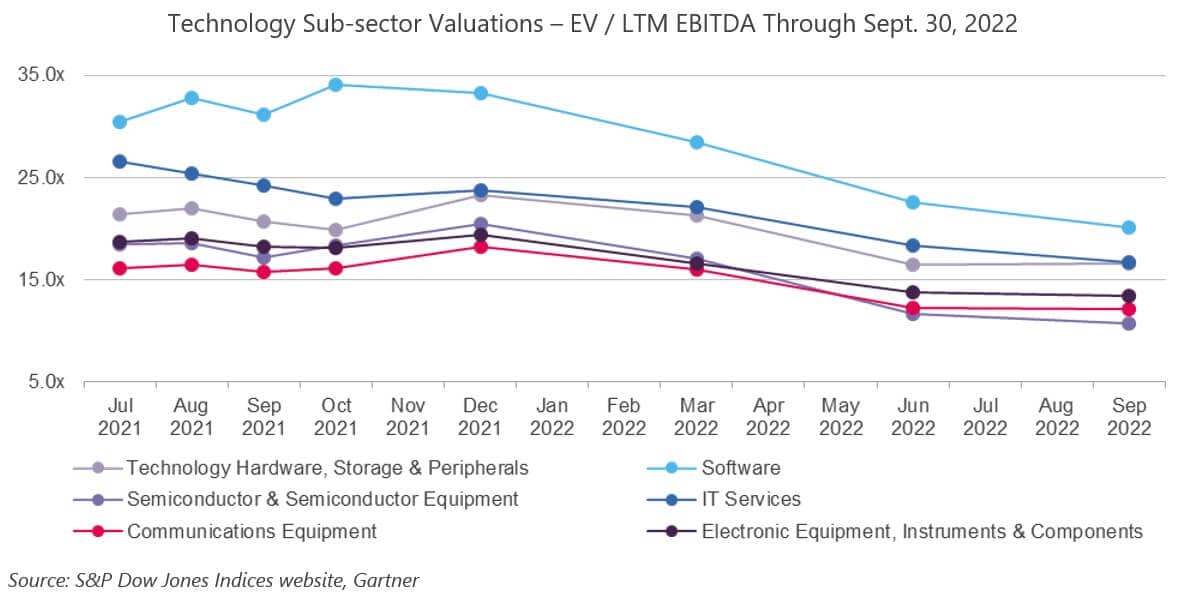 Software: The software sector's valuation declined during the quarter, primarily due to market uncertainties. Several public software companies had lowered their revenue and profit targets during their Q2 earnings calls and had cautioned investors that they expect longer sales cycles.
Semiconductors: The semiconductor sector witnessed a similarly gloomy scenario. Shares of leading player AMD fell 54%; they continue to look significantly undervalued with a forward P/E ratio of 13x. Another major company, Taiwan Semiconductor, saw its shares plummet by 42%, trading at 11.1x 2023E earnings, the lowest in years. The decline in semiconductor stocks can be attributed to the global shortage of chips, supply-chain constraints, and a continuous decline in demand for graphics processing units.
IT Hardware: The global PC hardware market worsened in Q3, with total desktop and notebook shipments falling 18% annually to 69.4 million units, as commercial demand came under threat as companies slashed and reprioritized IT budgets.
What lies ahead: As per Citi analysts, with the Fed planning on stopping interest rate hikes by March 2023, tech stock valuations may witness a significant rebound in 2023 (triple-digit rally expected). By the end of the next year, investors' attention will increasingly switch to EPS risks (earnings per share and company profits). Sectors with greater earnings potential, including healthcare and technology, will gain priority among investors, as they are expected to perform well even if a recession occurs.
IPO momentum continues to slow down from Q1 2022
In 2022, IPO activity slowed down drastically, and many were postponed due to increasing market volatility precipitated by geopolitical tensions and macroeconomic factors. The average technology sector IPO size YTD is down from USD261 million to USD123 million YOY, although the sector continues to lead based on the number of IPOs.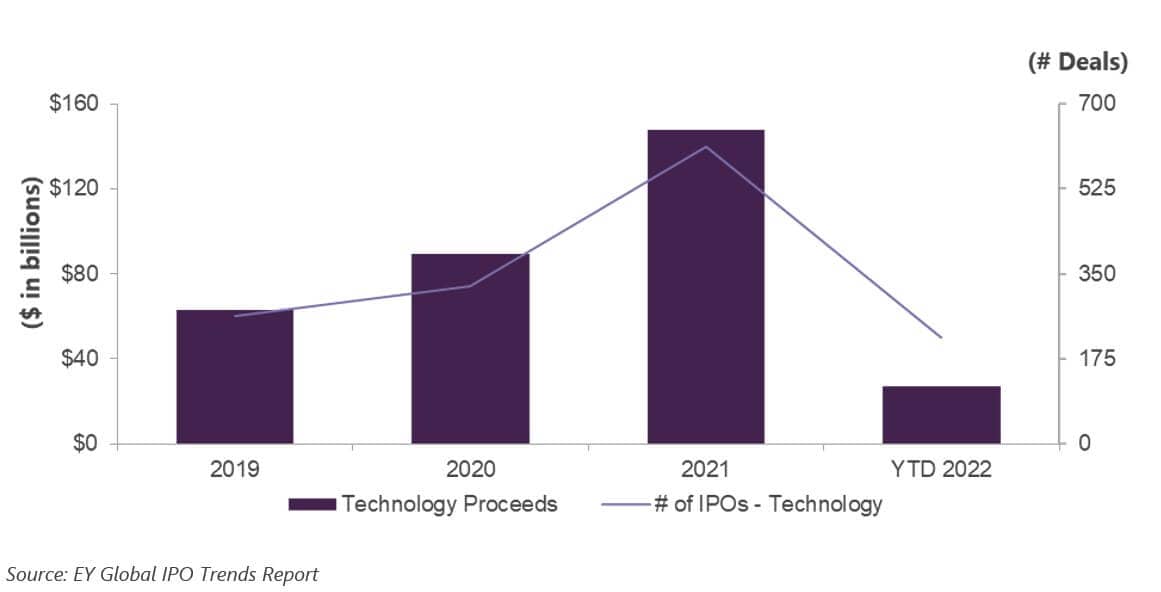 Newly debuted tech companies registered huge declines in valuation in Q3 2022. YTD, UiPath has dropped 82% (debut on April 21, 2021), Coinbase has dropped 80% (debut on April 14, 2021), and Marqeta has dropped 77% (debut on June 9, 2021). This has resulted in a hesitancy towards IPOs, which is evident in the wait-and-watch approach adopted by companies. This has led to IPO levels reflecting the lows seen at the height of the 2009 financial crisis.
What lies ahead: Since the fast-growing tech companies will continue to find access to cash, going forward, as the technology sector remains one of the strongest segments of the global economy. The long-term outlook for the IPO market is positive; some companies may simply shift their timelines to go public eventually. According to Pitchbook, there was ~$225 billion of VC dry powder in the US at the end of 2021, indicating other avenues are available for companies to stay private for a longer period and raise capital outside of public markets.
Tech Outperforms Other Sectors in Terms of M&A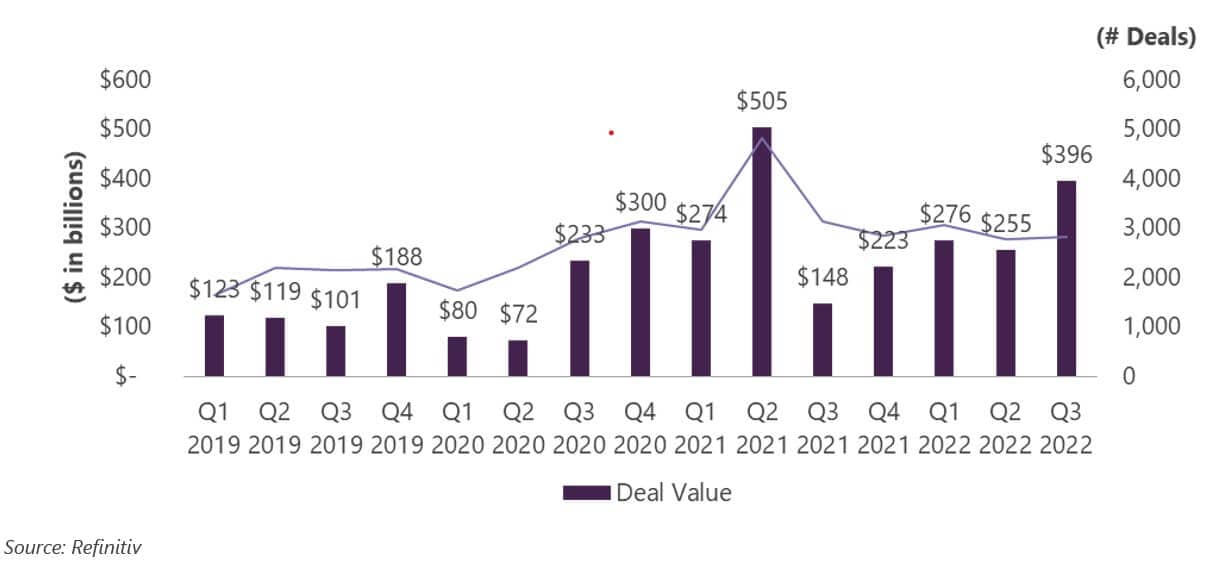 Despite macroeconomic and geopolitical headwinds in 2022, tech M&A remained resilient. It was the most active sector in terms of both value and volume and accounted for 23% of total deal value and 21% of total number of deals YTD 2022.
The first six months of 2022 saw 16 mega tech M&A deals, each valued at over $5 billion. Of these, two were valued at over $70 billion.

The strategic and financial acquisitions were driven by the availability of ample cash in investors' balance sheets, as well as strong underlying business growth that prompted companies to continue investing. At the end of 2021, S&P500 companies had $3.7 trillion in cash, while US PE firms held $949 billion.
The US continued to dominate global tech M&A activity, accounting for 9 of the top 10 global tech deals. Similarly, US gaming M&A has been on the rise and attracting the interest of overseas bidders. 2022 has seen one of the largest gaming deals, that is, Take-Two's $12.2 billion acquisition of Zynga (leading to a combined company that can compete with traditional gaming firms such as Activision Blizzard and EA). In July 2022, Sony acquired US gaming developer Bungie for $3.6 billion to expand into the live service gaming sector.
The auto tech sector also registered all-time high M&A deals in Q3 2022, especially as vehicles are shifting to electric propulsion and becoming software centric. Brookfield Business Partners' $8.2 billion acquisition of US-based automotive retail technology firm CDK Global was one of the largest deals of the quarter.
What lies ahead: Despite market fears surrounding falling valuations, geopolitical uncertainty, and rising interest rates, dealmaking within the global technology sector remained resilient so far in 2022. Mega deals tend to retain their value due to the strong strategic rationale behind the investment, whereas the mid-market deals have suffered to a large extent. With large amount of dry powder with PE firms, global buyout firms will be keen to look for more acquisitions. With these fundamentals driving activity, the tech M&A is likely to remain high going forward.
Increasing interest of Big Techs in Healthcare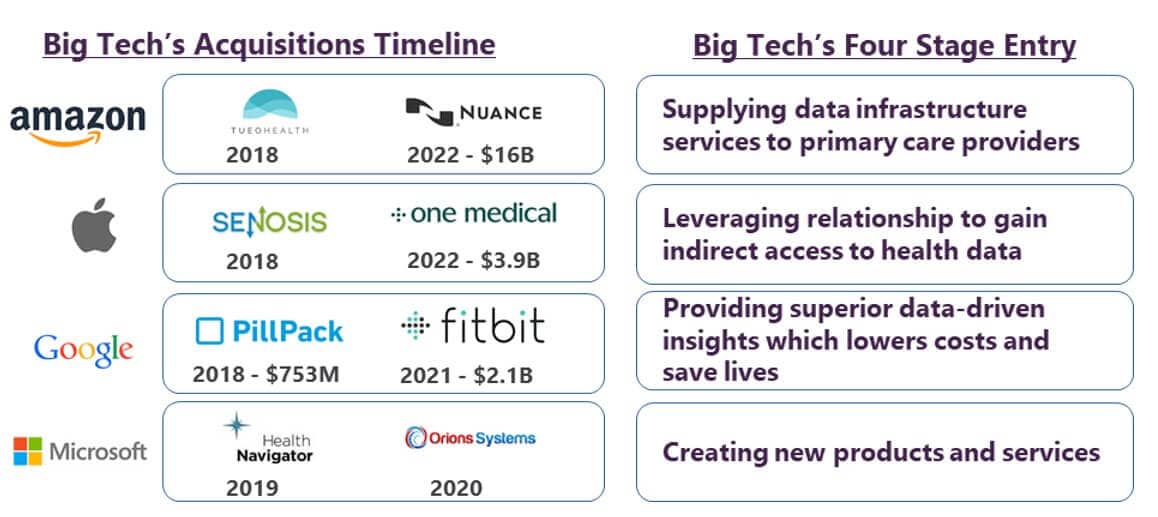 Many big tech companies are entering healthcare through a four-stage process called 'digital colonization.' These companies act as connectors by building universal databases of health-focused artifacts. For example, in July, Amazon announced the acquisition of telehealth company One Medical for $3.9 billion.
What lies ahead: The US healthcare addressable market has an annual spend hovering above USD4 trillion. We believe technology will continue to revolutionize healthcare services and facilities, allowing professionals to develop more cost-effective and preventive solutions. Therefore, if Amazon and Apple are able to capture even 2% of US healthcare's annual spend, they would add USD80 billion in yearly revenue. We expect Amazon, Apple, Google, and Microsoft to play an increasingly important role in healthcare in the next two decades.
Technology Sector's Major Challenges in Q3
The Great Resignation
Q3 2022 saw a continuation of the great resignation – software engineers suffered from burnout due to increased workload on the back of outdated technologies and programming languages, lack of career progression opportunities, and inability to upgrade to new skills (61% of tech workers feel too busy to spend time on skill enhancement – Pluralsight analysis). It is forecast that almost 20% of tech sector workers will change their jobs in 2022.
Complications of Hybrid Work Model
The hurdles of the hybrid work model, which has become a feature of all workplaces in the post-COVID environment, continued to be a challenge in Q3 2022. Tech companies struggled with the 5Cs (communication, coordination, connection, creativity, and culture) as they did with the integration of cloud-based solutions and mobile apps, which are crucial for remote work engagements. Moreover, the hybrid model requires large investment in acquiring assets that can support, govern, and handle heavy data loads; systems to ensure quality of service; and robust infrastructure, all of which continued to weigh on performance during the quarter.
Cybersecurity Threats
Q3 saw several high-profile cases of cyber-attacks, which had a direct or indirect impact on the tech sector. In May 2022, hackers targeted Greenland's healthcare system, causing networks to crash throughout the island. In April 2022, Russian hackers targeted the Costa Rican Ministry of Finance in a cyber-attack, crippling tax collection and export systems.
By 2025, 60% of organizations are likely to primarily focus on cybersecurity risks while conducting third-party transactions and business engagements. In the meantime, the large-scale shift to the cloud has led to big cybersecurity challenges, as interconnectivity of systems introduces new loopholes and vulnerabilities, and increases the frequency and intensity of cyber-attacks.
Overall Tech Sector Outlook
Despite some mixed economic signals and various business challenges around the world, the technology sector will continue to play a central role in the global economy, as it has become an intrinsic part of sustainable growth for companies across sectors. Most customer-centric organizations accelerated their move to digital operations during the pandemic and will continue to do so to deliver innovative customer experiences.
According to Forrester, US tech spending is projected to grow by 7.2% YOY by the end of 2022. Bain believes that 77% of companies will either increase their technology budgets in 2023 or keep it the same. In the meantime, IT infrastructure and industry-focused enterprise software companies have received more than 75% of the largest venture capital investments in recent years. All these factors indicate that the tech sector story has not reached its climax as yet.
Evalueserve has expertise in analyzing and valuing large franchising private companies for boutique advisory firms. In last couple of years, Evalueserve has supported clients on more than 10 live franchising deals. We helped our clients to identify and resolve data challenges such as managing unstructured
data, benchmarking and analyzing, and providing pinpointed and meaningful output used in the deal valuation process.
Evalueserve has extensive experience working with large, mid-market investment and boutique advisory firms that deal with franchising companies across sectors (sports, education, home improvement, entertainment, health and wellness, food and beverages, etc.). Our resources are experienced and qualified to support clients with in-depth analysis and detailed presentations. Evalueserve team works as an extended team for clients and helps in identifying and profiling potential targets / buyers with relevant metrics, financial and operational benchmarking, financial modeling and valuation, franchise financials benchmarking, confidential information memorandums, detailed management presentations, indications of interests, live deal support, deal marketing, etc.
Read more about our end-to-end deal support at Corporate Finance Research Consulting
To know more about our Investment Banking offerings, visit our webpage: Investment Banking Advisory