Introduction
The issues surrounding plastic waste and its mitigation require continuous focus in a global transition aiming for sustainability under the Net Zero 2050 goals. In recent times, we have noted this focus expanding. For, the earlier simple solution of reducing new plastic waste generation is now seen as only one part of a larger solution, particularly at the industry level.
One significant concern is when some plastics are not kept in a closed circular loop or improperly managed during their end-of-life, they end up leaking into the environment. All major industry functions and grows as an amalgamation of long and efficient value chains.
To increase this efficiency and to further material circularity, plastic leakage from these value chains needs to be reduced and ultimately stopped. It is in this complexity of function that assessing the actual Plastic Footprint of a company or a specific product value chain at the regional, national, or global level becomes a critical data-driven process in the move towards circularity at a systemic level.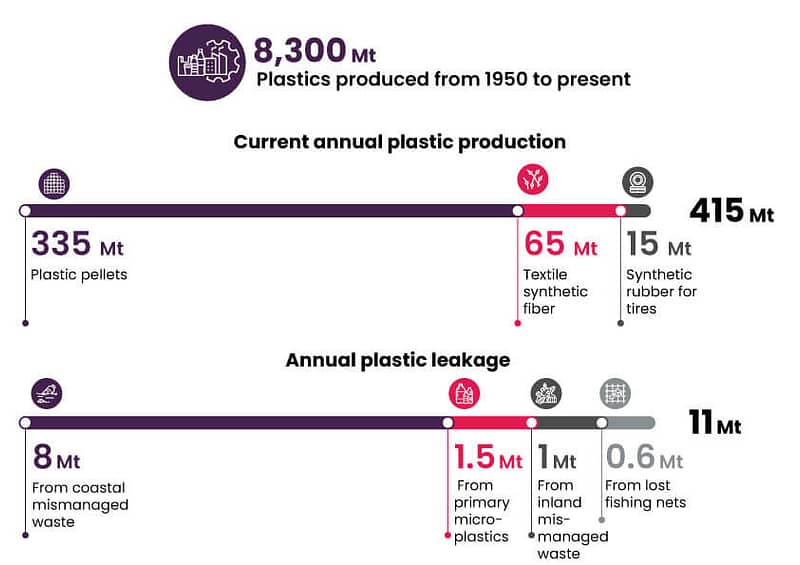 What is Plastic Footprint Measurement?
To understand plastic footprint, we need to better understand plastic leakage. While there already exist life cycle assessments (LCAs) for plastics, what has been observed is that these current LCAs do not account for plastic as a pollutant, with little focus on circularity. These LCAs consider it a given that 100% of plastic waste is collected from all streams and ends up in landfills, incineration points, or recycled. However, the reality is that about 11 million tonnes (Mt) of plastic waste leaks into the oceans and water bodies annually.
In addition, the third United Nations Environment Assembly (UNEA-3) in Nairobi recognised that there currently exists no standard methodology to measure the extent of the plastic waste problem. It has hence encouraged countries and other stakeholders to "cooperate to establish common definitions and harmonised standards and methodologies for the measurement and monitoring of marine litter and microplastics".
In keeping with this, the plastic footprint is an indicator used to measure the negative impacts of plastic waste pollution for a specific region, country, event, individual, organisation, product, or service. While this measurement has so far been quantified as a mass, latest methodologies include polymer type, toxicity, end destination, greenhouse gas (GHG) emissions, as well as other factors to capture the total impact of plastics more accurately, on the environment, society, and the economy.
Standardizing Plastic Footprint
There are as many as 19 plastic footprinting methodologies, primarily based on two factors – inventory and impact. The need for standardising methodologies arises from their requirement for universal application. Currently, there exists no common vocabulary or methodology to carry out an assessment of mismanaged plastic waste for a specific product or industry. At various stages, different ways to standardise have been prompted, including most recently assigning a monetary equivalent value to the footprint, also referred to as capital cost.
Current plastic footprinting methodologies can be classified by:
Advantages of a standardised approach to plastic footprint methodologies:
Verifiability – Since a specific value is assigned through thorough data collection and scientific calculation, the footprint will always remain verifiable.
Relevance – As with its verifiability, the relevance of a specific footprint output can always be arrived at through benchmarking against various factors and comparable materials or processes.
Consistency of results – Having a standardized approach will always return a specific value for each value chain, product, process, or service, leading to reliability.
How we approach plastic footprinting at Evalueserve
Having already served clients with requirements to strategically guide their companies' value chains or specific processes or products onto the transition to a circular economy, our team leverages its expertise to deliver actionable insights at each stage, from strategy formulation, all the way to market execution, including the calculation of their plastic footprint measurement, its benchmarking as well as industry comparison, leading towards the creation of a plastic footprint reduction roadmap, through the identification, and implementation of various high-impact mitigation strategies:
Circular economy landscape overview which best aligns with client's identity
Prioritising sectors and industries aligned to client's interest and targeted growth areas through focussed market landscape
Assessment of existing sustainability goals and initiatives within client's ecosystem
Calculating the client's actual contribution or footprint in the overall impact of plastic waste.
A system-level approach for solutions to best manage this impact through various suitable levers, including the latest technology, new business models, as well as application of sustainable design processes and materials. Each potential solution undergoes a deep-dive evaluation and benchmarking.
Disruptive, innovative solutions that best serve client's long and short-term goals
Plastic Footprint Network
With a demonstrable future-ready approach as well as expertise with the challenges of a market aiming for circularity, Evalueserve has recently announced its participation in the Plastic Footprint Network (PFN), empowered by Environmental Action (EA) and PLASTEAX. The PFN aims to help organizations understand and mitigate the impact of plastic use across their operations and in their products and services.
To learn more about how Evalueserve can empower your journey, please connect with one of our circular economy experts today. Talk to an Expert
Get decarbonization publications delivered to your inbox by filling out the form below.