Adoption of new sustainability conventions and regional "Green Laws" are creating a major shift in how chemical companies, chemical regulators, and consumers view product safety. These changes are driving consumer product companies to invest in developing safer and environmentally friendlier products, while maintaining their efficacy. However, this poses various challenges across the product development cycle that cannot be approached without expertise in Intellectual Property, Research and Development, as well as Toxicology and Risk Assessment. In this blog, I share how Evalueserve and our Chemical Safety Group support companies in tackling such challenges.
What challenges do chemical companies face?
Changing consumer awareness and concerns
Evolution of stricter regulations for consumer products
Understanding different regulations in different markets
Developing strategies for identifying new chemical ingredients
Identification of new chemical ingredients with desired characteristics
Comprehensive toxicological data screening and risk assessment
Getting the Intellectual Property on new products
Capability on conducting non-English language searches
Commercialisation pressures
Evalueserve's approach to identifying effective and safe ingredients
Evalueserve Intellectual Property, Consumer Packaged Goods, and Chemical Safety and Regulatory Affairs teams combine their expertise to tailor a landscaping search strategy and to present key data or information that helps the client select and move forwards with new product development. Our partnership with the client aims to address many of the challenges that are found in product innovation.  We aim to give a client a complete overview of the IP and R&D, Regulatory, and Toxicological landscape on new chemicals and ingredients.
We ensure that all available efficacy, safety, and IP data are identified and reviewed for quality and that the expert opinions and conclusions are fully supported by evidence.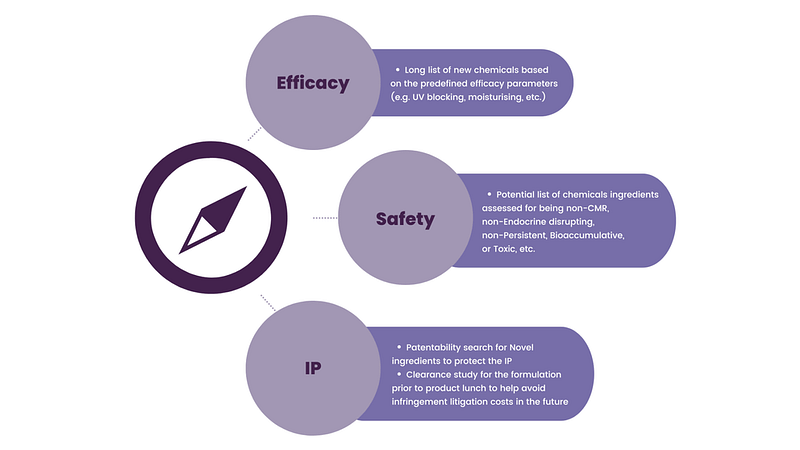 An example of a widely used chemical that has had more stringent restrictions placed on it is Octinoxate (OMC), which has been commonly used in UV protection products globally for many years. Sunscreen producing companies are looking for alternatives to this chemical to develop new products.
The emerging long-term impacts on the environment and the limited data on effects in humans of OMC has resulted in stricter rules imposed on consumer products containing this ingredient. The OMC limits have been reduced and in some geographical regions this ingredient has been banned. 
I share the safety background to this chemical and provide an overview of the available toxicological evidence, regulatory status, and will look at the opinions regarding the use of OMC.
Octinoxate (CAS 5466-77-3 / CAS 83834-59-7) is an organic UVB filter, which was first developed in the 1950s. The ingredient is also known as: ethylhexyl methoxycinnamate, ethylhexyl p-methoxycinnamate, octyl methoxycinnamate, and parsol (Drugbank) and also goes by trade names of Eusolex 2292 and Uvinul MC80 (ACS).
The use of OMC is wide-spread and is prevalent in sunscreens. It is also used for plastic stabilization and in a variety of self-care products due to its UV-protective properties (UK EA, 2008). The uses reported in the OMC registration dossier include cosmetic, personal care products, fragrances, biocides, polishes, waxes, homecare products, articles, various professional uses (paints and coating, or adhesives, etc.), and pharmaceutical processes (ECHA).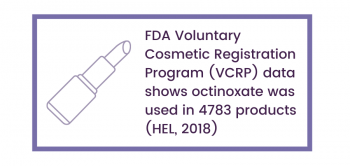 Although the prevalence of OMC in cosmetic products is decreasing, it is significant enough to raise concerns and in turn lead to regulatory restrictions.
Some companies are choosing to significantly reduce the content of ingredients similar to OMC and combine different technologies in product formulations, such as formulating a low percentage of UV filters with lipid nanocarriers, while ensuring sufficient protection against UV radiation (Niculae et al, 2014).
In different world regions, maximum concentrations permitted in consumer product varies, for example the maximum authorised concentration of octinoxate in cosmetics is 10% in the EU, (Directive 76/768/EEC UK EA, 2008), the United States (U.S.) FDA permits up to 7.5 % in sunscreen products (FDA, 2002) and the Therapeutic Goods Authority in Australia permits <10% octinoxate in sun protection products (NICNAS, 2017).
However, at a state and country level in the U.S. in Hawaii and Key West this ingredient has been banned  (Suh et al, 2020). The use of this ingredient in sunscreen has also been banned in Thailand by the Department of National Park, Wildlife and Plant Conservation (DNP) (TAT Newsroom, 2021).
Due to a rising concern about its safety, OMC has been added to the EU Watchlist of chemicals that cause environmental concerns (European Commission, 2015) and to the EU Endocrine Disruptor (ED) Evaluation list for "Pesticides and biocides which are concluded as endocrine disruptors in the scientific committees" (European Commission).
The chemical does not have a United Nations Global Harmonized System (GHS) classification and the classifications relating to Acute Toxicity, Skin Irritation, Eye Irritation, Respiratory Irritation, Toxic to Aquatic Life with long lasting effects have been notified by registrants in the EU (ECHA, 2022).
Is there a consensus on Octinoxate toxicity to humans?
It seems that appetite for risk and safety concerns are heightened in some non-profit organisations compared to government regulatory and academic community views on impacts of octinoxate to human health. Haereticus Environmental Laboratory (HEL) is a non-profit scientific organization that has described reproductive (reduction in testicle size and semen quality), developmental (reduced motor activity in female rats), and endocrine concerns (for example, reduction in thyroid and testosterone levels in male rats and estrogenic effects in ovariectomized female rats), among other concerns raised by animal studies where octinoxate was used as a test substance. 
The HEL report on octinoxate states "A number of studies demonstrate that Octinoxate is a multi-system or multi-axis endocrine disruptor <…>. Octinoxate can adversely affect estrogen receptors, androgen receptors, progesterone receptors, and thyroid hormone receptors." 
The conclusions drawn by HEL were majorly supported by in vitro data, moreover, the relevance of the dose levels at which findings were observed in vivo related to human exposure should be considered as suggested by Ruszkiewicz, et al (2017) when drawing conclusions, on the risk of octinoxate to humans. 
Although minimal signs of toxicity have been observed across a range of animal safety studies, the overall conclusion from the National Industrial Chemicals Notification and Assessment Scheme (NICNAS) in 2017 is "The chemical is not toxic in mammalian studies. Academic studies of endocrine-related toxicity are inconclusive. The hydrolysis product, 2-ethylhexanol, is a weak developmental toxicant. Although the public could be exposed to the chemical through potential cosmetic and domestic uses, given the low hazard of the chemical, the chemical is not considered to pose an unreasonable risk to public health. Absorption through the skin is low and will not be at levels leading to developmental, toxic levels of 2-ethylhexanol."
The Scientific Committee on Consumer Safety (SCCS) is one of the independent scientific committees managed by the Directorate-General for Health and Consumer Protection of the European Commission, has requested data from cosmetics companies to further assess the endocrine toxicity potential of Octinoxate and the opinion is pending, therefore the outcome of the EU assessment may be different to the Australian Authority assessment (EU Commission).
An academic based review reported by Suh et al 2020, concluded that OMC has no reported effect on thyroid and reproductive hormone levels. According to the group, the available current evidence is not sufficient to support the causality between the higher systemic concentration of this chemical and adverse effects in humans. It is further stated that the data are contradictory or limited to confirm that OMC causes such adverse findings. The academics propose a well-conducted longitudinal randomized controlled study to properly assess risk of long-term OMC exposure.
Environmental Toxicity of Octinoxate
There is growing scientific opinion that OMC does pose a clear risk to the environment. It has been described by HEL as a ubiquitous environmental contaminant found in a variety of natural water basins and has been dispersed throughout the world. The chemical is classed as an environmental hazard in a significant number of locations globally and it has been found in treated drinking water.
This chemical also poses other risks, such as bioaccumulation and even biomagnification. OMC has been found in various marine and aquatic species.
This ingredient has raised significant concern due to its impact on the coral reef. In a study by Danovaro et al (2008), this common sunscreen ingredient has been shown to damage the dinoflagellates (symbiotic organisms of corals) by initiating the lytic viral cycle, which in turn leads to coral bleaching.
How can cosmetics companies find and develop safe ingredients for humans and the environment?
To protect humans and the environment, companies should explore safer and "greener" ingredients and ensure robust risk assessment of products are conducted. Where traditional safety and toxicological data are limiting, other newer methodologies should be employed to fill data gaps, identify hazards and aid the risk assessment process. In silico models, PBPK models, in vitro testing, longitudinal consumer studies, field monitoring can be considered.
How can Evalueserve assist cosmetic companies in identifying efficient and safe ingredients?
Evalueserve offers ingredient landscaping services in which the finding, commissioning, and evaluation of key safety data is a core component in developing new chemical ingredients and products. We provide toxicological data screening to identify safe novel ingredients for inclusion in cosmetic and consumer products. The Chemical Safety and Regulatory Affairs team is also well versed in assessing the regulatory status of ingredients, supporting safety testing strategies, and identification and application of next generation methods and tools for chemical safety assessments.