Global events and O&G industry
While geopolitical instability is holding down the oil and gas (O&G) industry, automation and digital innovation are being increasingly considered strategic to process optimization, asset tracking, and data management. In this scenario, M&A activity across the industry is expected to remain muted in FY 2023.
According to BlackRock Geopolitical Risk Indicator, current global geopolitical risks are rising. The global risk indicator showed a rating of (0.02) in May 2023, which has risen to 0.13 in August 2023, indicating an uncertain environment for the second half of the year. Additionally, in April 2023, OPEC+ announced a production cut of 1.16 MMbbl/d as a precautionary measure directed at steadying the oil market. This move is in line with Russia's February 2023 decision to cut oil production by 500,000 bbl/d.  As a result of these factors and the supply deficit, Goldman Sachs forecasted the Brent crude to reach up to USD86 per barrel by December 2023, and anticipates a price increase to USD93 per barrel in the second quarter of 2024.
Instability across global economies is evident since the beginning of 2023, triggered by issues such as bank defaults and increasing FED rates, has the potential to adversely impact O&G businesses. O&G companies are capital-intensive and often rely on debt financing for their operations. Bank defaults and financial instability in the broader economy can make it difficult for them to access capital and service their existing debts, putting additional strain on their financial health. In addition to this, economic distress can exacerbate geopolitical tensions and uncertainties, which may in turn impact cross-border M&A activities in the oil and gas sector.

Adoption of automation and digitalization to increase productivity
The digital revolution is pacing up in the energy sector; the market seems positioned to transform over the next five years. The upstream digital services industry is estimated to grow from USD5 billion in 2020 to USD30 billion by 2025. Rather than engaging in M&A, companies are focusing on automation, digitalization, and productivity enhancement. Digitization, AI, and Blockchain are expected to play a crucial role in making power-generating assets more efficient, and electric grids more secure and resilient.
According to the World Bank, global economic growth will be impacted by elevated inflation, reduced investment, higher interest rates, and disruptions caused by the Ukraine-Russia war. The global economy is expected to see a growth of not more than 1.7% in 2023 and 2.7% in 2024. GDP levels in emerging and developing economies are expected to be ~6% below recovery to pre-COVID-19 levels at the end of 2024. The marginal growth in global economy is likely to keep oil and gas demand at a low level.
Source: BP, IEA, Bloomberg NEF
Oil & Gas upstream capex
Despite significant capital expenditure, O&G companies are currently avoiding M&A activities to concentrate their efforts on enhancing operational efficiency, particularly in terms of productivity and cost management. Furthermore, there is a notable shift in the allocation of funds towards low-carbon initiatives across the global upstream sector, and a potential for low-carbon capital expenditure surging to 30% by 2030 from the current 5%.

Source:  International Energy Forum
Energy deal volume by sub-industry
The Q2 2022-Q1 2023 period witnessed a decline in number of deals, driven by economic uncertainty stemming from recession concerns, price volatility, and high interest rates. Among deals that took place, upstream activities dominated with a 59.1% share, as companies adjusted their strategies to rebalance portfolios – geopolitical tension in Europe led some to prioritize investment in alternative LNG and gas supply sources beyond Russia, while Asian and North American producers shifted their investment towards pipeline expansion. Meanwhile, downstream activities decelerated due to increasing adaptation of projects for biofuels and renewable feedstock.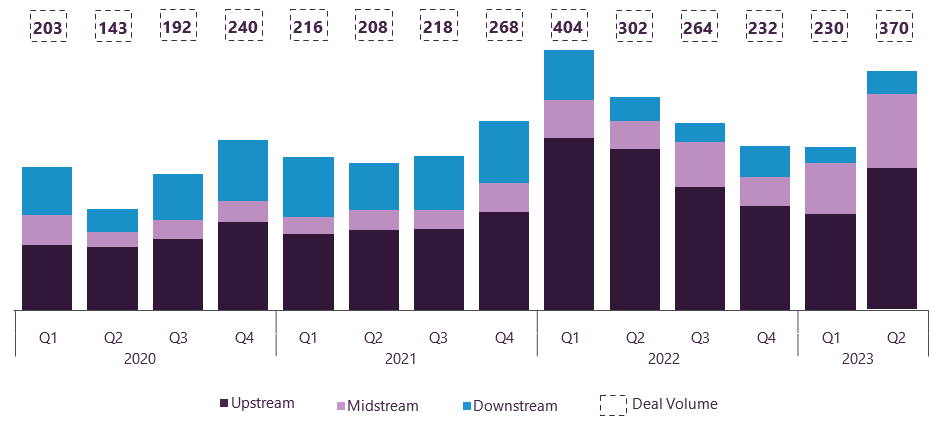 Source: IHS & Bloomberg as of March 31, 2023 and Q2 data sourced from Globaldata
Top M&A by transaction value (YTD 2023)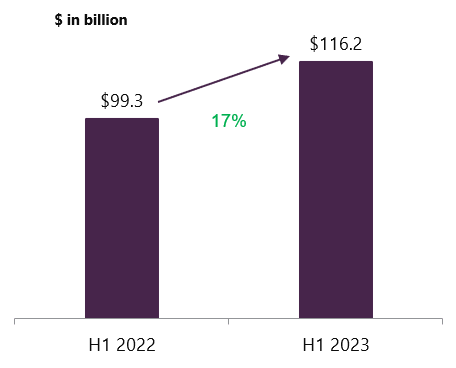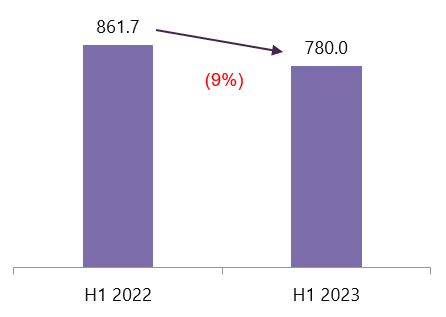 Source: Globaldata and Press search
Reduced M&A is in sync with sector leaders' sentiments
Source: Press search, Reuters
M&A outlook for FY 2023 – Focus on green and sustainable portfolio
In the last couple of years, the O&G industry has been shifting its focus – from M&A activity, to enhancing resilience in times of uncertainty, to establishing a new central direction. This new direction could involve venturing into low-carbon O&G development or expansion into cleaner energy alternatives. These objectives and the factors detailed below will likely influence the sector's M&A decisions in FY 2023.
Focus on energy security: In recent years, there has been increased interest in LNG assets, driven by a desire to capitalize on growing US exports and higher prices in Europe and Asia, and to gain control over the supply chain. Buyers are acquiring natural gas processing and takeaway capacity in the Permian and Haynesville regions to facilitate export volumes from the Gulf of Mexico. These developments forecast a potential increase in LNG-related M&A, specifically in the US.
Building new capabilities: The US shale industry has been dominating upstream M&A, with the Permian Basin accounting for the largest share of activity. However, there has been a notable increase in M&A activity in the Marcellus, Eagle Ford, and Bakken basins. Despite a rise in the price per BOE due to high oil prices, Permian shale valuation decreased in 2022 on a USD/acre basis. This presents an opportunity for E&P companies to expand their asset base and acreage.
Alternate energy sources: Between 2010 and 2022, the O&G industry made approximately 500 deals, worth nearly USD171 billion, for clean energy assets. The focus on accelerated energy transition has spurred M&A activity for such assets, resulting in an average of 26 deals between 2020 and 2022, exceeding the average of 23 deals between 2010 and 2019. Solar and wind assets remain the preferred combination, accounting for 44% of all clean energy M&A since 2010. This pattern is expected to continue in the future due to increased sensitivity towards climate change and diversification of existing assets.
Transition to ESG-sensitive businesses: Buyers of O&G assets and companies are seeking sellers with relatively higher Environmental, Social, and Governance (ESG) profiles. In the past five years, the ESG score of the seller was higher than that of the buyer in more than 70% of deals. An analysis of ESG scores by buyer and deal size reveals that micro to medium companies tend to acquire assets with relatively low ESG profiles, while large companies, especially large independents and supermajors, are more inclined to purchase ESG-friendly assets.
Conclusion
The oil and gas industry shifted its focus from using M&A to enhance resilience during the COVID-related uncertainties. Instead, the sector aimed to establish a new core by pursuing low-carbon O&G development or cleaner energy expansion. In addition, O&G companies prioritize capital discipline, channeling free cash flows into dividends and buybacks. These factors are predicted to continue influencing M&A decisions in the upcoming year, with external elements like the economy, interest rates, geopolitics, and regulatory changes impacting the overall activity volume.