In order to reach the consumer demands of today, more and more companies are leaning into Direct-to-Consumer (DTC) strategies to stay competitive and meet their business objectives. With ecommerce (including DTC) projected to account for 50% of US CPG sales through 2025, and consumer demand for a convenient and safe shopping experience, digital laggards with digital roadmap timelines spanning 3-5 years are now revising timelines with days and weeks in mind. What can you do to get started?
What is DTC?
DTC is defined as "the promotion and sales of products, directly from the creator of manufacturer to new customers", which encapsulates a variety of industries. However, we see it as much more! DTC is a great an opportunity for brands to take control of their customer relationships, own their consumer data, and obtain insights to improve and grow their business. Traditional consumer goods practices, such as selling through resellers, are quickly losing their appeal as companies are looking at controlling consumer experience right from the start.
Now, through DTC, brands can directly interact with their customers and get to the heart of what their clients want and need.  There are multiple DTC models that can be customized to fit a brand's purpose and meet their customer's needs. Below are a couple examples:
Touch Point Commerce: reaches customers through non-commerce platforms (social media, gaming platforms, etc.). 
Personalized DTC: personalizes products for your consumer and helps with the development of a one-to-one relationship with them. 
Subscription Model: sells items based on a subscription model that obtains insights on changing preferences over time. 
Digital Store: an e-commerce store that features your products, making it a great alternative or addition to brick-and-mortar stores. 
Knowledge Hub: posted content helps you learn about your consumer preferences in real-time. 
Contrary to popular belief, DTC can be customized and scaled to the brand's objectives. Whether a company is new to digital commerce or a veteran with years of experience, DTC can be scaled to a range of initiatives and goals.
Creating a Successful DTC Strategy
Oftentimes, organizations think that adopting DTC means they cannot have brick-and-mortar stores. In reality, organizations can have both with varying degrees since it all depends on the organization's focus. When choosing to adopt DTC, organizations should keep the following tips in mind:
Tip #1: Build a technical and strategic DTC roadmap
When planning DTC, companies should give themselves a timeline to plan and execute DTC capabilities with clear goals in mind. Rather than implementing strategies piecemeal, organizations should create a firm technical and strategic foundation and then enhance these capabilities over time.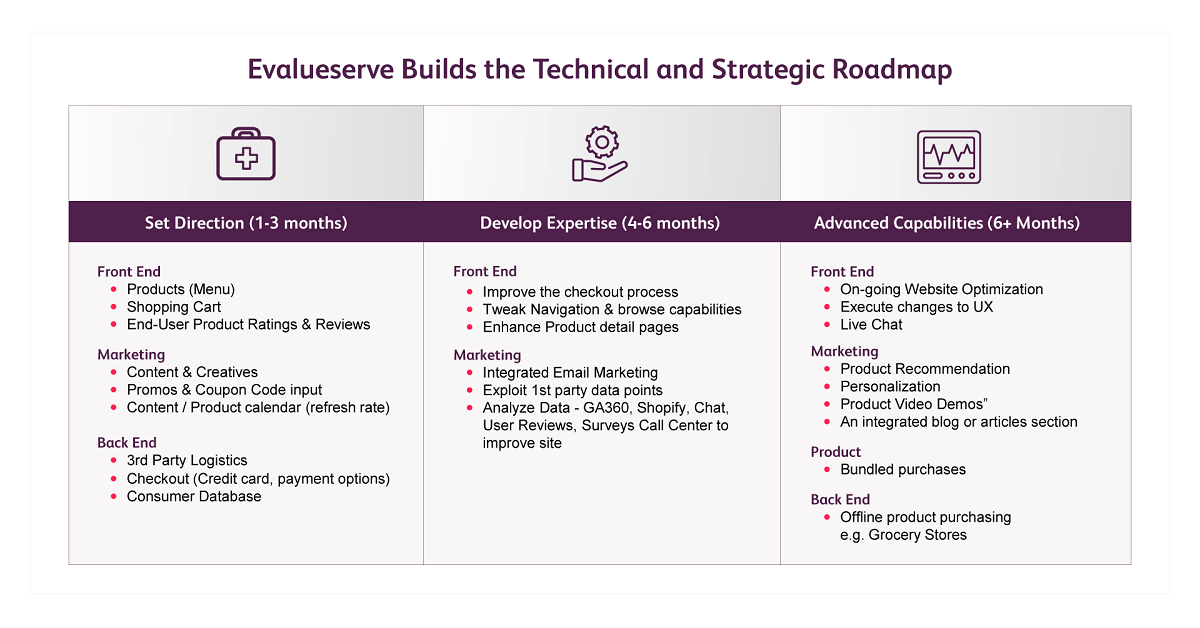 Set Direction: This initial step should take around 1-3 months depending on the organization's current digital maturity. Regardless of the amount of experience a company has, time should be taken to ensure that all of these elements are solidified. This means establishing front end, marketing, and back end needs in order to make DTC viable and concrete.
Develop Expertise: This second step should take around 4-6 months, and focus on improving upon, elaborating on, and adding to the previously established elements from the first step. At this step, the back-end should be sorted and ready. The emphasis of this step should be on making DTC marketable and attractive for consumers.
Advanced Capabilities: This final step can start anywhere from 6 months without an end date. Once your organization has mastered the previous elements and experienced success with it, the emphasis sh0ould be on finding ways to delight the customer. Whether it be through Live Chat, 1-Click Purchase, or website optimization, any changes should enhance the customer's visit.
Tip #2: Define KPIs that measure success during the planning stage
Establishing and clearly defining KPIs is one of the most important steps during the implementation of DTC and is also one of the most commonly forgotten and neglected. Having clearly defined KPIs enables companies to measure what specific elements are successful or failing. KPIs help organizations gain visibility on:
The growth or decline of subscribers (based on re-order rates, orders per session, newsletter sign-ups). 
The overall reach that your brand has (where your users are based and what devices/browser they are using). 
The revenue that your brand is generating (average order value, cost per acquisition, value per session, etc.). 
The number of visitors to your website (how long their sessions are, the bounce rate, the number of unique visitors, etc.). 
The most popular products your brand is selling (product revenue per order, product views, and product add to carts). 
Firmly established KPIs help guide your organization's next DTC initiatives, and pin-point specific areas of improvement.
Tip #3: Create a Measurement Framework
You should use a Measurement Framework to validate your strategy and enable further insights that can be used to help strengthen and refine your marketing efforts moving forward. The framework takes the insights you have been gathering to the next level by taking it to the last mile, and encapsulates fundamental elements: product, place, price and promotion.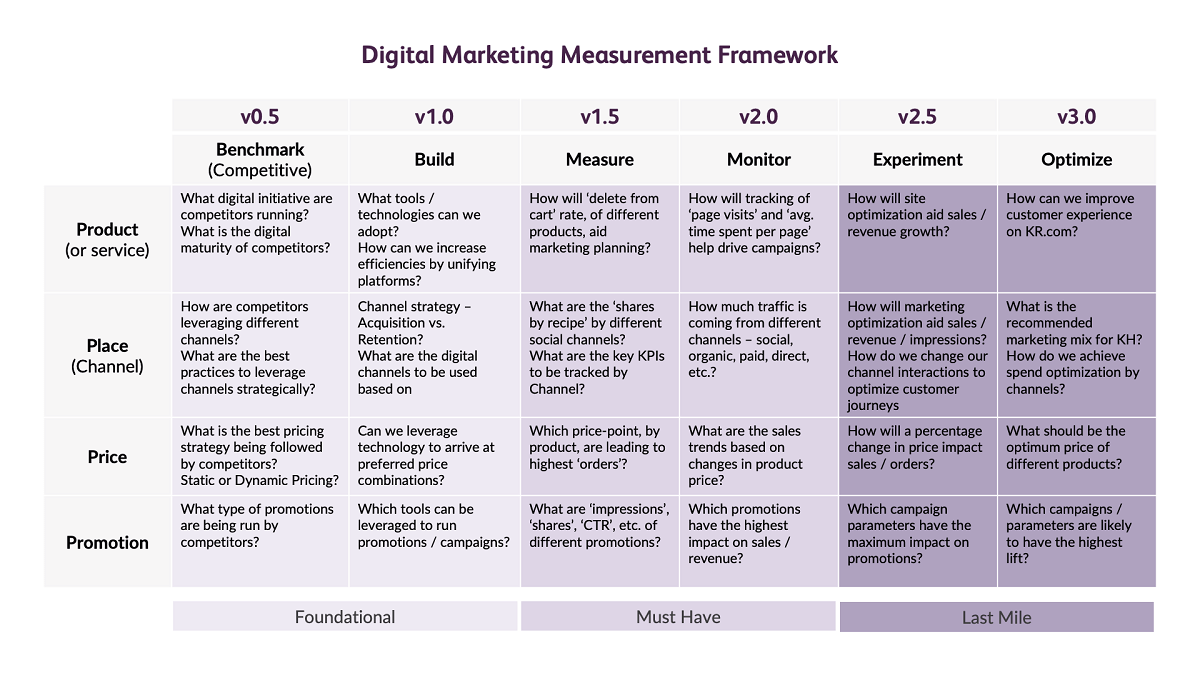 Furthermore, the framework ensures that your metrics are consistently collected and reported in the context of business objectives, and ads the segmentation layer needed to capture highly specific actionable insights. Organizations each differ in their goals and objectives, regardless of the similarity of structure and industry, so it is important to have a framework that takes this into account. Without a reliable measurement framework, the metrics signifying the health of your organization can be misleading, resulting in your insight and recommendations being undermined and inaccurate.
DTC in Action
Fortune 50 Meal Kit Site Launch
The Challenge: A fortune 50 CPG client wanted to build out a new DTC capability by launching a full-service meal kit website.
Our Solution: Our team created an omni-channel growth marketing strategy, established the measurement framework, analytics tagging & reporting dashboards, managed hundreds of advertising campaigns, optimized the UX, built out email marketing triggers, templates and the CRM database environment.  Provided ongoing analysis and monitoring, developed an RoI approach to ensure that the client's campaigns would help them reach their budget and goals.
Business Impact: The client was able to acquire a customer base, establish brand awareness amongst the target market, drive acquisition costs down, increase repeat orders and AOV across all customer segments.
Fortune 50 Grocery Site
The Challenge: A fortune 50 CPG client wanted to establish their online DTC presence from scratch in 90 and needed help with the front-end technology, back-end Shopify environment, marketing strategy, and product content.
Our Solution: We created a 90-day play that would cover the client's budget, omnichannel best practices, and website features. Our team built out the analytics tagging, reporting dashboards, numerous web pages, and CRM Email templates to help the client launch their site.
Business Impact: The client was able to launch the DTC brand on time and within budget, to drive traffic to specific consumer segments across all channels, track their behavior over time for future marketing initiatives and establish a process to optimize the UX.
To learn how DTC can help you stay competitive and reach your business objectives, get in-touch with us for more information.