The disruption that Covid-19 has caused can be felt by each node of the global supply chain, and by organizations of all sizes. Organizations as large as Amazon and as small as your local pizza chain are struggling with overcoming disruption across their supply chain. The resilience and flexibility of various organizations is being tested, and future success is heavily reliant on the supply chain. What can leaders do to navigate this crisis now, and have a proactive approach in the future? 
There are so many moving parts to the supply chain, which can be challenging for many organizations to fully manage. For example, the huge shut-down in China is causing noticeable disruption globally. Many companies not only had to deal with the unexpected event, but they also had to handle the "side effects" of this event such as production being halted, demand fluctuations and inventory pile-up. During this event, organizations also had to deal with having to find alternate suppliers (as China was where most tier 1 and 2 suppliers are based), and also had to overcome re-allocating their production. 
A 360° View of the Supply Chain for Decision-Makers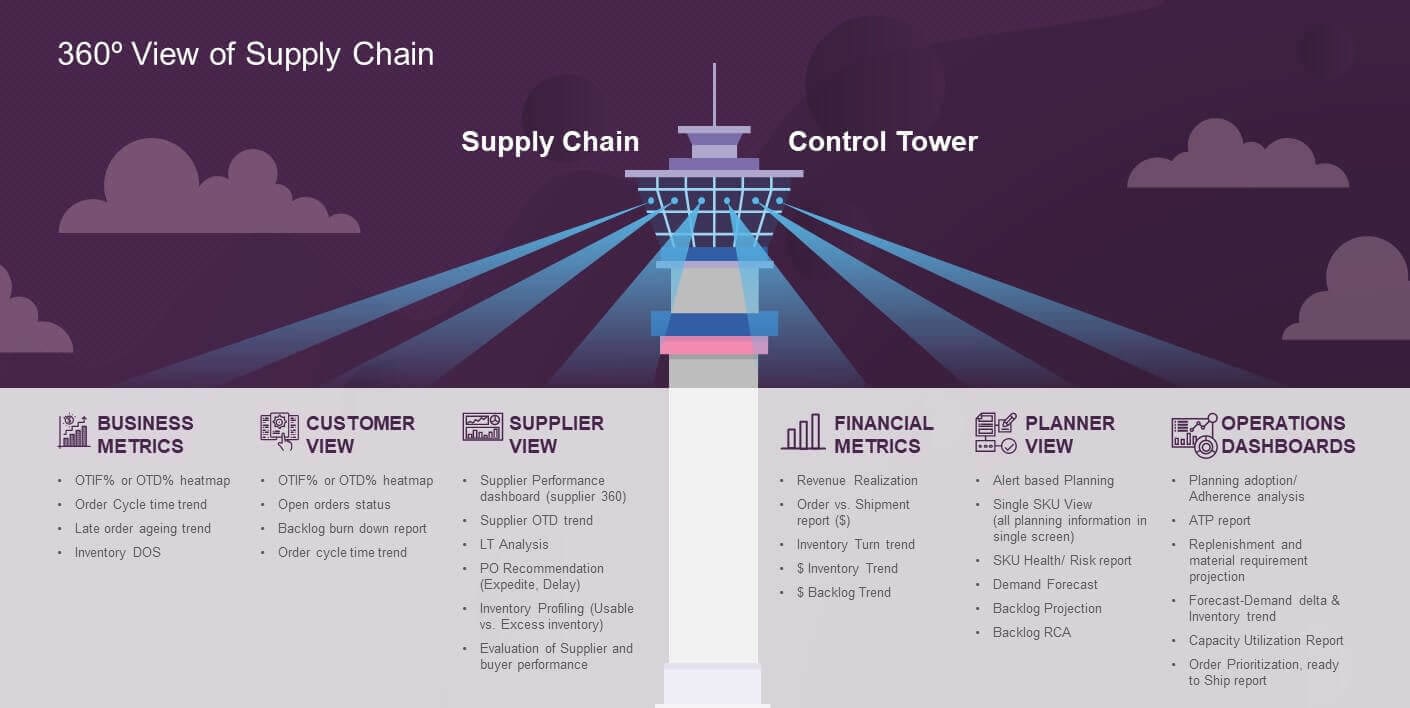 A supply chain control tower (SCCT), gathers and integrates data from various sources and delivers it to key decision-makers. SCCT incorporates smart advanced analytics such as Artificial Intelligence and Machine Learning to drive real-time insights. This allows supply chain leaders to leverage data, advanced analytics, and technology to not only detect risks or opportunities but to also make proactive data-driven decisions. Users of SCCT have experienced 100% improvement in visibility, 75% reduction in expediting cost, and 51% overall cost savings. 
Obtaining a global view of the supply chain can be a time-consuming and erroneous task, especially when trying to solve a time-sensitive problem. Oftentimes, key decision-makers do not have the real-time insights needed to tackle current and future problems. The SCCT combines an array of perspectives needed to make the right decision at the right time. Each of the SCCT's different modules covers a different aspect of the supply chain, which gives decision-makers in-depth information and analysis for strategic, digital and operational decisions. 
Benefits of a Digitized Supply Chain 

The SCCT digitizes the supply chain, and has empowered organizations with the ability to be flexible, resilient and proactive. 
Full visibility of the demand/supply plan is available to all key participants in the supply chain (which includes strategic partners). Rather than having a selective few with access, more collaboration and holistic problem solving can take place. 
Immediate feedback can be provided from stakeholders, as they will be empowered by the workflow process/management to orchestrate an effective response to the event. This gives organizations the flexibility to respond to disruptions in different areas of the supply chain. 
Collaboration across multiple functional areas both within and outside the organization, can be used to effectively respond to an event. Since decisions in one area of the supply chain can affect another, it is important that multiple functional areas are considered. 
Maximized data integrity and system areas can be achieved by ensuring 99% accuracy of BOM Configuration, Inventory Levels, and Schedule Requirements. 
Near real-time demand information and routine transactions will be provided through digital linkage. 
If you want to learn more about the Supply Chain Control Tower (SCCT), please email analytics@evalueserve.com.