Competition in the private equity game has continued to heat-up over the past few years as more capital has flowed in, leading to higher prices for fewer deals. The industry is now sitting on an unprecedented $2 trillion of untapped potential.
Deal sourcing is often the most critical stage in the deal cycle for gaining a competitive advantage. The traditional sourcing process is ineffective, with firms closing an average of 3 or less deals a year from the estimated thousand opportunities that they evaluate. With such a low deal-closing rate, private equity firms need to step-up their game to remain competitive.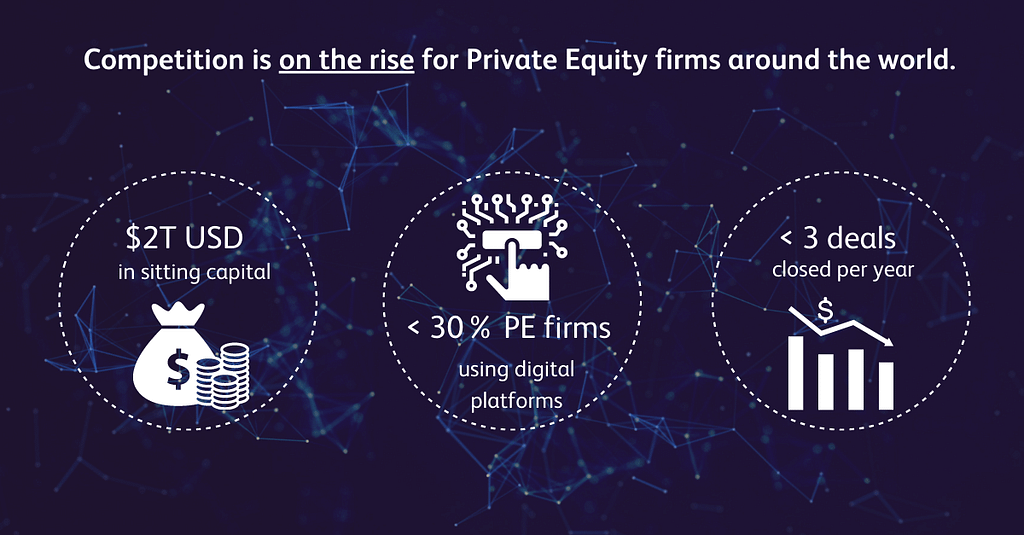 How do you gain an advantage in deal sourcing? 
Firms can optimize their origination process and gain crucial insights by embracing digital tools and data analytics. Traditional manual-based processes cannot keep-up with the speed and volume of information being created every day.
Learn about challenges your industry peers are facing and how they are turning to technology.
Join us on April 27th for a panel discussion with Andjela Kusmuk from EQT, Chris Lee from RTC partners, Nathan Chandrasekaran from Columbia River Partners, Francisco di Valmarana from Pantheon as we discuss:
Current challenges in the deal sourcing process
Post-pandemic deal sourcing
How firms have embraced technology or why they are hesitating
How data analytics tools can help you identify targets before competitors
Reserve your seat by clicking here.