Summary
A multinational electronics corporation actively pursued innovation in the electric vehicle (EV) fleet domain. The company had a significant patent portfolio in battery management systems and related technologies. However, they needed a greater understanding of the market landscape and trends within the EV fleet sector. The client sought to identify areas for growth and innovation to expand their EV fleet business and gain a competitive edge. 
Insightloupe IP trends dynamic analysis and white space research provided a significant output of R&D intelligence study. As the Electric Vehicle Battery Management System market grows, opportunities exist for expansion into EV battery scheduling, fraudulent battery detection, and battery swapping. The insights provided helped the client with its IP and market strategy. 
The Challenge
The Electric Vehicle Battery Management System market was valued at USD 2.7 billion in 2021 and is expected to reach USD 12.01 billion in 2027, registering a CAGR of around 28% during the forecast period (2022 - 2027) owing to the increasing popularity of electric vehicles and the demand for sustainable transportation solutions. 
Due to this growth, competitors have established new offerings, including fleet as a service (FaaS), battery analytics, software and cloud system integration, vehicle testing, vehicle anomaly detection, and more.  
One of the notable players in this space has established a strong presence through collaborations, substantial patent holdings, and active participation.  
However, there is still untapped potential in areas such as FaaS, vehicle testing, and vehicle anomaly detection. Our client needed help capitalizing on this market potential, particularly in China, Japan, and Europe.  
To tackle this challenge, they required assistance identifying growth areas and innovations in the EV fleet market to expand their business effectively while protecting and monetizing their intellectual property or owning new patents. Furthermore, aligning their EV fleet strategy with market demands is crucial to avoid investing in outdated technologies and ensure future monetization opportunities through licensing fees. 
Our Solution
To help them to achieve their goals, we implemented Insightloupe's dynamic trends and whitespace analysis. 
We provided an in-depth analysis of IP trends and a competitive landscape overview. Our study helped to identify potential opportunities for the company to strengthen its existing patent portfolio, which can enhance its market position, protect its intellectual property rights, and boost its revenue. 
Insightloupe platform provided insights derived from analyzing and benchmarking their existing and competitor patent portfolios and identifying growth areas and trends within the EV fleet sector. 
We used the Insightloupe platform to give the client granular output, enabling them to visualize market trends and make informed decisions. 
Our analysis identified two major growth areas in the EV fleet domain: battery as a service and cloud-based battery solutions relevant to the client's existing portfolio. These areas had many patents filed by competitors, indicating the market's direction. Our findings suggested that the client should focus on these growth areas to remain competitive and maintain market share. 
Insightloupe provided insights into emerging trends and white spaces the client could explore to maintain their competitive edge. We recommended that the client consider investing in research and development in these areas to stay ahead of the competition. The dynamic nature of this field results in new queries frequently emerging. Users can independently extract additional insights by utilizing a dynamic analytics platform as these new queries or potential next steps arise. This platform allows users to adapt to and understand the evolving landscape.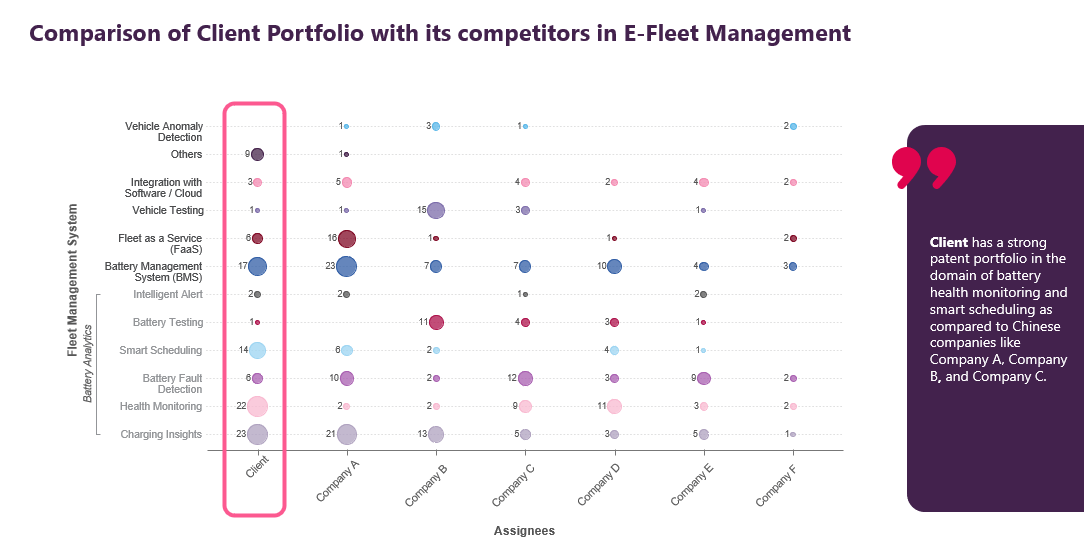 Business Impact
The interactive and dynamic representation of the data within the EV Fleet segment helped the client visualize latent technology areas. Thus, it allows them to understand the EV Fleet landscape, align their existing portfolio to the corresponding market and strategize their filings in the competition-driven direction. 
By leveraging our recommendations, the company started to develop innovative products and services that meet the needs of its customers while staying ahead of the competition. 
Insightloupe's analysis provided the client with a more precise direction for their patent filings, allowing them to monetize their patents in the future through licensing fees and protect their innovations. 
The findings from Insightloupe's analysis helped the client align their EV fleet strategy with market trends and avoid investing in outdated technologies. 
Talk to One of Our Experts
Insightloupe is a data-driven innovation solution using curated intelligence, benchmarking and interactive reports for risk management, landscaping & IP monitoring.