Managing timely Information Disclosure Statement (IDS) filings are a familiar challenge for internal teams. This task can be further complicated by future patent term calculations and snowballing law firm charges. When these issues fly under the radar, additional costs and efforts begin to pile up before anyone catches it.
A global company was battling these challenges head-on, as their internal teams had to juggle and execute their own tasks and IDS filing. This was impeding the client's ability to comply with the full USPTO compliance obligations, resulting in an adverse impact on their patent term calculations.
The client needed a solution that would address the following challenges:
Decentralized execution of IDS tasks resulting in compliance rates that were not meeting USPTO compliance obligations

Bottlenecks in the workflow resulting in delayed IDS filings
Delayed IDS filings contributing to applicant delays in patent term calculations
Lack of visibility into IDS tasks resulting in lack of actionable insights
Limited performance metrics that could be reviewed and evaluated to improve USPTO compliance.
Our IDS team drew-up a detailed workflow, which ensured that the client's individually docketed office actions in foreign counterpart applications would be quickly picked-up for any applicable IDS filings. This re-imagined workflow functions in-tandem with a stringent check against previously filed IDSs, in order to avoid costs incurred from duplicitous IDS filings. 
In order to target the client's specific IDS-related filing issues, our team split the solution into two phases, with the first focused on implementing an optimized workflow and the second focused on ensuring quality and timeliness. 
Phase One: IPMS Workflow—We established a detailed workflow to the client's IP Management Software provider for aligning the Intellectual property management system (IPMS) workflows accordingly. This allowed our team to fully execute the entire IDS process within IPMS. As a result, we were able to deliver information regarding the completion status of the specific IDS filings. The client was able to resolve specific bottlenecks in their workflow and ensure that each filing is on the right track. 
Phase Two: IDS Dashboard—Our team built a rolling dashboard that provided the client with a periodic overview of their IDS tasks (first IDS, supplemental IDS, or no IDS required), along with performance metrics that can be reviewed and evaluated. The dashboard was subsequently augmented to capture instances of law-firm delays in reporting any new office actions or filing the new IDS.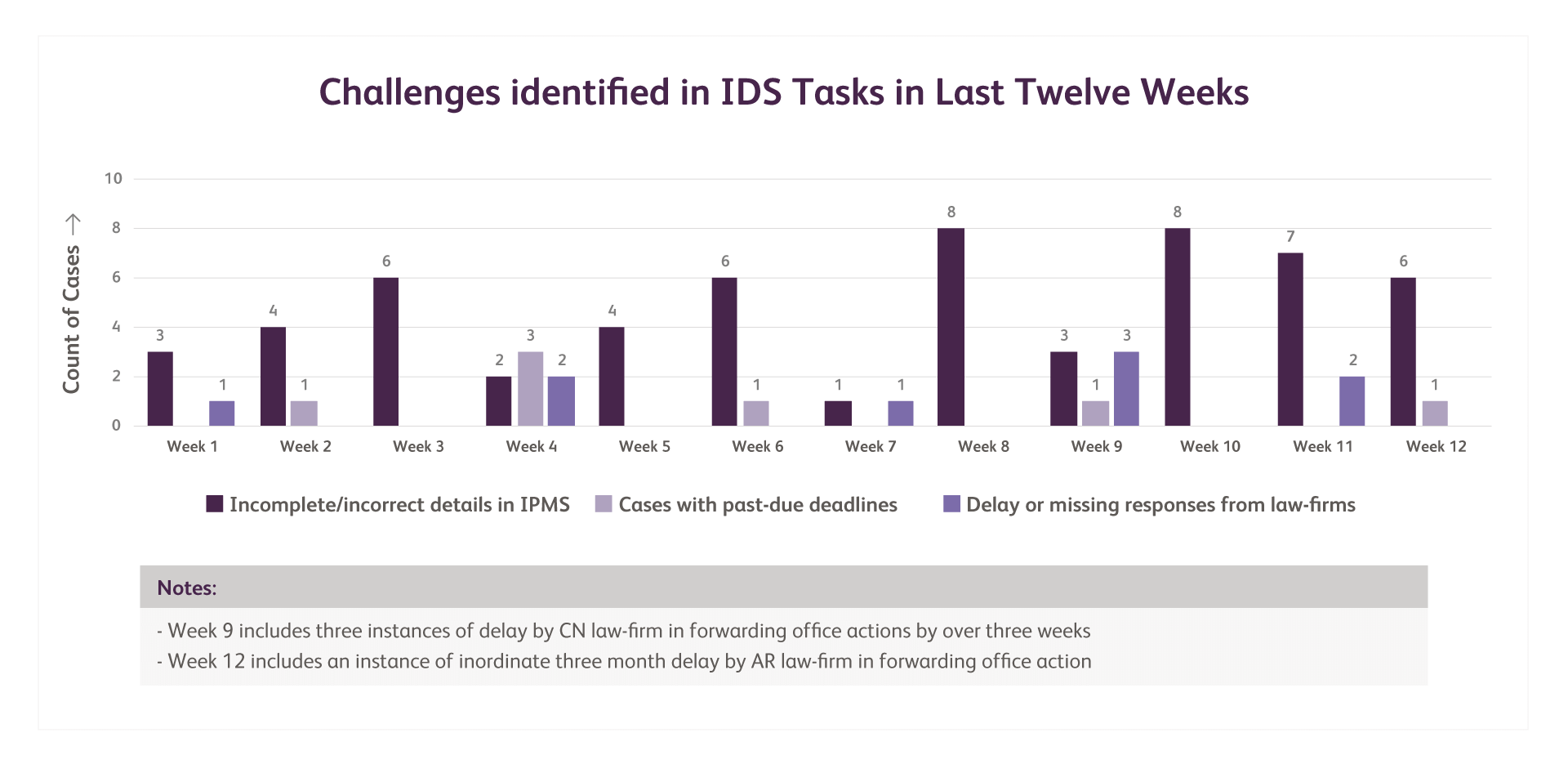 Through re-imagined workflows and a robust dashboard, the client was able to achieve the following results:
Improved USTPO compliance: by periodically tracking deadlines for upcoming tasks on a weekly and monthly basis, Evalueserve elevated the client's overall compliance to 99.1%. 
Reduced applicant delays to patent term calculations: The priority handling of IDS tasks due within the next four weeks significantly reduced applicant delays which would have otherwise adversely impacted patent term calculations. 
Actionable insights: The rolling dashboard provided actionable insights, allowing the Client to consolidate the process around performant partners and make improvements.
Cost savings: Stringent checks against previous IDS filings helped bring the count of actual IDS filings down to less than 20% of the total IDS tasks generated to correspondingly save on USTPO costs and law-firm fees. 
Elevated client's overall compliance to 99.1%
Periodically tracked deadlines on a weekly and monthly basis
Significantly reduced applicant delays
Priority handling of IDS tasks to reduce delays
Enabled improvements and consolidated the process
The rolling dashboard provided actionable insights for the client.
Lowered IDS filings down to 20% of total IDS tasks
Stringent checks helped save on USPTO costs and law-firm fees
Talk to One of Our Experts
Get in touch today to find out about how Evalueserve can help you improve your processes, making you better, faster and more efficient.