Due to traditional business models' inability to maintain robust top-line and bottom-line growth, chemical companies are struggling. Companies that neglected to make necessary technological, portfolio and business model changes are experiencing difficulties with gaining the competitive advantage needed to succeed. This has compelled chemical companies to focus on exploring new ideas and improving their innovation ecosystem, which are giving companies the power to move towards a more proactive approach towards reassessing strategic options.
A global specialty chemicals company was facing a constant challenge in building an efficient decision-support system when streamlining its innovation pipeline. The stakeholders from strategy, innovation and product development functions tasked with identifying new ideas were mainly concerned about their framework. They wanted a robust framework that ensured that all high-impact innovations comprehensively captured and assessed businesses relevant to the client. 
The key challenges the client faced included: 
Stagnant pipeline that suffered from a shortage of new ideas being added.
'Inside-the-Box' lens that led to missed opportunities in un-tapped territories. 
'Legacy Thinking' resulting in pre-conceived hypotheses on priorities. 
In order to address the client's need to broaden its lens, streamline its strategy, and strengthen its pipeline we implemented our Innovation 360 program. This end-to-end idea generation, validation, and monitoring program followed a 4-step approach.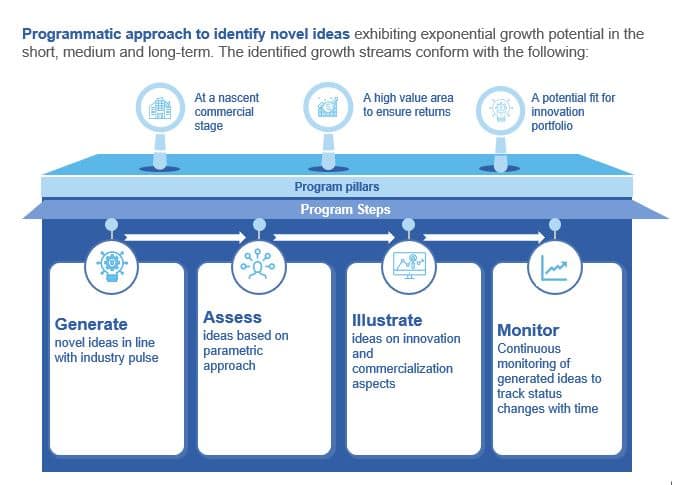 The idea generation approach involved engaging with key innovators, customers with unmet requirements, and competitors in order to identify innovation megatrends. Evalueserve leveraged its primary research capabilities to initiate conversations with academia, start-ups, customers, 2nd-3rd tier suppliers to customers, etc. Paired with a comprehensive scan of non-patent technical literature, the client was provided with an insightful information stream to analyze megatrends.
After using the program for one year, we identified 200+ novel ideas, which were then funneled through a framework that benchmarked them according to parameters that defined its commercialization and impact. For shortlisted ideas, the industry landscape was scanned regularly and updated through the framework.
Execution across all steps of the program was supported by our AI-enabled web scanning engine, which was enabled by our proprietary Insightsfirst platform. It acted as a centralized one-stop-shop for the client to evaluate, analyze, monitor and disseminate insights. The benchmarking framework module on the platform allowed individual users to custom-select weights and biases, and parameters of preference.
Increased run-rate by 40-50% for the client by identifying 200+ novel ideas in year 1. Many of the identified ideas were unique, which fell into the unknown and un-tapped spaces for the client. Out of all the suggested ideas, 8-10% of them qualified for the Validation & Feasibility Assessment stage in the client's decision cycle.
Shortened the innovation cycle for the client by using the Innovation 360 framework. It brought structure and scalability to the client's innovation program, enabling the client to become disrupters rather than being disrupted. The client's innovation portfolio prioritization was improved by these insights and helped improve budget re-allocation.
Run-rate increased by 40-50%
Out of all the suggestion ideas, 8-10% qualified for the Validation & Feasibility Assessment stage in the client's decision cycle.
Innovation cycle shortened
Innovation 360 framework brought structure and scalability to the client's innovation program.