To be the leader in any industry, companies invest millions in Research and Development and their Intellectual Property (IP) portfolios. They spend the majority of their IP budget to build strong patent portfolios that can be used for defensive or offensive purposes. However, studies show that despite making huge investments in R&D and patent portfolio creation, only a fraction of patent portfolio quality yields revenue helps protect the company's market share, or protects their own products.  
This is because most big companies do not have a view of what they have in their portfolio (such as high value patent assets for licensing, high-value patents protecting their own inventions, low value patents that should be pruned, etc.). Hence, companies with large patent portfolios need an effective and efficient ongoing patent assessment and management program to optimize their patent portfolios.
Understanding this need, a multibillion-dollar Consumer Electronics giant wanted to set-up a patent portfolio assessment and management program to provide a consolidated and regular view to the senior IP management on the kind of patents in the portfolio. Specifically, they wanted to identify the patents that:
Have high value and can be used for out-licensing or cross-licensing.
Protect the company's inventions.
Are not useful and were not protecting the company's inventions, or were protecting obsolete inventions.
The client has a portfolio of approximately 40,000 patent families spread across different jurisdictions including the United States (US), Europe (EP), China (CN), Japan (JP) etc. Therefore, in order to set-up the patent portfolio assessment and management program, the client was looking for a partner that is able to:
Implement patent assessment workflows and perform patent analysis.
Handle patent analysis in a multitude of different languages aside from English.
Scale large volume patent analysis, to be delivered in a relatively short timeframe. 
In addition, the client wanted an external firm to perform an unbiased assessment of their patent portfolio so that key strategic decisions related to their patent portfolio (out-licensing, pruning, selling, etc.) could be made without any internal interference.
To fully understand the client's situation and challenge, our team conducted onsite workshops and worked on pilot projects to align with the client's requirements and measure their patent portfolio quality. The client wanted our team to identify high value patents that could be out-licensed during the pilot projects. Our team's onsite solution expert supported the client on day-to-day task management and workshops. During the workshops, our team explained the output and possible workflows to provide solutions for the client's needs.
As an outcome of the workshops and the pilot projects, our team did the following:
Set-up a 15-person team spread across The Netherlands, China, Japan, and India to handle English and non-English patent assessment work for the client. 
Built a robust solution for the client to identify patents to be used for out-licensing or cross-licensing, and also for low value patents that were not protecting the client's inventions. 
Figure 1: A snapshot of the Patent Portfolio Management Solution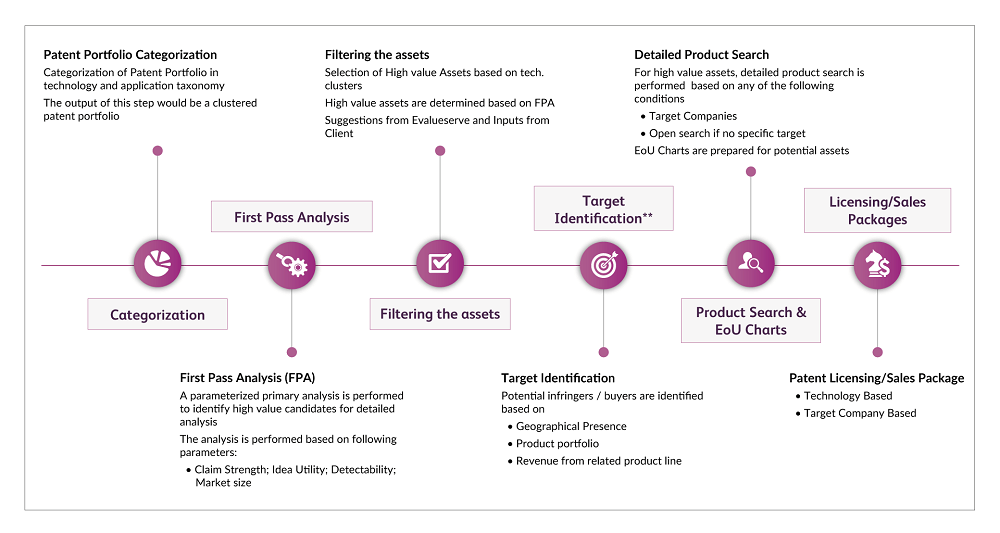 Figure 2: Snapshot of the licensing package delivered as an output of product search and EoU chart: 

Our project methodology consisted of the following steps: 
Step 1—Categorize patent portfolio into customized groups: Our team analyzed the client's patent portfolio, including the US/EP/CN/JP patents, and categorized the complete portfolio into a taxonomy of technology and application area categories. This helped the client identify the patents that were related to their own product lines and the patents which belong to their "non-core" business.
Our IPRD team's versatile technical experience was essential in categorizing the client's patent portfolio which included various domains including Electronics, Electrical, Manufacturing, Automotive, Chemical, etc.
Step 2—Qualitative Analysis: Our team performed a preliminary analysis (First Pass Analysis) of the client's entire patent portfolio using customizable parameters to identify high value patents from the portfolio for out-licensing or cross-licensing, and sort the patent portfolio according to the "licensing potential" of the patents. The First Pass Analysis helps in sorting a list of patents according to their licensing potential. The parameters used in the First Pass Analysis are:
Claim Strength: The parameter indicates the nature and the number of restrictions in the independent claims of a patent.
Idea Utility: The parameter indicates the probability of the system/method being used in a product or a standard, and therefore indicates the potential of infringement.
Detectability: In case an infringing product for that patent would exist in the market, how easy it would be to prove infringement based on our knowledge of availability of product documentation in that specific area of invention.
Market size: The parameter indicates the current market size of a potentially infringing product or the technology segment.
Based on the output of steps 1 and 2, we were able to mark the patents as high, medium, and low value with respect to out-licensing and cross-licensing potential.
Almost 10% of patent portfolio was marked as high value to be considered for potential licensing opportunities. 
These patents were then taken forward for further analysis, as mentioned in Steps 3 and 4 below.
As an additional benefit, the patents which were marked as "low rank" in our Qualitative Analysis in Step 2 were used for pruning analysis, allowing the client to decide whether to pay maintenance for these low rank patents based on Evalueserve's analysis. Specifically, those patents which belonged to "non-core" category as mentioned in Step 1 and marked as "low rank" in Step 2 were considered as pruning candidates.
The analysis of steps 1 and 2 was delivered using Evalueserve's proprietary online delivery and analysis platform, Insightloupe.
Step 3—Prepare Patent Out-Licensing Package/Product Search and EoU Chart: For the 10% of patents identified in Step 2 as "High value", we performed product search to identify products that might be infringing on the patents. For the patents with high extent of overlap with the identified infringing products, we prepared Evidence of Usage (EoU). Each EoU chart was supplemented with market information related to the product to assess the monetary value of the patent. 
Step 4—Set-up a recurring patent assessment program: After completing the one-time patent assessment assignment as mentioned above, we set-up a quarterly patent assessment program for the client to perform assessment of their newly granted patents to determine non-core assets, high value assets, and pruning / abandonment candidates.
Our effective and efficient licensing program has helped the client make strategic decisions regarding their patent portfolio. The client can use the output of different steps, including more than 250 EoU charts proving infringement against more than 25 Fortune 500 companies, to:
Out-license their patents
Use patents for Cross-licensing deals
Prune their patents
Sell their patents
As an example, the 250+ EoU charts provided by us were used by the client for out-licensing or cross-licensing purposes.
This resulted in an increase in the client's monetization revenue and reduced costs by patent pruning. Based on the quarterly program that Evalueserve established, the client was able to identify the strong and weak areas in their patent portfolio on regular basis to focus on fortifying the areas where their patents were relatively weaker.
Identified high and low value patent portfolio assets
Unique patent assessment workflow and customizable analysis parameters identify high and low value patent portfolio assets
Customized assessment workflows
Close collaboration with clients using our local and onsite support leads to customized patent assessment workflows tailored to client's needs
Technology diversity and scale
Expertise in diverse technology domains, multiple languages, and a large team to take on big patent assessment tasks
Talk to One of Our Experts
Get in touch today to find out about how Evalueserve can help you improve your processes, making you better, faster and more efficient.