A prominent international consulting firm recognized the power of staying one step ahead in the race for digital dominance. To elevate their marketing strategy, they aimed to analyze their competition's social media footprints and gain valuable insights into their success.
Evalueserve's Insightsfirst platform for competitive intelligence helped streamline social media monitoring. Equipped with state-of-the-art generative AI, Insightsfirst granted the client timely updates and astute analysis of their competitors' online presence. Centralizing information and platform intuitiveness reduced the time taken to deliver competitor insights by almost 50%, supercharging the firm's ability to create robust go-to-market strategies and generating a higher social media engagement rate.
The consulting firm understood the need for a powerful, automated solution to track its competition's social media moves. In an ocean of social network noise, their quest was to dive deep and find only the most relevant and valuable information and find the right marketing direction based on those insights.
The firm was determined to sharpen its competitive intelligence efforts on hot topics that were shaping the business world: recruitment, ESG, innovation, digital transformation, the future of work, M&A, and SPACs.
Insightsfirst, Evalueserve's AI-enabled intelligence platform monitored the client's competitor's social media content across business practices (an array of sectors, geographies, and topics). The digital platform collected and assessed data from more than 200,000 sources including major industry publications and social media (Twitter, LinkedIn, Glassdoor, Fishbowl, etc.).
Insightsfirst provided the client with a holistic view of articles and posts key competitors were publishing. Further, sentiment analysis showed how the client fared compared to competitors on identified topics and markets.
The subject matter expert-guided AI platform provided the client with the following updates and insights:
Topical trend identification on both the industry and competitor levels
Engagement metrics for each post
Whitespace analysis to benchmark their own social media strategy against their competition's, allowing them to differentiate themselves
Communication patterns used by competitors including type of content, frequency, target audience.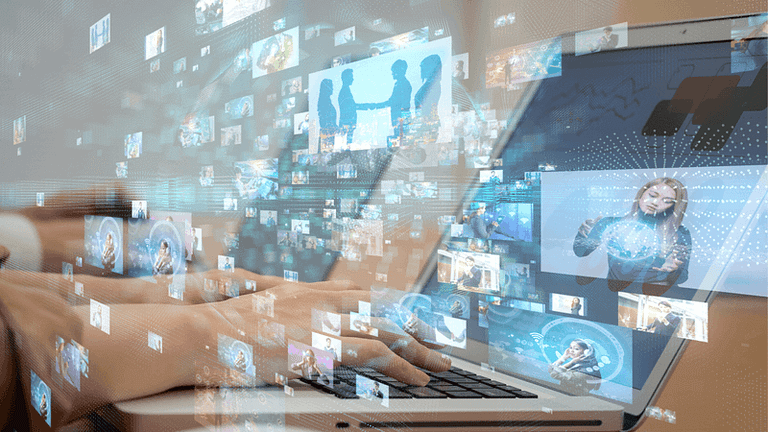 Evalueserve implemented Insightsfirst in three steps:
Step 1 – The client and Evalueserve identified over 30 competitors and four social media platforms to monitor. The competitors were classified into sub-sectors, such as management consulting firms, audit and advisory firms, and technology consulting. This segmentation helped identify sector-wide trends.
Step 2 – Insightsfirst leveraged AI-enabled data collection engines to find relevant posts on topics of interest, such as talent engagement, innovation, ESG, and digital transformation. The posts were then tagged by topics, sectors, geographies, and competitors, enabling further analysis
Step 3 – Upon request, Evalueserve domain experts reviewed reports and presented the findings and relevant posts in various forms, such as treemaps, heat maps, and column charts. White space analyses were also performed. Users from different departments were able to view content relevant to their specific domain. In addition, all users can share interesting content and collaborate on the platform.
Introduced Research Bot – A key platform feature that enables users to get a tangible head start in their insights generation journey.
Research Bot is a generative AI chatbot trained on domain-specific data to provide AI-generated summaries of information. The Bot allows client team members to ask questions, get key takeaways, and filter results for specific companies and sectors. The conversation chatbot assesses Evalueserve's curated proprietary data on thought leadership, publications, white papers, etc. across multiple consulting and advisory firms. It documents information sourcing to verify data and explore further details.
By using domain-specific, curated, and validated data, the bot reduces issues like hallucinations associated with generative AI. Users can access the source of information, download references, and view bulleted responses for more in-depth insights. The bot can also be extended to other products after configuration. Users can reach out to the domain expert for deeper analysis by routing research requests through the Research Bot.
Other key Insightsfirst features leveraged in this engagement:
An AI-based data collection engine that improves efficiency and reduces the time taken to deliver content
Custom newsletters by analysts help keep users up to date on their topics of interest
"Ask the Analyst," a feature that allows users to ask for additional insights or order custom reports on competitors
Collaborative features enable users to tag, comment, and share, interesting insights
Within a 3-month journey, the consulting firm began to reap the incredible rewards of utilizing Insightsfirst. The platform's real-time updates and relentless monitoring empowered the client to elevate their strategy by fine-tuning their social media strategy and unveiling new topics for future content.  
Harnessing the power of competitive intelligence, the firm unlocked the secrets behind its rivals' strengths and weaknesses in content strategy. This newfound knowledge gave them the golden key to not only understand what was working for the competition but also to maintain a razor-sharp competitive edge when strategizing their outreach. 
Multiple teams and geographies
had access to competitive intelligence on the platform
25% more efficient
process of accessing and disseminating information
Time taken to deliver insights reduced by ~50%
Talk to One of Our Experts
Get in touch today to find out about how Evalueserve can help you improve your processes, making you better, faster and more efficient.