A leading U.S.-based consulting firm wanted to monitor its competition's social media presences to analyze their traction. The consulting firm wanted to maintain a competitive edge when strategizing its own outreach.
Evalueserve's Insightsfirst platform helped streamline social media monitoring. The client was provided with real-time updates and insights, which were easily accessible across multiple teams and geographies. Insightsfirst reduced the time taken to deliver insights by almost 50%.
The consulting firm needed an automated solution that provided media tracking of the competition. The key challenge was to cut through the noise on social media platforms to find relevant information and then derive a clear direction from those insights.
The firm wanted to focus its competitive intelligence efforts on trending topics such as recruitment, ESG, innovation, digital transformation, the future of work, M&A, and SPACs.
Insightsfirst, Evalueserve's cloud-based intelligence platform, enabled the client to monitor their competitor's social media content across business practices (an array of sectors, geographies, and topics).
Insightsfirst provided a holistic view of articles and posts key competitors were publishing. For every post, Insightsfirst supplied the likes, comments, shares, and views count, helping the client gauge what content was engaging. 
The client was provided with the following updates and insights:
Identification of trending topics on both industry and competitor levels
Engagement metrics for each post (number of likes, comments, views, shares)
Whitespace analysis to benchmark their own social media strategy against their competition's, allowing them to differentiate themselves
Communication patterns used by competitors (type of content, frequency, target audience)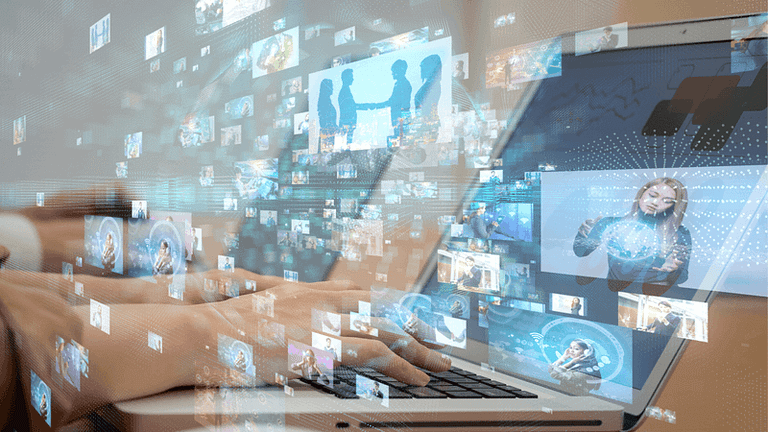 Evalueserve implemented Insightsfirst in three steps:
Step 1 – In collaboration with the client, Evalueserve identified over 15 competitors and four media platforms to monitor. The competitors were classified into sub-sectors, such as management consulting firms, audit and advisory firms, and technology consulting. This segmentation helped us identify sector-wide trends.
Step 2 – Insightsfirst leveraged AI-enabled data collection engines to find relevant posts on topics of interest, such as talent engagement, innovation, ESG, and digital transformation. The posts were then tagged by topics, sectors, geographies, and competitors, enabling further analysis.
Step 3 – Evalueserve presented the findings and relevant posts in various forms, such as treemaps, heat maps, and columns charts. White space analyses were also performed. Users from different departments were able to view content relevant to their specific domain. In addition, all users can share interesting content and collaborate on the platform.
The key Insightsfirst features leveraged in this engagement were:
An AI-based data collection engine that improves efficiency and reduces the time taken to deliver content.
A custom newsletter that keeps users up-to-date on their topics of interest.
"Ask the Analyst," a feature that allows users to ask for additional insights or order custom reports on competitors.
Tools that enable collaboration between team members by allowing them to comment and share interesting insights.
Within three months of starting to use Insightsfirst, the consulting firm began to see benefits. The real-time updates and constant monitoring helped the client refine its social media strategy and identify topics for future content. Competitive intelligence pinpointed the strengths and weaknesses of competitors' content strategies. This insight into what was working for the competition allowed the client to maintain a competitive edge when strategizing outreach.
Multiple teams and geographies
had access to competitive intelligence on the platform
25% more efficient
process of accessing and disseminating information
Time taken to deliver insights reduced by ~50%
Talk to One of Our Experts
Get in touch today to find out about how Evalueserve can help you improve your processes, making you better, faster and more efficient.