Organizations struggle with finding a solid and reliable marketing content process when distributing their content across multiple channels (websites, Email campaigns, etc.). Oftentimes they perform this work using manual methods, which easily becomes de-railed when faced with errors or missed deadlines. This directly effects turnaround times, by making them higher than they should be. When faced with these challenges, organizations find themselves overwhelmed and their strategies inefficient when tackling content goals.
Our client, a leading global management asset company struggled with having no workflow system in place when tracking and prioritizing content requests. The client's marketing team was struggling to manage a large volume of content, as they had to produce new content while also refreshing existing content on a periodic basis. This meant that 200+ documents were being handled by multiple business functions (product teams, marketing, compliance, design, digital) every quarter.
The client was handling this complex marketing content workflow through MS-Excel trackers and Email, which caused marketing managers to struggle with:
Keeping track of various content pieces' progress.
Prioritizing and reprioritizing tasks within the team and across business functions.
Update processes not being triggered on time (e.g. delay in receiving data from different product teams).
Multiple follow-ups with different stakeholders.
High turnaround times and getting the required content out in a timely manner.
Working on incorrect versions of the document leading to errors and delays.
Using excel and Email to submit request forms, which had to be manually filled-in each time. This led to human error and missing information, which caused delays in the overall process.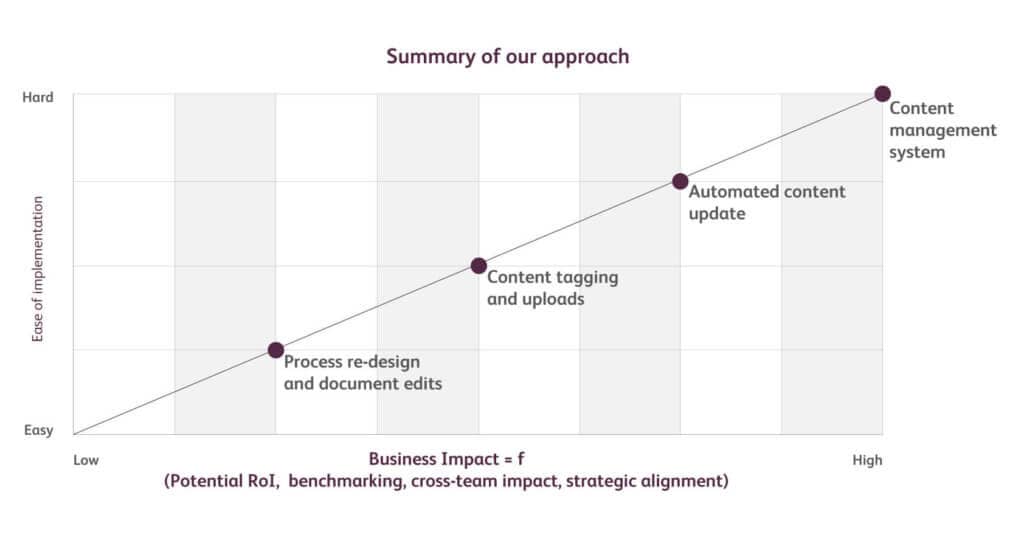 Customized Publishwise
We developed a customized version of our proprietary content management solution that tackled the client's specific pain points and business requirements. Our workflow management solution, Publishwise, standardizes and streamlines the request submission and workflow management process. With this custom content management system in place, the client's requestors only have to provide their information once. After initial input the system automatically populates the necessary forms, and even sends an alert to the client if they miss a request.
Automated workflows
The system and workflows have been customized with specific asset management firm requirements in mind. The system allows for the following unique functionalities:
Bringing all teams (product, marketing, design, compliance, digital, etc.) onto the same platform, enabling seamless collaboration across teams. The managers can track and plan for the progress of requests across different business functions in real-time, providing them a view of the anticipated workflow.
Real-time status across request types and business functions through a user-friendly dashboard.
Project workflow functionality 

Supports multiple workflows, allowing client to define different workflows for various document/content types by asset class, geography, request type, etc. 
UI-based customization of workflows ensures that if client workflows change at any point in time, the system can be reconfigured by an 'Admin' user. 

Automated and real-time KPI tracking and MIS reporting—client can track performance and productivity of different business functions and even individual team members.

Automated task triggers and follow-ups—recurring tasks can be scheduled on the system (e.g. quarterly tasks will be auto-triggered by the system and allocated to the appropriate team/user.

Simplified request process—carefully designed request forms ensure that client can submit requests in an easy and consistent manner.
Document Expiry
A 'compliance expiry' can be defined for each content piece. The system automatically tracks documents which are due to expire in the subsequent quarter and flags it to the marketing team's attention for appropriate and timely action (update the content, renew compliance approval or expire the content). This ensures that the sales team has access only to content with a valid compliance approval stamp.
Publication Calendar
A universal publication calendar enables the client teams to see the progress of specific content pieces, and plan their outreach activities. The distribution team can upload campaigns and events, while being able to associate multiple content with each event (blogs, presentations, podcasts, webinars, etc.). This provides a universal and consistent view to the product, sales, distribution, marketing and digital team allowing them to effectively collaborate. The ability to link marketing campaigns, events and content also provides a unique planning tool to ensure that there are no scheduling conflicts or prioritization issues.
Central Knowledge Repository
It provides single points access to the sales team for all marketing and sales related content. The system can also be used to store all reference material for the internal consumption of marketing team including process documents, templates, images, etc.
Consistent Tagging
Consistent and standardized content tagging on the system ensures that tags are synced across all platforms. The tagging system was created with tagging requirements of multiple downstream platforms hosting all the marketing content in mind. By replacing the repetitive error-prone manual tagging process, the client will also be able to easily find and retrieve them without needing to sift through various unnecessary tags. This also simplifies the process of automated upload of content on different digital platforms.
Built a Bespoke API
The system supports automatic document uploads to other downstream systems which are expected to host the marketing content. The Evalueserve solution design and technology team worked with the client as well as other third-party digital platforms to build a custom framework to support automatic content uploads to other downstream systems.
Content is also automatically sent to pre-selected recipients inside and outside the company through Email (which is based on pre-defined rules). The content can also be easily published to social media platforms which can be carried out in various batches a day, specific to the client's needs.
Evalueserve's Solutions for Asset and Wealth Management Firms
Internal processes streamlined through automation: Publishwise automated the client's request submission and workflow management process, which kept the process error-free and standardized. Additionally, the centralized shared publication calendar provided the client's sales team with the most up-to-date information, which kept them on-task and on time.
Distribution turnaround time was reduced by 50% by streamlining the process to upload the client's content to multiple digital platforms. The option to pre-select recipients inside or outside the company via Email expedited the client's Email-distribution process.
Internal processes streamlined
Using customized automations, the client's internal processes became error-free and standardized.
Distribution time reduced by 50%
Through various automations, the client's overall distribution time was greatly reduced.
Talk to One of Our Experts
Get in touch today to find out about how Evalueserve can help you improve your processes, making you better, faster and more efficient.