Investment bankers have many time-sensitive and intensive tasks. One particularly time-consuming task is creating pitchbooks, the goal of which is to secure a deal with a potential client. Between finding the elements and relevant information for pitchbooks, putting them together and disseminating them, creating pitchbooks is a repetitive, time-consuming and non-scalable task that takes up bankers' valuable time and slows down their workday. 
A large U.S. bank reached out to our team, hoping we could save their bankers time on this repetitive task while improving the quality and consistency of their pitchbooks.
After further consultation with the client to understand their challenges, we configured and implemented our Pitchready software, a PowerPoint and Excel-based suite of productivity tools.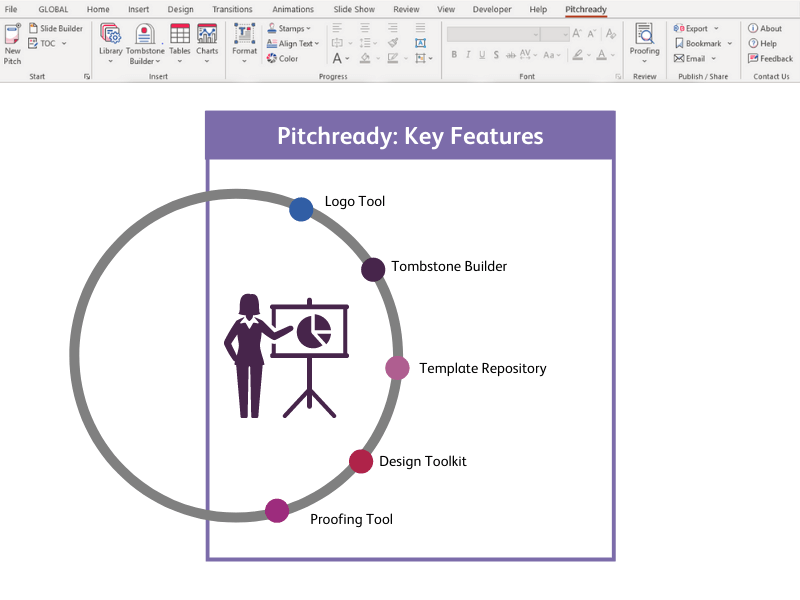 Pitchready improved the productivity of the U.S. investment bank's employees by providing easy access to over 60,000 high-quality, transparent logos, saving bankers from having to look online to find logos and make sure they are up-to-date and transparent (if that's something they need). An analyst with the client said they thought the logo library was useful. "I like the idea of the tool quite a bit. It's pretty easy to use, and the quality of the logos is good," they said. "I like how you can search and select multiple logos and put them in the materials all at once." Pitchready also has a repository of maps of various countries and areas of the world that are clean-cut, professional and customized to fit the client's branding.
Another way that Pitchready improved productivity for the client was by automating 70 routine tasks often involved in creating pitchbooks. For example, traditionally, once a banker finds a logo that will suffice, they must manually resize it to the desired size and then manually insert it into the pitchbook and make sure it is properly aligned. Our solution used automation to simplify that process and allowed multiple logos to be inserted into the pitchbook at once. The logos were automatically resized to fit the dimensions of the destination area. Lastly, Pitchready provided easy, intuitive access to frequently used content, allowing the client's employees to customize their function ribbon to fit what they needed most often within the platform.
Pitchready helped the bank maintain brand consistency in their pitchbooks. Our team provided access to 600+ slides and templates that had been customized to be in keeping with the client's branding guidelines, ensuring that all employees have a similar and on-brand starting point for their pitchbooks. Also, the automation used in Pitchready reduces the capacity for human error, leading to a much lower margin of error for pitchbooks created using the software.
Our team helped the client get many of their employees on board with creating their pitchbooks in Pitchready. By offering training sessions hosted by our team, many of their bankers learned about the software and saw firsthand how it could make their jobs easier. This resulted in about 500 of their employees adopting the software.
Increased productivity 
Pitchready's logo tool saved employees at the large U.S. bank 95% of the time they had previously spent searching, cleaning, adding and formatting logos to pitchbooks. Its tombstone builder saved the bankers 80% of the time previously spent searching, creating and rearranging tombstones. Overall, the suite increased the bankers' formatting efficiency by 50%, and its automations saved them between 8 and 10 hours a month.
More branding consistency 
Pitchready's tools assisted with content formatting, quickly ensuring that the client's pitchbooks followed their branding guidelines so that all pitchbooks from the investment bank had a cohesive look.
Improved quality
The last-minute proofing tools, ease of use and template repository ensured that the client's pitchbooks made in Pitchready were of improved, standardized quality. Pitchready started their investment bankers off on the right foot with the wealth of template options and helped them easily identify and fix any potential problems with their materials with the proofing tool and content formatting capabilities.
50% improvement
in formatting efficiency. This was achieved by automating 70 routine tasks often involved in pitchbook creation and offering over 600 templates and slides customized to fit branding guidelines.
High adoption rate
thanks to the training sessions Evalueserve facilitated for the firm's employees
Increased quality of pitchbooks
through last-minute proofing tools and content formatting capabilities, as well as automation that reduces the capacity for human error
Talk to One of Our Experts
Get in touch today to find out about how Evalueserve can help you improve your processes, making you better, faster and more efficient.