Summary
Evalueserve guided a client by setting up an industry-specific periodic tracker for the voluntary carbon market (VCM) as well as to develop insights on its competition. The VCM is currently in its growth phase. The market which hit the billion-dollar mark in recent years, could well be on its way to a trillion-dollar space within this decade, according to some projections. With such a rapid trajectory, there will come various challenges for VCM investors in the form of keeping up with the latest policy and market updates, picking the right space to invest in, choosing projects that could reliably offer long-term carbon offsets, and play well within the economics the investors have earmarked for the same. This is especially true for major players from industries which will rely more heavily on carbon credits to offset their unavoidable greenhouse gas (GHG) emissions, and those with ambitious Net Zero 2050 climate change mitigation goals.
The Challenge
Recently, Evalueserve had the opportunity to guide a valued client which aims to reduce or abate its carbon dioxide (CO2) emissions before the 2050 deadline. The VCM landscape is expanding so rapidly each year and constantly evolving in so many directions that it may not be everyone's cup of tea to invest in it without expert guidance. It is to help simplify these challenges that Evalueserve has set up its Carbon Offset Platform. The platform's key benefits as well as the expertise of our Decarbonisation team has been leveraged well in the case of our client which had the following requirements.
Client Requirements:
Through this project, the client wanted Evalueserve to set up a monitoring system for developments in the nature-based solutions (NBS) industry and for tracking competitor moves. The system would provide early warnings, help identify opportunities, and enable informed decision-making to support the client's strategy development.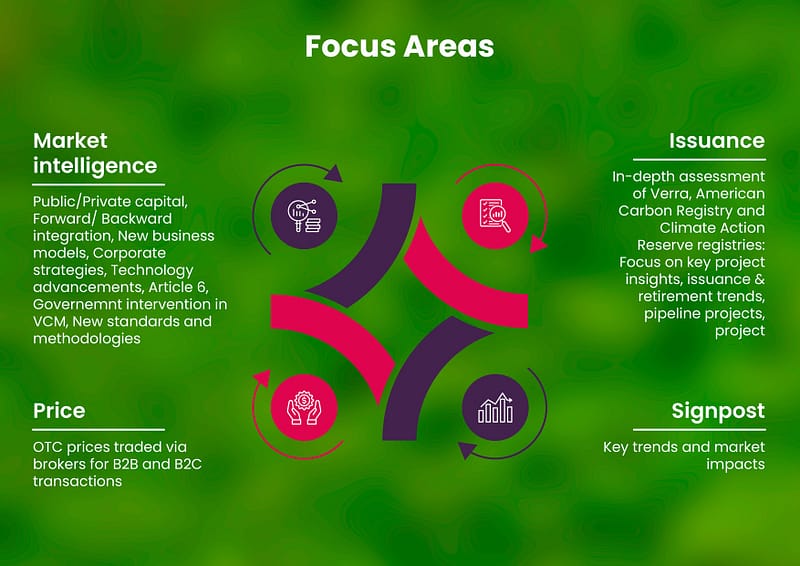 The client's requirements led us to leverage our team's expertise in creating insights to support decarbonisation initiatives at each stage, from strategy formulation all the way to market execution. As this project required the understanding and a constantly updated knowledge of various carbon registries, Evalueserve's Carbon Offset Platform was utilised to ensure a thorough and efficient analysis. Our experts have been developing the following critical insights for our client on a periodic basis:
Market developments and key headlines
Gathering the top news, deals, developments, and disruptions from the market, and presenting it to the client in the form of pertinent information, as well as highlighting the scenarios each development impacts.
360-degree competitor tracking
Capturing all the intelligence around market movements of the client's immediate and potential competitors and analysing them to showcase the possible outcomes of each development.
Identify and monitor NBS projects
Regular monitoring of new and current projects, by analysing the accreditation standard, stakeholder information, project progress, as well as issuances, and retirements of carbon credits.
Carbon credit prices from the secondary market
Insights based on analysis of current asking prices for NBS projects by type, registry, and geography.
Signposts and market impact
Categorising the observations basis their market impact and the direct implications for the client in the form of key takeaways to inform the immediate response and integration into the client's strategy.
All the above data is assimilated, analysed, and presented to the client in the form of monthly update documents covering all key areas of interest, that not only enhances the scope of their strategy in the voluntary markets, but also ensures that the client stays at the head of the pack when it comes to informed decision-making towards newer avenues.
Business Impact
Using this methodology, and powered by our needs-tailored process, the team delivered on the following high impact areas for our client:
360-degree landscape
Providing client with a thorough understanding of the carbon market space with respect to the target industry, while also enhancing their knowledge with regular updates based on data analysis of all the latest news and developments.
Registry coverage
Tracking movements of registries in terms of issuance and retirements. Identifying and listing major project level changes. Keenly watching for new and upcoming registries, as well as new project types best suited to their needs.
Competitor tracking
In a developing space, where all major players are moving to get a strong foothold, guiding the client's strategy with expert advice while also updating them with the announcements and moves being made by their immediate and potential competition.
Carbon Offset Platform: To tackle these challenges and gain all the advantages of participation in voluntary carbon markets, our team of experts at Evalueserve has developed our very own Carbon Offset Platform. This platform comprises a global database of projects from across various carbon offset registries, which helps you in analysing the best-fit project in terms of abatement as well as economics. To know more about how our Carbon Offset Platform can empower your decarbonisation journey, please connect with our team of experts today.
Get decarbonization publications delivered to your inbox by filling out the form.